Israel demolishes EU-funded classrooms for Bedouin children
Education in emergencies, Right to education, Safe schools, Safe Schools Declaration
---
Palestinian officials said it's the fifth time the school in the West Bank has been partially or completely torn down since 2016.
---
Two classrooms for Bedouin children that were funded by the European Union have been demolished by Israeli authorities.
They were part of a school in the occupied West Bank – one of 61 schools that face pending demolition or shutdown orders.
The classrooms for children in third and fourth grades were torn down yesterday because Israel says they were built illegally. They stood separately from the rest of the hilltop school in the Palestinian village of Abu Nuwar.
Palestinian officials said this is the fifth time the school has been partially or completely demolished since 2016. Each time, residents – with the help of NGOs and EU funding – rebuild it.
Shadi Othman, head of media at the European Union office in Jerusalem, told Reuters news agency: "The EU demanded from Israel more than once not to demolish projects the European Union funds and which aim to improve the living conditions of the Palestinians."
Palestinian Minister Rami Hamdallah said: "Besides the fact that such a demolition contravenes international humanitarian law, this latest attack is directed against Palestinian schoolchildren and is simply immoral."
Roberto Valent from the UN Development Program said: "Abu Nuwar is one of the most vulnerable communities in need of humanitarian assistance in the occupied West Bank. Hundreds of children attending one of at least 45 schools in the West Bank with pending demolition orders, are living in instability, with the spectre of school demolition ever-present, threatening their access to education."
The demolition came as the future of education for 525,000 Palestinian children has been thrown into doubts by a funding crisis caused by cuts in aid from the United States.
Countries are rallying to help fill the funding gap at UNRWA after the United Nations agency that runs 711 schools in the Middle East warned of the "catastrophic" effect on its programmes.
Israeli authorities say the school demolitions are due to court rulings against unauthorised building by Palestinians. 
"The building was built illegally and without the necessary permits. In addition, the enforcement was approved by the Supreme Court," said a statement from Israel's Coordinator of Government Activities in the Territories, the military-run authority that deals with Palestinian civilian issues.
Last week aid agencies Save the Children, Norwegian Refugee Council and Action Against Hunger warned that 61 schools have pending demolition or "stop work" orders from Israeli authorities.
One of them is the only school serving the Bedouin community of Al Muntar, on the edge of East Jerusalem, which was also built with European donor funding. Reports said it a court has given it a three-week reprieve.
Tens of thousands of Bedouin, who were once nomads, live in villages across the desert region of southern Israel and in the West Bank.
---
More news
Theirworld's mission to give children in crises a safe place to learn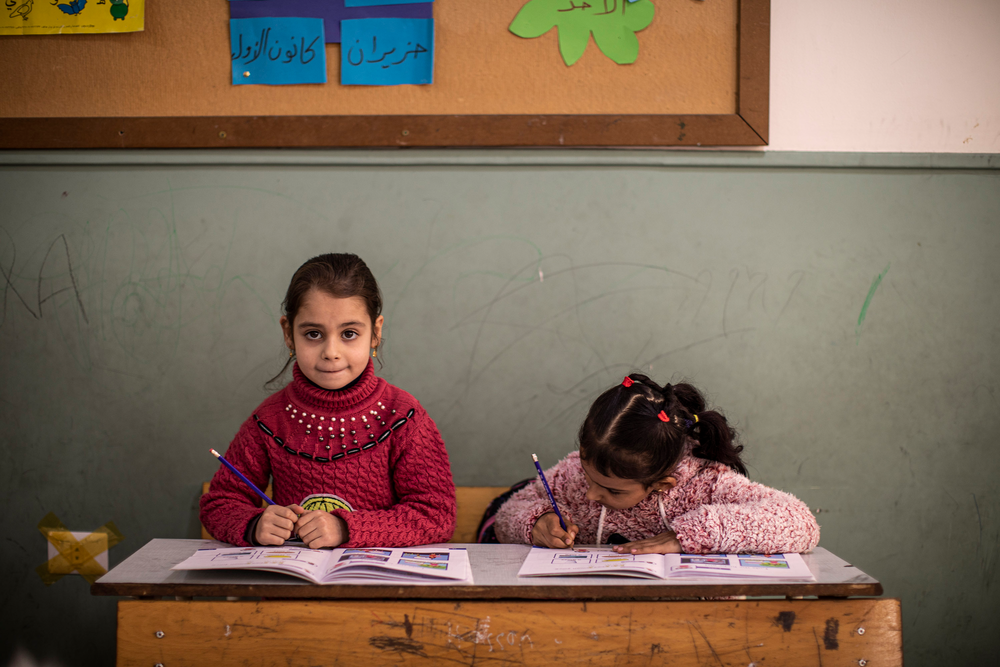 Theirworld's mission to give children in crises a safe place to learn
We thought loud noises were a storm – it was Russia bombing Ukraine
We thought loud noises were a storm – it was Russia bombing Ukraine