Court halts demolition of Palestinian school after international outcry
Right to education, Safe schools, Safe Schools Declaration
Israeli security forces were preparing to bulldoze a village that includes an iconic tyres-and-mud school for students from Bedouin communities.
---
A court has paused the planned demolition of a school for Palestinian children after an international outcry.
Israeli security forces were preparing to bulldoze the village of Khan Al-Ahmar in the West Bank, which they say was built illegally. It includes an iconic school made from tyres and mud that has about 170 students from Bedouin communities.
But last night Israel's Supreme Court ordered a halt to the demolition and gave the government until July 11 to challenge the injunction. It followed months of protests from the United Nations, the European Union and civil society groups. 
Diplomats from the EU, United Kingdom, Belgium, Finland, France, Ireland, Italy, Spain and Switzerland tried yesterday to visit the Khan al-Ahmar school – which is funded by several European countries – but were turned back by police who said the area was now a closed military zone.
The EU has said knocking down the school would "severely impact" on the children's right to education. Israel has routinely bulldozed Palestinian homes and schools – more than 60 schools in the West Bank face demolition or shutdown orders.
The principal of Khan al-Ahmar school, Haleema a-Zahuyqa, said her students – some as young as six – would lose their basic rights to a safe home, protection and education.
"The children are under pressure – particularly emotional pressure. They are not sleeping, they are tense, and they have headaches and are scared," she said.
Jennifer Moorehead, Save the Children's Country Director in the occupied Palestinian territories, said: "The impact these demolitions have on the wellbeing of children, and their ability to learn and feel safe, cannot be understated and must not be accepted."
"A line must be drawn to ensure that no further demolitions occur and that even more children do not see their education in jeopardy."
Israel had said it planned to move the 180 or so Khan Al-Ahmar residents to another site about seven miles away.
Schools should be recognised as protected, safe places for children. Jennifer Moorehead of Save the Children
Fifteen-year-old Nabil*, 15, has been a student at the school for eight years. He said: "All my siblings went to this school and all the community helped build the school, so we have many memories here. This demolition will ruin our future."
In May, after a long legal battle, the Israeli Supreme Court ruled the village could be demolished because it was built without the relevant building permits.
Palestinians say these are almost impossible to obtain – and the court has told the government to respond to the villagers' contention they were unfairly denied permits, a lawyer for the residents said.
Bulldozers arrived at the village two days ago to widen an access road and prepare for the demolition. There were protests and clashes with security forces, with the Palestinian Red Crescent saying at least 35 Palestinians were wounded.
In February, two classrooms for Bedouin children in the village of Abu Nuwar that were funded by the EU were knocked down.
Last year, Palestinian children going back to schools in the occupied West Bank after the summer break were shocked to find their classrooms had been demolished or damaged. 
The only kindergarten for the Jabal Al Baba Bedouin community was destroyed in the early hours in August – followed the next night by a primary school in Jubbet Al Dhib. 
Schools should be safe places for children to learn. The Safe Schools Declaration – a commitment to protect education from attack – has been signed by 75 countries.
Save the Children's Jennifer Moorehead said: "The Israeli government must make every effort to allow for the unhindered passage of students and school staff through checkpoints on their way to and from schools – and to ensure that schools are recognised as protected, safe places for children.
"We also urge the Israeli government to take measures to protect children's right to education and sign up to the Safe Schools Declaration."
* Name has been changed.
---
More news
Theirworld's mission to give children in crises a safe place to learn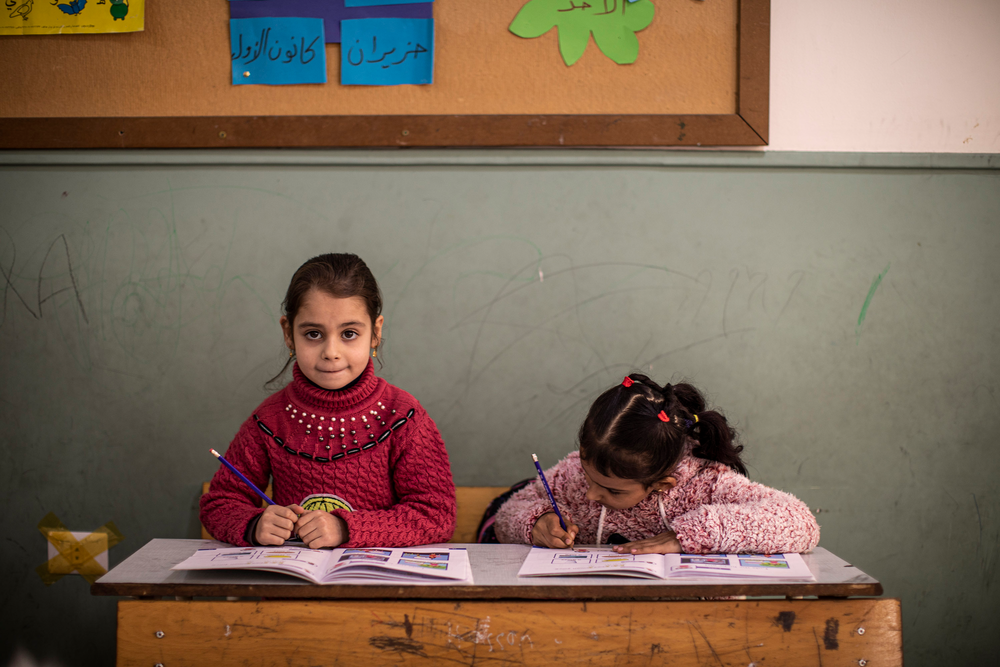 Theirworld's mission to give children in crises a safe place to learn
Five things you need to know this week about global education
Five things you need to know this week about global education