Just 1% of early childhood development aid goes to pre-primary education
Early childhood development, Right to education, Sarah Brown, Theirworld
---
A report by Theirworld calls for action as it reveals that millions of young children are at a disadvantage because of a lack of funding in education and learning.
---
A report published today by Theirworld reveals that pre-primary education receives just 1% of all aid going to children under five years old – putting millions of children at a disadvantage before they even start primary school.  
The report, which stacks up all of the interventions made in the first five years of a child's life, shows education is the most underserved, falling behind health and nutrition. 
By their fifth birthday, a child's brain will already be 90% developed and the foundations for success at school and in later life will be in place. But the new data shows that education and learning is all but missing from aid budgets.
Ben Hewitt, Theirworld Director of Campaigns, said: "This is a major blind spot in development spending and efforts to tackle inequality. Every child should have the best start in life, no matter who they are or where they are born. 
"Most often children missing out on preschool are the poorest and most marginalised. It is an unfair disadvantage from the start."
Donors and governments around the world recognise that the first five years of a child's life are crucial for their development.
They agreed that the Sustainable Development Goals should include a target that all girls and boys have access to pre-primary education by 2030. Despite this commitment, only a small number of international donors allocate any overseas aid to preschool education.
The report – Just Beginning: Addressing inequality in donor funding for early childhood development – was created with support from the Conrad N. Hilton Foundation and in collaboration with the Global Business Coalition for Education.
It shows that aid to early childhood development (ECD) has increased in recent years, from 1.3 billion in 2002 to $6.8 billion in 2016. 
But that increase has been almost completely due to large increases in health and nutrition, which got 95% of the additional investment.
Only 1% of all ECD aid funding goes to pre-primary education. And only a small number of donors provide relatively sizeable funds to pre-primary education, making it vulnerable to changing donor priorities.  
In 2016 just three donors  – Canada, South Korea and the World Bank – disbursed more than $5 million globally to pre-primary education. In contrast, 29 donors disbursed more than $5 million to the health component of ECD in the same year.
15 of the top 25 donors to ECD give either nothing or the lowest share of their ECD Official Development Assistance (ODA) to pre-primary education. 
Notably, the Netherlands and the United States, which are the second and third largest donors to ECD as a share of total ODA, give nothing to pre-primary education, according to OECD-DAC data. 
Similarly, the United Kingdom, which is the fourth largest donor overall on ECD, spends less than 1% of ECD on pre-primary education.
Theirworld President Sarah Brown said: "Benefits of investing in pre-primary education are found to be the greatest for the most disadvantaged, who are often the least prepared when starting primary school and are therefore most likely to be left behind. 
"But despite all the evidence, millions of children are continuing to miss out on the chance of a great start in life." 
In Mozambique, for example, children in rural areas who enrolled in preschool were 24% more likely to go on to attend primary school – and show improved understanding and behaviour – compared to children who had not. 
Donors need to wake up to the fact that investment in the early years requires access to good quality pre-primary education as well as health and nutrition. Report co-author Professor Pauline Rose
The report was written by Asma Zubairi and Professor Pauline Rose of the REAL Centre, University of Cambridge.
Professor Rose said: "Health and nutrition are key to survival and growth. Early education lays the foundation for opportunity and success in adulthood. 
"Donors need to wake up to the fact that investment in the early years requires access to good quality pre-primary education as well as health and nutrition. It is time to take a good look at the numbers and commit to urgent action. If they don't, millions of children will fail to reach their full potential."
Theirworld is calling for donors and governments to invest in all areas of early childhood development and spend a minimum of 10% of their education budgets on pre-primary education.
Theirworld's #5for5 campaign focuses on the five elements of quality nurturing care needed by every child under five – health, nutrition, play, learning and protection. 
Even though the importance of these interventions has been thoroughly proven, investment in this age group is still far too small.
---
More news
Sarah and Gordon Brown share global education vision in 100th episode of Better Angels podcast
Sarah and Gordon Brown share global education vision in 100th episode of Better Angels podcast
Take the test and discover how our Schools Hub helps students grasp the global education crisis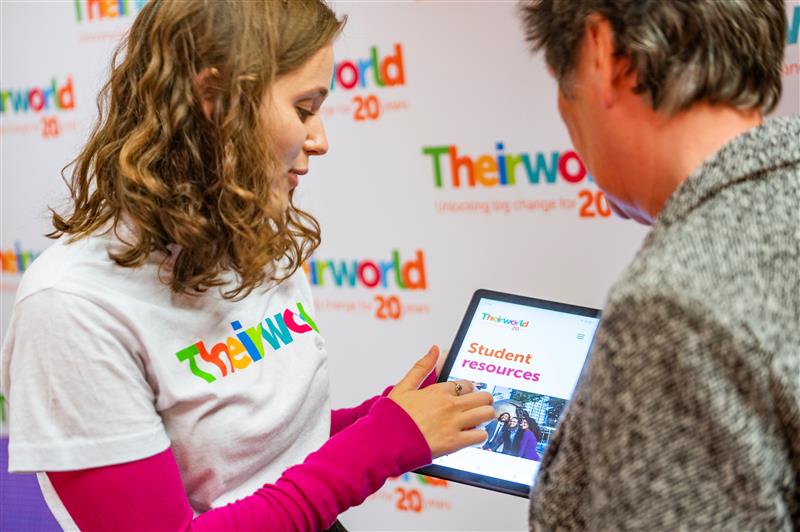 Take the test and discover how our Schools Hub helps students grasp the global education crisis