"The Kenyan government needs to champion children with disabilities because they have something to offer"
Children with disabilities, Global Youth Ambassadors, Right to education
More needs to be done to help children with disabilities attend school and be able to fulfil their potential, argues a Kenyan early childhood development advocate.
---
Disability is not inability – that's what most people fail to understand in our communities, especially here in Kenya. That's the message from Lily Oyare, director of Little Rock Inclusive Early Childhood Centre, who helps children from informal settlements.
The Kenyan government is not playing a major role, since it only puts aside $20 for each child with disability – yet that is not enough even to buy a wheelchair, which costs $200. 
The head teachers of primary schools have closed doors to disabled kids because they know having a disabled child is expensive. These children need therapy, which is $25 per session. Our government needs to come and champion children with disabilities because they have something to offer.
The government should construct toilets that are disability-friendly and ramps for the children using wheelchairs to move with ease. 
The teachers in public schools should be trained on special education in order to embrace and teach them, so that children with disabilities can fit into their classrooms. 
The government should be able to come out and help all different categories of children.
In 2003 Madam Lily was volunteering for an informal school. At around that time the government had started the free education system in Kenya.
Lily, a mother of four, was moved by how little was done for kids with disabilities in Kibera, one of the largest slums in Africa.
She decided to start a school. The first day they had 12 kids and by the second day she had 20 students.
She started in a humble background where there was no enough space and the environment was not child-friendly. She was challenged to move to bigger premises. 
Her dreams, together with the few teachers, were still not achieved. She made sure she went back to college to learn sign language because the first child she encountered in Little Rock had a hearing impairment and she was not able to communicate.
She made it mandatory for all her workers to learn sign language in order to communicate with such kids.
Little Rock has 1021 children – 626 have transitioned to primary school and they have 60 who sat for the Kenya certificate of primary education who will be transitioning to secondary school. There are 65 who are currently in high school.
There are 140 children with special needs and 400 girls and boys attend early childhood education.
Jessica, a 10-year-old class four student at Mbagathi Road Primary School, who has cerebral palsy, is one of the students who has been in Little Rock since she was in baby class.
She says she was taught to read and write in Little Rock and her teachers were friendly and made her happy. Jessica wants to be a pastor and lawyer once she grows up.
The best thing about Little Rock is reading – Jessica recalls how her teachers helped her to sharpen her skills in English. She got 94 in her last mathematics exam and she wants to get 100 next time.
Jessica has seven siblings. Her mum makes sure that she gets all she requires in terms of food and clean clothes while her father sells bread from a wheel barrow in the surrounding community.
Melody Moraa is a courageous, outspoken 15-year-old who has cerebral palsy and goes  to class eight. She is going to sit her final primary exams this year. 
Melody came to Little Rock  in 2005 and now she can talk fluent English. It's her favourite subject simply because Mrs Maina the English teacher is disability-friendly.
Melody, the second of four children, wants to be a lawyer when she grows up because she sees many people living with disabilities have been denied their rights. 
Melody's mum works at Little Rock, cleaning the compound, and her father is a driver in a town known as Thika. Melody does not feel different because disability is not inability.
About Little Rock
Little Rock Inclusive ECD Centre is based in Kibera, Nairobi.
Little Rock was founded in 2003 to help children aged one to eight. Its target groups are orphans, those affected by HIV/Aids, the poor and special needs children. 
The children are taught and catered for by 30 qualified early childhood and primary teachers, 30 caregivers and three admin staff.
Learn more on Little Rock's website.
Melody reminds the community that those people who are living with disability are able to do everything and the government should accept people with disabilities by taking them to school and giving them jobs.
There is a big gap for children living with disabilities in Kenya, especially children from informal settlements. They cannot access special care such as a helper to take them to the washroom or even Braille for a blind student. 
Research should be carried out on issues of children living with disabilities in Kenya and the findings should be shared to the government. 
Local and international resources should be mobilised to support children with disabilities and the ministry of planning and national government should ensure sufficient budgetary allocation for children who are abled differently.
Community sensitisation on children living with disability is a key factor – simply because it enables people to accept them not because they get to understand these children and nurture them.
As the ministry for home affairs puts it, the community needs to protect and care for the disabled and carry out advocacy. 
Let's all address the needs of children with special needs and disabilities, support their parents and make the world a better place for them by creating opportunities for them and treating them the same way as the rest of the children.
---
More news
New school resources focus on disability and girls' education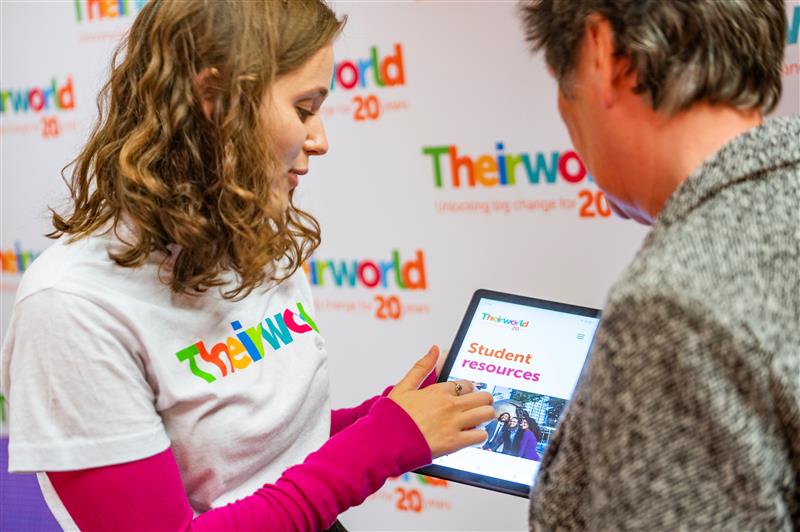 New school resources focus on disability and girls' education
Roger Federer supports the Act For Early Years campaign
Roger Federer supports the Act For Early Years campaign