Key Series Live: supporting early learning for refugee children
Early childhood development, Refugees and internally displaced people, Theirworld
---
Giving teachers the right tools and knowledge are crucial, say the experts in our discussion following a new early childhood education report from Theirworld.
---
As 90% of brain development happens before the age of five, quality early childhood education (ECE) is crucial. But across the world it is generally underfunded and undervalued.
That can be damaging for any child – particularly refugee children who have experienced the trauma of conflict and displacement. 
Theirworld has published Supporting Early Childhood Education Teachers in Refugee Settings – a report that looks at how quality ECE can be delivered to every refugee child if teachers are equipped with the right knowledge and tools. 
One of the authors – Maysa Jalbout, a Universal Education Fellow at Brookings Institution – appeared today in the latest of Theirworld's The Key Series of live discussions. It also featured Ajwok Mary Valentino, a South Sudanese refugee who is now a teacher at a refugee settlement in Uganda and a Theirworld Global Youth Ambassador.
Watch the event here
"We want to get support to amazing teachers – the heroes on the ground – so that they have the tools, the support and the network to do the critical work of helping children overcome the challenges they are facing," said Maysa. 
"We are urging the international community to start paying attention to teachers, community workers and parents of young children in refugee settings."
Mary said: "Change starts when we have the zeal to do something about it. There is always room to create change. Governments should try as much as possible to establish sustainable peace and prioritise education."
The report identifies four key ways in which teachers can be helped to deliver quality learning to young children. Theirworld plans to stage pilot projects in countries where we have existing strong relationships, where there are large refugee populations and some existing practice or government commitment to ECE. 
---
Supporting Early Childhood Education Teachers in Refugee Settings
Supporting Early Childhood Education Teachers in Refugee Settings
---
More news
Take the test and discover how our Schools Hub helps students grasp the global education crisis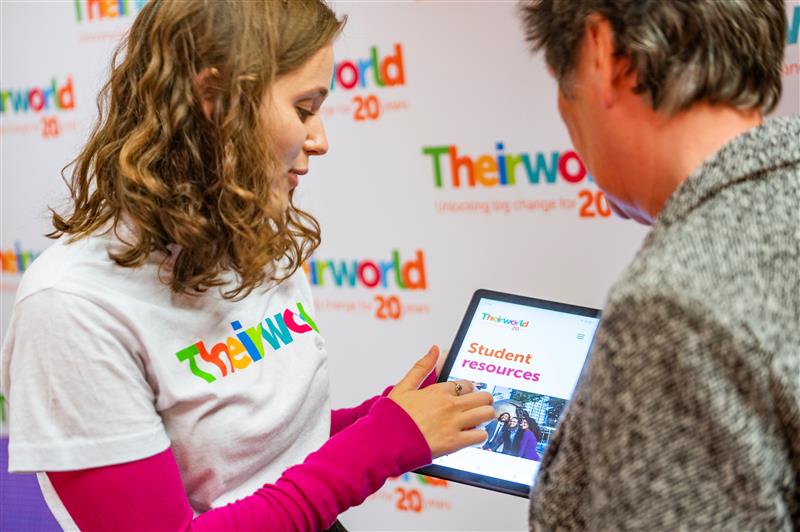 Take the test and discover how our Schools Hub helps students grasp the global education crisis
MyBestStart programme gives young girls the education they deserve
MyBestStart programme gives young girls the education they deserve