"More Than A Refugee event was the voice of diverse people in Lebanon"
Children in conflicts, Double-shift schools, Education Cannot Wait, Education in emergencies, Global Youth Ambassadors, Refugees and internally displaced people
---
One of Theirworld's Global Youth Ambassadors decided to challenge stigma against refugees by planning a day of live performances and stalls in Beirut.
---
Almost a year ago, a young woman named Mona Ali Hassan, a Theirworld Global Youth Ambassador, came up with the idea to host a "More Than a Refugee" event. 
As a Palestinian refugee living in Lebanon, Mona had suffered from all the negative thoughts and stereotypes about refugees here. Challenging stigma against refugees is becoming more important here in Lebanon, given that the hole between refugees and host community remains wide and is becoming bigger every day.
The "More Than a Refugee" event took place on Sunday, July 2, in Beirut's famous Hamra street and was the voice of refugees here in Lebanon – a space where communities could share their feelings, thoughts, dreams, challenges and, most important, their achievements. 
The focus of this event was on small initiatives, associations, individuals, artists and activists that were not well highlighted by the media or well known by the community and who were working to provide support, assistance and to develop skills of all those in need from refugees to host community. 
A large number of people attended this event, including those who knew about it from our invites and flyers and those who were attracted on the day by the live performances and the beautiful shape of the exhibition. 
The event was distinguished in terms of cultural diversity, bringing together Kurds, Syrians, Iraqis, Palestinians and Lebanese.
We showcased traditional songs from Assaaleek band to Rashid Najjar to Kurdish music and Dabkeh. The stalls were rich with handmade products produced by women from refugee camps.
Most of the speakers were women who have achieved huge things at all levels like Mariam Shaar and Razan Al Hussami. 
We were very impressed by the stories of different women who came from other countries like Iran to volunteer and support refugees like Saba Sadr. 
We respected the confidence of men who tried to unite people together like Ziad Aziz and we appreciated others like Ashraf Hafni who dedicated their life to help children overcome the effects of war.
Different event participants and the many attendees said we had succeeded to put a smile on children's faces, to bring people together and to create a connection for the first time since 2012 between all who are working with refugees.  
We managed to put all of these contacts in a real-life context and a real platform with direct communication far from meetings and discussions at offices. 
With thanks to PPL for their support to the safe schools initiatives and Global Youth Ambassadors collective in Lebanon.
---
More news
New school resources focus on disability and girls' education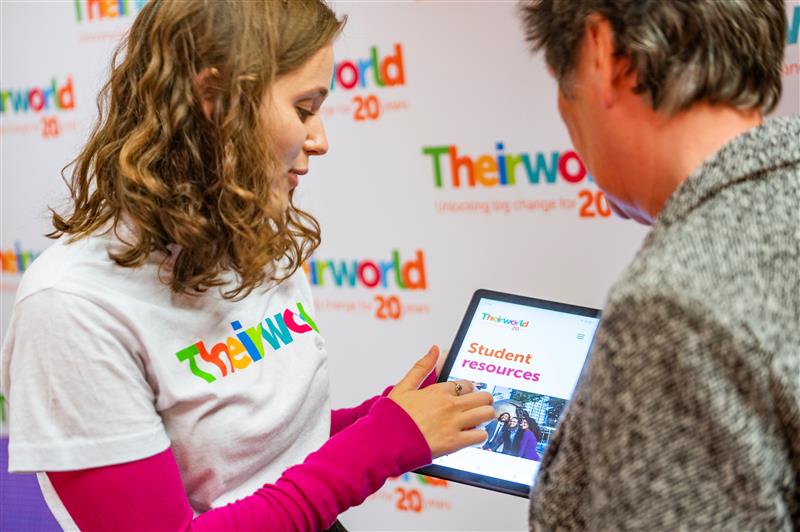 New school resources focus on disability and girls' education
Roger Federer supports the Act For Early Years campaign
Roger Federer supports the Act For Early Years campaign