Lessons on a boat: help for children and fishermen affected by Philippines typhoon
Children check out one of the new Learning Boats in Leyte
What do fishing for a living and teaching children have in common? Not much – until an amazing idea that has transformed the lives of thousands of people in the Philippines.
The simple but brilliant concept was born in Leyte province, which was devastated by the typhoon in 2013 that killed almost 6000 people.
More than 18,000 fishermen lost their boats and their livelihoods. Children lost their schools and their parents' income, so their education was disrupted.
In stepped the Philippines Foundation and its founder Evelin Weber with the big idea – Learning Boats.
Here's how it works. Buy 1000 boats for fishermen, on condition that they send their children to school. Then paint the boats with creative and brightly-coloured lessons for younger children.
After the morning catch, the fishermen dock their boats and teachers and volunteers use them as outdoor learning centres for young children.
Everyone benefits – the fishermen, the children at school and the younger ones getting informal lessons at the beach.
"I had originally wanted to restore livelihoods so I bought boats to help the men fish again," explained Evelin.
The boats provide outdoor learning centres for younger children
"But with my experience in the philanthropic world, I recognised that giving someone something isn't always the most effective way to help.
"So I said to them – you will get this boat if you keep your kid in school.
"The moment your child is out of school, that boat belongs to me again. I will then give it to your neighbour."
Evelin is a writer, entrepreneur and humanitarian who was profoundly affected by the disaster that struck her country.
Artists brought in from the capital Manila came up with designs
Typhoon Haiyan left almost four million people displaced. In the worst-hit areas, about 90% of school buildings – more than 3200 – were damaged, leaving over a million pupils and 34,000 teachers with no place for learning.
In Leyte province alone, 760 schools were damaged. 
Most of the children in the Learning Boats programme were in school before the disaster.
Evelin said: "When the typhoon hit, many people lost their livelihoods. It was so much easier for a kid to stay out of school – there was either no school because of damange or there was no extra income for the kids to go back to school. To date, many schools still have not been rebuilt .
The boats allow fishermen to start earning money again
"Many kids who dropped out never went back to school. And all the evidence shows that the longer you stay out of school the harder it is to go back."
Ornilo, a fisherman helped by the programme, said: "After Haiyan, there were no boats left for us to borrow.
"Only one of our kids went back to school because we couldn't afford to send them."
Evelin had already been involved in painting children's cancer wards. That inspired her to try something different with the boats.
Some of the painters, fishermen and children in the programme
"Rather than logos, I thought, why don't we paint each of the boats differently to give each boat recipient a sense of ownership?" she said.
"On a project visit, there were kids who loitered about by the ocean when the fishing boats come in. So I decided it would be interesting if we put lessons on the boats, to give these out-of-school kids some informal education."
The lesson plans were formulated with the education department for kindergarten, preschool and first-grade children. Painters were flown in from the capital Manila to turn these plans into creative, graphic designs on the boats.
Every one is different and the designs includes colours, the alphabet and parts of the body. Ornilo said: "I will show my kids that every boat's design is something they can learn from."
Evelin Weber with some of the children helped by her foundation
The first 100 boats are already being used and the other 900 will be rolled out in different areas. Each boat can help to generate more than $2400 a year for the fisherfolk.
Evelin said: "We need donations so that we can buy more school lessons and help more fishermen. But we also need volunteers either to teach or paint lessons to keep the programme sustainable, long-term.
"The message is that education can really change a life – and the lack of education can also change a life."
The Philippines Foundation creates community-rebuilding programs to empower and educate disadvantaged women and children. It has partnered with Philippines Airlines on the Learning Boats project. 
---
More news
Theirworld's mission to give children in crises a safe place to learn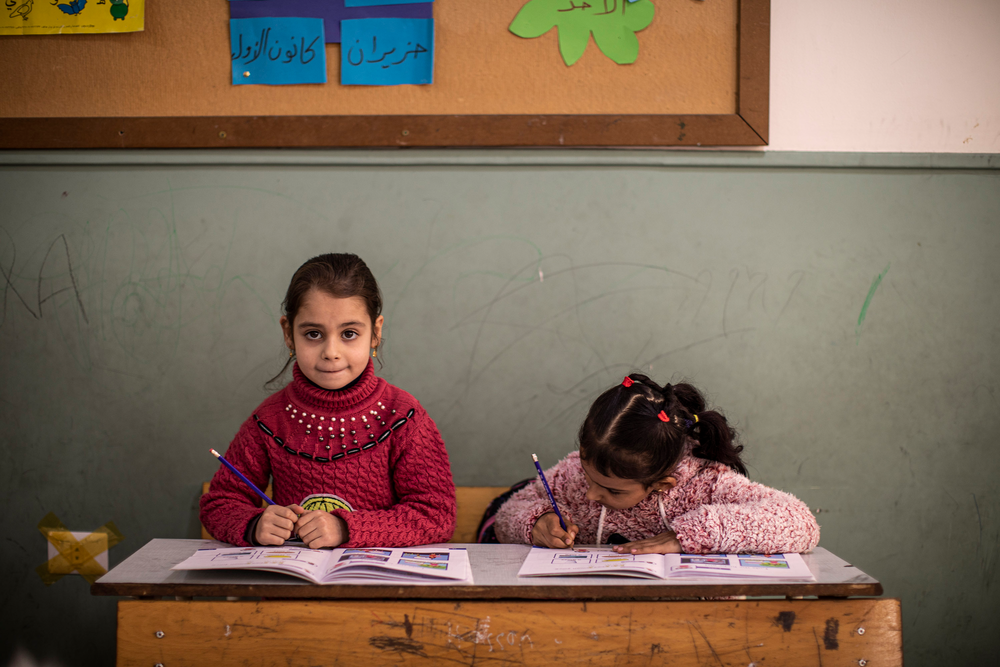 Theirworld's mission to give children in crises a safe place to learn
We thought loud noises were a storm – it was Russia bombing Ukraine
We thought loud noises were a storm – it was Russia bombing Ukraine