James and Elaine Wolfensohn receive award for lifetime dedication to education
Early childhood development, Right to education, The Global Business Coalition for Education (GBC-Education), Theirworld
---
The former World Bank president and his wife have been champions of learning, early childhood development and giving young people a voice.
---
A couple who have helped to deliver quality education to millions of marginalised children and youth have been honoured by Theirworld.
James and Elaine Wolfensohn were awarded the Lifetime Dedication to Education and Learning Award by Theirworld and the Global Business Coalition for Education. 
The Wolfensohns were presented the award in New York by youth leaders working on global education and members of staff, who spoke to them about their work at the World Bank and how they made learning opportunity for all a priority.
Justin van Fleet – Director of the Education Commission and on the GBC-Education advisory board – said: "When we look at the champions of global education and the individuals who made it their business to put learning on the global agenda, one needs to look no further than Jim and Elaine Wolfensohn.  
"Presenting them with this award is a very special moment. They shaped and elevated the very issues central to human development and equality that we continue to campaign for today – so that no child is excluded from the opportunity to reach his or her potential."
An Australian-American, James Wolfensohn became the President of the World Bank in 1995 – a tumultuous time marked by an economic crisis in Russia as a result of the collapse of the Soviet Union. 
Worldwide protests, under the banner of "Fifty Years is Enough," were pushing for the abolishment of the World Bank and the International Monetary Fund. James was instrumental in pushing forward the World Bank's agenda to reduce poverty throughout the world, with a strong focus on human development and education.
During his tenure, he drew attention to the importance of involving young people and the need to expand the development dialogue to include civil society, indigenous peoples, faith-based groups and other non-government stakeholders. 
The former Olympics fencer also oversaw the launch of the Fast Track Initiative to accelerate progress toward the Millennium Development Goal of universal primary education. 
Elaine Wolfensohn has played a critical role in putting education at the centre of the international development agenda. She recalled her first World Bank trip to Mali, where she noticed the need to focus on investing in quality education and shift discussions towards quality and learning. 
She has been a long-time champion of early childhood development, education and gender equity. 
For over 40 years, Elaine was involved in the field of education and arts education while raising her own family. Her work in Australia and the United States included teaching, creating teen tutoring programmes in inner-city schools and training adult volunteers to tutor high school students.
In 2006, the couple founded the Wolfensohn Center for Development at the Brookings Institution. Before concluding its operations in 2011, the centre worked to "identify effective solutions to key development challenges in order to create a more prosperous and stable world".
---
More news
Take the test and discover how our Schools Hub helps students grasp the global education crisis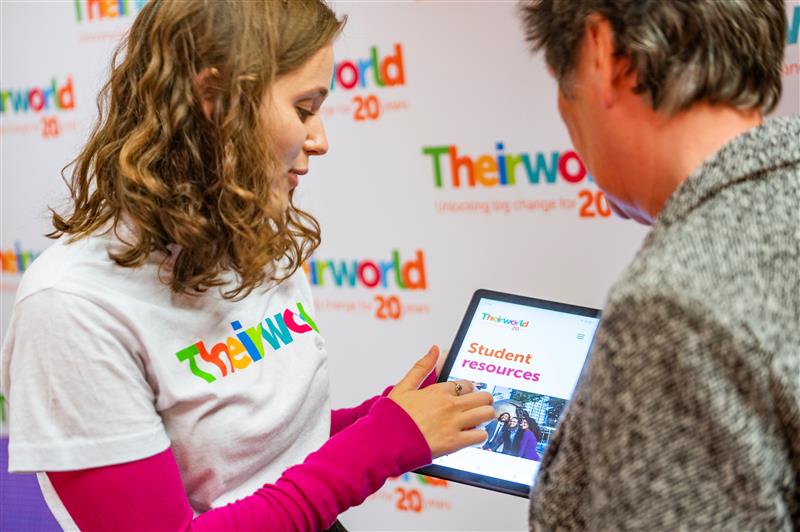 Take the test and discover how our Schools Hub helps students grasp the global education crisis
MyBestStart programme gives young girls the education they deserve
MyBestStart programme gives young girls the education they deserve