Comedian Matt Lucas acts like a big baby to support Theirworld's #5for5 campaign
Celebrities, Child nutrition (Early years), Childcare, Early childhood development, ​Learning through play (Early years), Safe pregnancy and birth, Theirworld
---
The British star has revived a much-loved TV character for an exclusive new video to raise awareness of the care and support children under the age of five need to thrive. 
---
Have you heard the one about the famous comedian who dressed up as a baby to promote early childhood development?
British TV and film star Matt Lucas has revived his much-loved character George Dawes – complete with pink onesie – in an exclusive new film launched today to support Theirworld's #5for5 campaign.
It aims to raise awareness of the five crucial childhood interventions needed for children aged 0-5 – and calls on world leaders to take action to make sure all children have access to the care and support they need to thrive.  
Matt, also famous for his film and television roles in Bridesmaids, Little Britain and Doctor Who, said: "I think #5for5 is a great campaign to be involved in. It's a strong message, Theirworld is a great charity. 
"For me it was a good opportunity to be George Dawes again because I haven't been George for eight years!
"I couldn't really resist, it's always fun to muck about as George. Sometimes you just have to put on a romper suit and be silly."
Matt is a comedian, actor, screenwriter and singer who shot to fame in the British TV comedy quiz show Shooting Stars. His character George Dawes would deliver a string of gags before announcing the scores – while playing the drums and dressed in an adult-sized romper suit.
Matt is currently appearing on TV as Doctor Who's assistant Nardole.
He is the first of several comedians from different countries who are channelling their inner child in a series of short films promoting #5for5 and the five key things needed for the under fives – nutrition, health, learning, play and protection.
Theirworld President Sarah Brown said: "By the time a child reaches the age of five, 90% of their brain has already developed. 
"Investing in the first five years of a child's life has been proven as critical in providing all children an equal chance at success, no matter who they are or where they are born.
"But despite the evidence world leaders are not committing funding for programmes to make sure all children -particularly the poorest and most marginalised – are given the best start in life." 
A new Theirworld report titled Bright and Early has also been published today. It warns that a severe lack of investment in early years support is putting millions of children at a disadvantage before they even start school.
Campaigners are calling on world leaders meeting at the G20 in Germany in July to commit to a dramatic increase in funding for pre-primary education.
Thank you to our partners and supporters on the #5for5 campaign – in particular the Conrad N. Hilton Foundation.
---
More news
Take the test and discover how our Schools Hub helps students grasp the global education crisis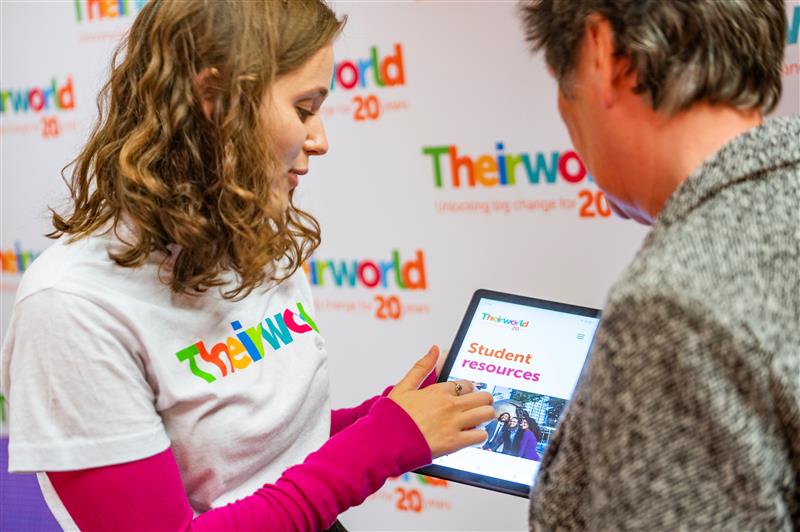 Take the test and discover how our Schools Hub helps students grasp the global education crisis
MyBestStart programme gives young girls the education they deserve
MyBestStart programme gives young girls the education they deserve