'From childhood I wanted to achieve more' … meet Musa, our Global Youth Ambassador of the Year
Barriers to education, Global Youth Ambassadors, Right to education, Theirworld
---
The passionate and inspiring activist from Nigeria was selected for the award from among 900 young leaders in over 90 countries. 
---
Musa Olatunji's childhood was a challenge. He came from a big and loving family of 10 – but like many children growing up in Nigeria's Lagos state, opportunities were often few and far between.
"Many parents preferred their children to hawk goods during school hours to support their family. Many didn't value education and some that did value it didn't have the resources," he says.
"I grew up in an environment where you have to struggle for everything to get what you want or else the society will knock you down. 
"As a child, I knew what I wanted and pursued it with full energy. I really didn't know how important education was but I drew strength from watching great people on my father's black and white television then. It made me promise myself to also one day be like them."
Musa is definitely on the right track. Last month he was named by Theirworld as the Global Youth Ambassador of the Year for 2018 – selected from over 900 youth activists in more than 90 countries.
It is a special annual award given to a young person who has been doing outstanding work both within and outside the Global Youth Ambassador network to break down the barriers that keep children out of education.
But that's only one aspect of Musa's remarkable dedication to helping young people.
"To God be the glory, I have participated and contributed in reaching out to over 100,000 lives positively through the several local and international NGOs I volunteer for," he says.
Our Global Youth Ambassadors network is an inspiring group of young people advocating and campaigning for education change around the world. It offers passionate education advocates the platform to amplify their voice and the voices of young people to create real change. 
"Musa has utilised the skills he has developed within the network to advocate for education," says Khaleda Yesmin, Global Youth Ambassadors Project Coordinator. 
"He is a hardworking and resourceful campaigner and we are proud to call him our Global Youth Ambassador.
"Our Global Youth Ambassadors, from a diverse background represent the youth voice, connecting the local with the global by campaigning, highlighting and reporting on issues that affect them."
Musa's fellow Global Youth Ambassadors voted him as the network's top activist of 2018. Here's what some of them said about him:
Musa is a selfless and passionate advocate for quality education in my country.
He is passionate about seeing that education reaches everyone - a volunteer par excellence and a leader who inspires other around him to do more.
He and his team have been able to truly revive hope in the minds of the hopeless, including out-of-school children.
But Musa, who works as an accountant, isn't resting on his laurels. He wants to achieve even MORE.
"I have always wanted to be MORE, to do MORE for humanitarian activities," he says, explaining that MORE stands for "Making myself Occupied and Relevant in the Environment".
The acronym means a lot to him. He is CEO of BeMORE Global Consulting and Co-Founder of MORE Global Foundation, which focuses on education, health, leadership, youth, community and global development in Nigeria and Tanzania.
Musa was born and brought up in Lagos state, which he describes as "one of the most expensive, luxurious, populated and life-challenging cities in the world".
The seventh of 10 children, his family's roots were in Abeokuta, the capital city of Ogun State in the South-West part of Nigeria.
"We are all educated, though on different educational levels, thanks to our parents who believe in education," he says.
"Going to school was a choice you can make. Thanks to my mother, even though she's not learned, she never discouraged me from going to school.
"These memories are where I draw my strength whenever I feel like backing off from my dreams. I have always wanted to be MORE from childhood.
"There are many challenges and obstacles faced by children in our community which have prevented many from having access to quality education. Family factors, poverty, technology, bullying, student attitudes and behaviours, parent involvement and lack of educational funding etc."
It was overcoming those obstacles that inspired him to become an education activist.
"Looking back to when I was growing up and the kind of society which is still in existence propelled me into fighting for the right of every child to have quality education," says Musa.
After school, he studied a mini-MBA course on leadership and management from Accra Business School in Ghana and took an accounting degree at Moshood Abiola Polytechnic Abeokuta.
In 2017 Musa – who describes "adventures" as his biggest hobby – became a Global Youth Ambassador with Theirworld.
He says: "This great opportunity has made me focus more on children and youth education because we are the future and it starts now.
"Education is the best legacy one can leave behind. I also believe having access to quality education yields liberation that will give birth to personal growth.
"I have consistently campaigned with Theirworld, a great initiative that has transformed many children's lives positively to help achieve their dreams and goals. 
He – like all Global Youth Ambassadors – has worked hard to highlight and encourage support for Theirworld's major campaigns, including:
#WriteTheWrong – raising awareness of the 262 million children and youth out of school
#SafeSchools – spotlighting the need for children to be able to learn free from fear, attacks and other dangers
#YouPromised – ensuring pledges to get every Syrian refugee child into school are kept
#5for5 – campaigning for greater investment in early childhood development, especially pre-primary education
Musa has also worked with fellow Global Youth Ambassadors on their projects – promoting initiatives and book launches. 
He co-founded the non-governmental organisation MORE Global Foundation – formerly known as MORE Global Outreach Initiative. It focuses on education, health, leadership, youth, community and global development in Nigeria and Tanzania. 
MORE Global Foundation's goals include: 
Ensuring inclusive and equitable quality education, promoting lifelong learning opportunities for all
Achieving gender equality and empowering all girls and women
Ensuring healthy lives and promoting wellbeing for all
Promoting sustained, inclusive and sustainable economic growth, with full and productive employment for all
Creating empowerment initiatives to reduce the level of poverty and hunger
It aims to achieve this through mentoring and coaching, self- and source funding, and skills empowerment.
So what is Musa's vision?
"To have a society where every child is given equal right to quality education and is able to attain their full potential," he says. 
"To do my own quota towards global and community development and to be globally recognised, by doing MORE for humanitarian activities.
"Life has taught me how to appreciate every second I breathe and the people that cross my path.
"Self-fulfilment drives me to keep helping others – because having contributed to someone's life success and seeing the smile on their face is a thing that can never be forgotten."
More about Musa's achievements
2018 Yerima Balla International Award Winner for Youth Development
2018 Ogun Youth Award education category finalist
2018 Fellow of African Young Leaders (Accra Business School)
Global Goodwill Ambassador
Youth Ambassador for World Literacy Foundation
Young World Leader (Nigeria)
Planning Committee of Young African Leaders Initiative (YALI) Lagos Hub
Member of International Youth Council, Amnesty International, SDG Academy among many others
---
More news
Take the test and discover how our Schools Hub helps students grasp the global education crisis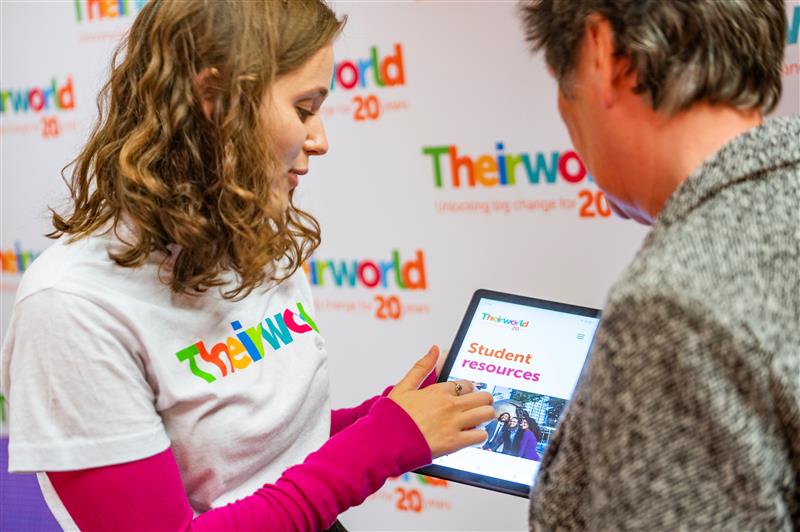 Take the test and discover how our Schools Hub helps students grasp the global education crisis
#LetMeLearn: the story of a global education campaign
#LetMeLearn: the story of a global education campaign