"More funding for early childhood development would have a significant impact on my community and country"
Early childhood development, Global Youth Ambassadors, Right to education, Theirworld
---
Global Youth Ambassadors give their reaction to a Theirworld report that revealed only 1% of aid for young children goes to pre-primary education.
---
Early learning is one of the key ways to ensure a child has the best chance to fulfil their potential.
So it was a shock to discover that just 1% of all aid going to children under the age of five in developing countries is spent on pre-primary education.
The statistic was revealed in a Theirworld report published last week, which shows that of all the interventions in the crucial first years of a child's life, education is the most underserved – falling way behind health and nutrition. 
We asked Global Youth Ambassadors – part of the worldwide network of more than 700 young advocates and campaigners – for their reaction to the report.
Egide Niyonsaba (Burundi)
More funding for early childhood development would have a significant impact on my community and country. When a child loses support in their early ages, this will impact negatively not only their personal development but also their community. 
Quality nurturing care is vital to children thriving to reach their cognitive development potential.
My country is not benefiting from donor investments in ECD. This is the most neglected sector in Burundi. 
Pre-primary education is also not supported by the government. Most of nursing and kindergarten schools are private. Few children access them due to poverty. 
To promote donor investments in ECD and pre-primary education, the government must first be aware of the importance of this sector and consequently call for investors, including local and global charitable organisations, to invest in it.
Yohanna Hailu (Ethiopia)
I believe the current donations to global pre-primary education are still not enough to address the challenges in developing countries, like Ethiopia. 
In my country, once a child is out of school, it is unlikely that she or he will enrol in school again. This has so many negative impacts.
For a country like Ethiopia, where around 80% of the population lives in rural areas, the accessibility of education is very low. Besides, people's knowledge about the importance of education is very scarce. 
Thus, in order to work on these major challenges, the country will need generous donations for proper education investments in the country.
Danielle Green (France)
"L'essentiel est invisible pour les yeux." (What is essential is invisible to the eyes.)
The author Antoine Saint-Exupéry left us a powerful message about making sure our vision is not narrowed by looking at figures alone. 
The effects of promoting pre-primary education are not immediately visible and can also be difficult to measure – but we shouldn't let this discourage us from investing in the most critical development stage in a child's life.
Ensuring that children reach their full potential in their earliest years will undoubtedly have a resounding long-term impact on them. That's why I'd encourage France and the other ECD donors to make pre-primary education a priority.
Mitchelle Ofuyo (Kenya)
The level of Overseas Development Assistance (ODA) investments in donor contribution to pre-primary ECD could have a greater impact if increased.
I would like for them to reconsider the fact that ECD forms the major building blocks for a child's development. As such, I would implore them to scale up the investment.
With greater donor investments to pre-primary ECD, I genuinely feel that my country will leap forward in general education levels.
I think government can definitely do more to promote donor investment in ECD and pre-primary education. Putting in place the new curriculum was a good first step. 
Now, it becomes crucial to make it mandatory for every child to be able to access it. (Premise: Availability, accessibility and affordability.) It's also key to cushion the project from unscrupulous interference.
I personally think that more funding towards ECD in Kenya is very commendable. A noble and a highly welcome move. It would serve for the greater good in cementing the very essential foundation of childhood growth and development, ultimately impacting the levels of education in the country.
Javiat Nauth (United States)
I feel proud to see that United States listed among the top 10 donors for early childhood development.
However, even though the USA is the third largest donor for ECD, the percentage of Official Development Assistance invested towards pre-primary education is still minuscule in comparison. The math and science doesn't lie, it shows that pre-primary education is still a vital part of ECD. 
I would like to see the USA take the leadership and fill in the gap of its share of responsibility by re-balancing and committing to put at least 10% of its funds towards the pre-primary stage of ECD.
Joannes Paulus Yimbesalu (Canada)
Canada has demonstrated continuous leadership towards global education development co-operation – and this can be exemplified through Prime Minister Justin Trudeau's recent pledge of $180 million from 2010-2020, doubling its annual commitment to the Global Partnership for Education.
Yet Canada ranks 14th out of 25 donor in terms of its aid to ECD with an ECD spending of just $155 million. 43% of children under five years of age globally may never reach their cognitive development potential due to poverty, poor health and nutrition and deficient care, including the lack of a stimulating environment.
Growing up in northwest Cameroon was quite challenging as my mother, a single parent, struggled each day to make sure my three siblings and I had the necessary nutrition to allow us to stay in school, learn and play.
However, today more than 150 million children aged three to five do not have access to pre-primary education, which puts them at a disadvantage before they even start primary school.
With Canada hosting the G7 Summit in June, it needs to demonstrate leadership in ECD on the global stage by committing 10% of education budgets to the pre-primary stage. It is high time Canada commits to providing additional support to the underfunded areas of ECD – particularly pre-primary education – to better track additional resources to the sector against donor pledges
Eefje van Esch (Netherlands)
The Netherlands is surprisingly invested in ECD – it is even the second largest donor (ECD/ODA), while in recent years it has cut development aid in general. It even incorporates the different early childhood investments together, including pre-primary education!  
It is definitely possible to reach the Sustainable Development Goals by 2030 if we make progress like this. However, we can only do this by really ensuring a balanced approach – all areas are of equal importance to make sure no one is left behind when they are just a baby. 
Donors like the Netherlands can help those children to live up to their potential.
---
More news
Take the test and discover how our Schools Hub helps students grasp the global education crisis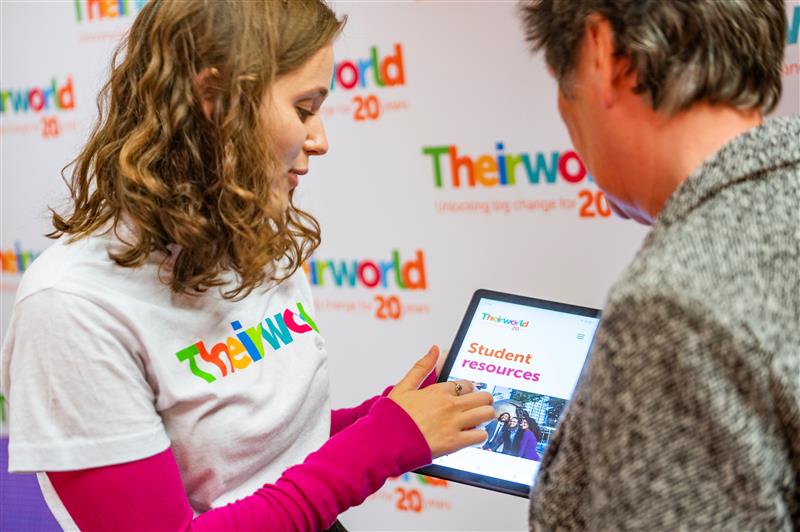 Take the test and discover how our Schools Hub helps students grasp the global education crisis
MyBestStart programme gives young girls the education they deserve
MyBestStart programme gives young girls the education they deserve