"Praise from President Obama has made me even more determined to help children"
Celebrities, Global Youth Ambassadors, Right to education, What is advocacy?
---
Global Youth Ambassador Enock Nkulanga tells how it felt to have the former US President pay tribute to his work as a young leader.
---
Imagine being praised by Barack Obama in a speech about the legacy of Nelson Mandela. That's what happened to Enock Nkulanga, a Global Youth Ambassador with our A World at School movement. 
The former Rwandan refugee travelled to South Africa from his home in Uganda and heard himself singled out by the former US President as an inspiring young African leader. 
On the eve of what would have been Mandela's 100th birthday, President Obama talked passionately this week about the power of young people to change the world.
In his speech, he specifically mentioned the advocacy and campaigning mission of Enock, director of the African Children's Mission and one of 200 emerging leaders selected to travel to Johannesburg with the Obama Foundation.
We asked Enock for his reaction. Here's what he had to say.
What did it mean to you to be acknowledged by President Obama in his speech?
It meant commitment to the work I have been doing and finding new ways to improve other people's lives. It came at a time I least expected it and when I had no clue it was going to happen. 
The president mentioning my name was a huge inspiration to me that what I do actually matters.
How did you feel when you heard your name and the work you're doing being recognised?
It made me sick and had goosebumps. It made me feel that the work I do matters and that I should keep on keeping on.
Sometimes we lose hope in our daily work but President Obama recognising the work I do was a huge inspiration that social work is important, especially when it involves improving other people's live directly. 
I can't think of doing something else other than what I am doing now as the director at African Children's Mission, and advocating and campaigning for children's rights as a Global Youth Ambassador at Theirworld – as well as staying committed to the work through LeadMinds Africa of developing the next generation of leaders.
  
What does this mean for you personally and the education advocacy work you're doing?
Personally, it was like President Obama saying or calling me out to go back to Uganda and make sure that more children are in school and learning, as well as ensuring that other people's lives are improved through a commitment to serve. 
It helped me ask big questions, especially when everyone began reaching out. And this presents two choices – either I choose to focus on publicity or actually understand that this is the moment to find new ways to impact more lives.
To make sure that more children are in school and receiving the education they need.
For the education advocacy work, it meant that education matters not only to the children in emergencies or war-torn areas and countries but also to President Obama.
So it was a call to action for me to keep the commitment toward advocacy and campaigning for children's rights.
 
Did you get to meet President Obama? If so, was there anything you remember about the conversation that was meaningful to you?
The conversation with him, especially during the town hall meeting, was the most powerful and rich conversation I have had a chance to be part of.
I was fortunate to be sitting on the front row and so he was just a few meters away from where I was sitting. 
He said: "You need to worry less on what you want to be and worry more on what you do."
That is one of the most profound statements I have had to listen to in my life. It has redefined how I am going to approach work in the next five or 10 years of my life – not just for the purpose of being known for what I do but really focusing on improving other people's lives.
---
More news
New school resources focus on disability and girls' education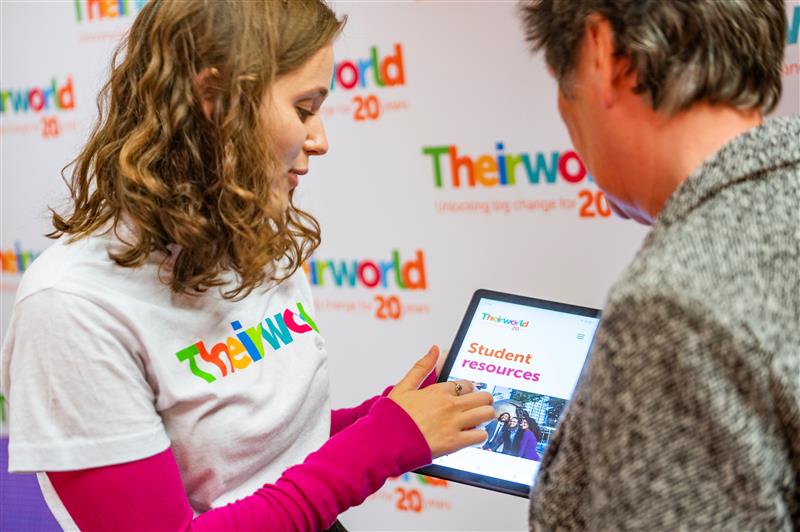 New school resources focus on disability and girls' education
Roger Federer supports the Act For Early Years campaign
Roger Federer supports the Act For Early Years campaign