Myanmar floods hit 80,000 children and close 1300 schools
Large parts of Myanmar have been hit Picture: UNICEF Myanmar
Millions of children in Myanmar were already missing out on school. Their families are poor and they face a bleak future.
Despite progress, 4.4 million children aged five to 18 do not attend school and 10 million live in poverty, according to 2014 census data from the southeast Asian country.
Last month the representative for the United Nations children's agency UNICEF in Myanmar told candidates in forthcoming historic elections "to make new commitments for children" to improve spending on education, health and social welfare.
Then the floods came. Cyclone Komen made landfall in Bangladesh on July 30 and then swept into Myanmar, bringing with it heavy rain, wind and landslides to a country already affected by weeks of monsoon rain. The water has devastated large areas and the education ministry said more than 1300 schools have been closed.
Save The Children said up to 80,000 children are among more than 150,000 people affected. It has sent assessment teams to the worst affected parts of Magway and Rakhine – two of four regions declared as disaster zones.
Catastrophic floods in Myanmar hit the most vulnerable, including children – aid agencies http://t.co/80MZPUUUJS pic.twitter.com/3gIqEwX7co

— United Nations (@UN) August 3, 2015
Jose Ravano, Acting Country Director for Save The Children in Myanmar, said today: "This disaster has left tens of thousands of children vulnerable and we are particularly concerned for their welfare and safety as whole regions have been left under water. Children may be in distress due to the displacement and destruction, and some have fled their homes without any essential supplies."
He said Save The Children teams had to be to areas of Rakhine State and Magway Division, adding that at least 14,000 families there have been affected. Schools are shut, families have been displaced and homes are flooded.
Mr Ravano added: "Families who have lost their livelihoods will also need long-term recovery support and schools will need rehabilitation."
The death toll has been put at 47 by the government but that number is expected to rise.
UNICEF warned of a "double catastrophe", saying already vulnerable children face particular hardships because the floods will add to the existing problems of poverty, violence and conflict.
Children with their family at an evacuation camp in Sagaing region
UNICEF's Deputy Representative in Myanmar Shalini Bahuguna said: "The floods are hitting children and families who are already very vulnerable, including those living in camps in Rakhine state.
"There are 140,000 displaced children and families in Rakhine alone.
 Beyond the immediate impact, the floods will have a longer term impact on the livelihoods of these families."
Schools are among buildings being used as safe shelters for those who have fled the flooding.
The government, local authorities, Myanmar Red Cross Society and other organisations – backed by UN agencies and other international bodies – are working to rescue survivors and distribute vital supplies such as water, food and blankets.
A World at School has been at the forefront of a campaign to establish a funding mechanism to help education in emergencies. Last year only 1% of all humanitarian aid went to education in emergencies, which includes conflicts and natural disasters.
At the Oslo Education Summit in July, the Global Humanitarian Platform and Fund for Education in Emergencies was agreed. World leaders decided to move forward on developing a system to improve how aid is provided in emergencies and urgently address the gap in funding.
---
More news
Theirworld's mission to give children in crises a safe place to learn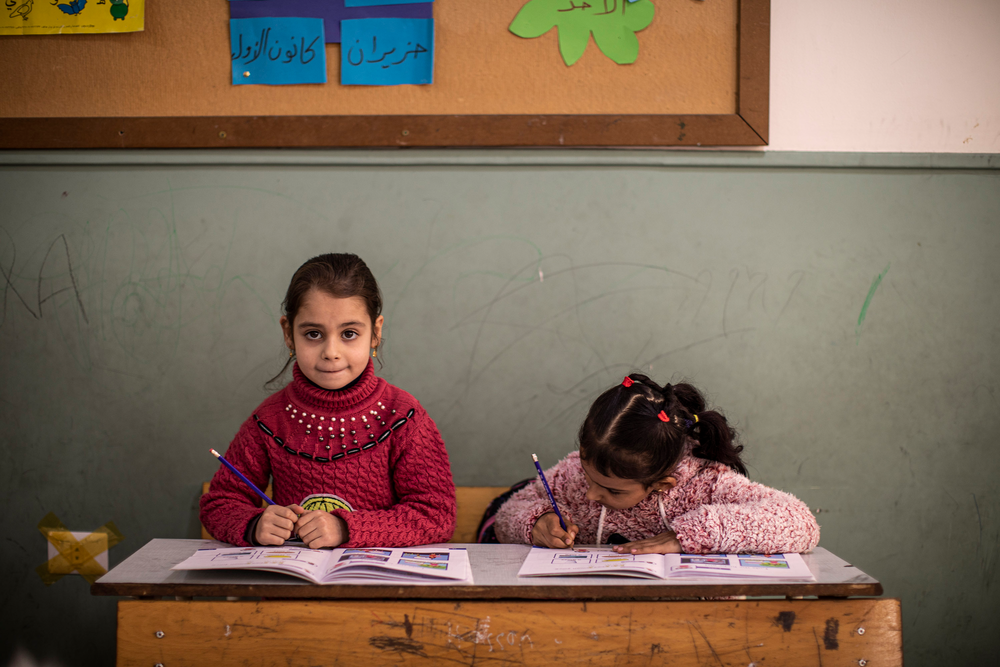 Theirworld's mission to give children in crises a safe place to learn
We thought loud noises were a storm – it was Russia bombing Ukraine
We thought loud noises were a storm – it was Russia bombing Ukraine