Nepal earthquake damage leaves one million children out of school
Children's welfare after natural disasters, Education in emergencies
The education of almost one million children is at risk because of the catastrophic efects of the earthquake in Nepal.
All schools across the country have been closed but are due to reopen on May 15. But at least 950,000 students will have no classrooms unless urgent action is taken, according to the United Nations children's agency UNICEF.
Temporary learning spaces have to be built and damaged school buildings have to be repaired. Almost 24,000 classrooms were destroyed or damaged by the 7.8 magnitude earthquake that struck on April 25, killing more than 8000 people.
Tomoo Hozumi, UNICEF's Representative in Nepal, said: "Almost one million children who were enrolled in school before the earthquake could now find they have no school building to return to.
"Children affected by the earthquake need urgent life-saving assistance like clean water and shelter. But schools in emergencies – even in a temporary setup – play a vital role too. They minimise disruption to children's education, protect them from exploitation and abuse, and provide them with messages to keep them safe and healthy. 
"Going to school also allows children to regain a vital sense of routine that can help them come to terms with their experiences."
Akriti Tamang, 8, in Sindhupalchowk District Picture: UNICEF/Karki
It was estimated last week that 5000 schools had been destroyed and thousands more damaged. In the worst-affected areas of Gorkha, Sindhupalchok and Nuwakot, 90% of schools have been destroyed and about 80% of school buildings have collapsed in Dhading.
In some areas, including Kathmandu and Bhaktapur, approximately nine in 10 surviving school buildings are being used as emergency shelters.
Mr Hozumi added: "There is a desperate need to set up alternative learning spaces, assess and repair buildings and mount a public awareness campaign encouraging families to send their children back to school and preschool. Prolonged interruption to education can be devastating for children's development and future prospects."
UNICEF child-friendly space in Tundikhel Picture: UNICEF/Karki
Only 1% of humanitarian funding in 2014 went towards education. Gordon Brown, the UN Special Envoy for Global Education, and A World at School recently called for the creation of a humanitarian fund for financing education in emergencies so that children have the education necessary to protect themselves and rebuild their communities.
Mr Brown reiterated that call this week. In a blog for Project Syndicate, he wrote: "A humanitarian fund for education in emergencies needs to be established, and soon, so that when calamity strikes, vulnerable children are not forced to wait in misery and insecurity while the adults pass around the begging bowl."
He added: "No one is asking donors to make education a priority over immediate life-saving responses, or that financing be diverted from other emergency relief efforts. But it is crucial to realise that, for children, educational opportunity underpins all humanitarian and development interventions. Schools provide more than the skills that children will need in later life; they also serve as vehicles for disseminating lifesaving health and safety information."
Education in Nepal had been making good progress
Plan International CEO Nigel Chapman said: "In 2014, just 1% of humanitarian funds deployed went to education and there is currently no mechanism to fund education of refugee children or those affected by disaster. The limitations of the current international financing architecture for education are woefully clear."
Nepal's education system had been improving in recent years. But about 1.2 million Nepali children between the ages of five and 16 have either never attended school or have dropped out.
It is vital that Nepal's children go back to school. Some kind of normality and the feeling of being in safe spaces will help them to recover gradually from the terrible trauma. Experience shows that if children are out of school for long periods many could fall into child labour, child marriage and sexual exploitation.
Out-of-school children are also at greater risk of violence, rape and recruitment into fighting, prostitution, and other life-threatening, often criminal, activities. Many will simply never return to the classroom.
Read a blog by Bhawana Shrestha, an A World at School Global Youth Ambassador from Nepal, on the need to rebuild children's dreams.
You can donate to the Nepal earthquake appeals being run by organisations including UNICEF, Save The Children, Oxfam, BRAC, Tear Fund and the Disasters Emergency Committee.
---
More news
Theirworld's mission to give children in crises a safe place to learn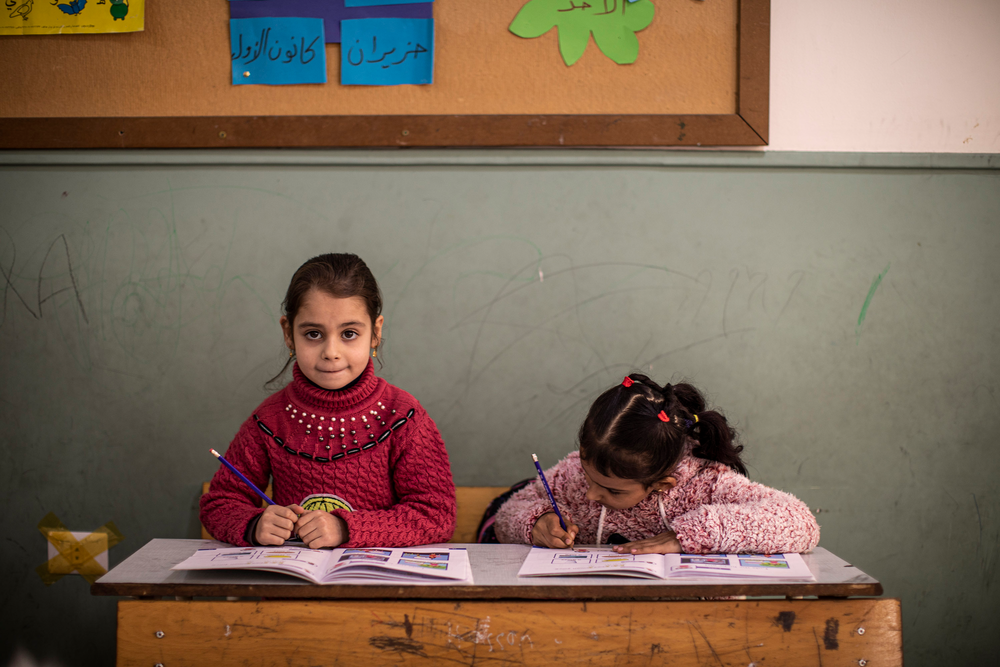 Theirworld's mission to give children in crises a safe place to learn
We thought loud noises were a storm – it was Russia bombing Ukraine
We thought loud noises were a storm – it was Russia bombing Ukraine