Successes and failures as Nepal rebuilds school system three years after earthquake
Children's welfare after natural disasters, Education Cannot Wait, Education in emergencies
---
Hundreds of thousands of children have been given education and protection support - but lack of funds means many schools still have to be repaired or replaced. 
---
Many children are back in school three years after an earthquake devastated parts of Nepal and killed almost 9000 people.
But in some parts of the country, reconstruction has been slow – with the government completing work on only a third of school buildings that were badly damaged or destroyed. Funding has been a major issue and has resulted in nearly 6000 state-run schools still needing to be rebuilt.
In some areas, however, new earthquake-proof schools have been built and programmes to protect vulnerable children have proved successful. This has helped to prevent child trafficking, child labour or sexual abuse, according to the charity Save the Children.
A massive earthquake of 7.8 magnitude shook Nepal on April 25, 2015 and destroyed or damaged around 9000 schools and 30,000 classrooms. Almost one million children were out of school in the immediate aftermath and the quake was followed by a major aftershock on May 12. 
In the worst-hit areas, 90% of schools were destroyed, with hundreds of temporary learning centres set up after the disaster. At the time, there was concern for the future of millions of traumatised Nepalese children – and fears that if they didn't return to school quickly they could become victims of child marriage, trafficking and child labour.
A report this week by the Central Level Project Implementation Unit (CLPIU) said 3613 schools have been rebuilt, while the government has generated resources for 2047 more schools. But the government has yet to ensure funding for another 2363 schools in the 32 worst-affected districts and 3400 more schools elsewhere.
The CLPIU report blamed reconstruction delays on bilateral or multilateral donor agencies. Of the 655 schools that the Japanese International Cooperation Agency, USAID, Japanese Fund for Poverty Reduction, and Indian and Chinese governments pledged to rebuild, only 17 have been constructed so far.
"Generating necessary funds is a huge challenge," Im Narayan Shrestha, chief of the CLPIU, said in Kathmandu this week.
The progress made by NGOs, however, has been better. As many as 1050 schools have been constructed, while 126 are in the process of construction with support from 180 non-profits.
Save the Children is among a number of organisations working in Nepal to get children back into education. The charity told Their News it has helped 350,000 children over the past three years and hopes many children can now go to school "fearless".
A spokesman said: "We have completed building seven schools and 15 more will be ready by July 2018. We are also constructing 15 early childhood development and care centres in SIndhupalchok, one of the most earthquake-affected districts. In the last three years we have reached over 350,000 children. 
"Save the Children works in all phases of disaster management by being actively involved in humanitarian responses and recovery as well as preparedness and disaster risk reduction. 
"In doing so, we try and ensure that during emergency situations children's immediate needs are met, that they have access to education and protection services and are able to return to regain a sense of normalcy. 
"We have enhanced our humanitarian preparedness and response capacity to deliver lifesaving relief, including the necessary materials needed for teachers to start schools and children to go back to school as soon as possible after the disaster."
Save the Children is building 23 new schools in the earthquake-affected districts of Dolaka, Sindupalchok, Kavrepalanchok, Rasuwa and Gorkha.  All of these schools follow the Nepal government's building code of conduct and are earthquake-resistant. To do this, the structures are analysed by engineers who consider the seismic load and building design during construction. 
At the inauguration of a new school building, a teacher said that children can be fearless in the school now. Save the Children
According to data from the Education Cluster – the various UN agencies, education ministry, NGOs and other organisations working together – 3157 schools have been built out of 7923 that needed to be reconstructed.
Save the Children said: "At the inauguration of a new school building of Shanti Buddha School in Kavreplanchok district recently, a teacher said that children can be fearless in the school now. Her words capture what Save the Children works to achieve for children affected by disasters – feel fearless when they go to school. 
"The community took up the responsibility of building the school as per the government-approved safer school design while working closely with Save the Children's engineers. After almost three years of studying in temporary classrooms, children from earthquake-affected areas are moving into new safer school buildings."
There are two types of building work going on in Nepal – constructing new schools and reconstructing or "retrofitting" existing schools.
After the earthquake, Save the Children established around 500 temporary learning centres (TLCs) in nine of the earthquake affected districts. Some children are still studying in TLCs while others are in permanent or semi-permanent classrooms.
Child protection programmes have proved highly successful. Child-friendly spaces were set up immediately after the earthquake to ensure safety, security and psychosocial support for children. 
In order to combat possible trafficking, listening posts were set up in major trafficking routes and villages. Village Child Protection Committees were also given training on psychological first aid, to reduce stress and provide counselling when needed. 
Save the Children said: "Currently, all of our child protection programmes in earthquake-affected areas have concluded. There have been no reports of increases in child trafficking, child labour or sexual abuse as result of the disaster."
Nepal was also hit by severe flooding and landslides caused by heavy monsoon rains last year. The floods destroyed 80 schools and damaged 710.
Education Cannot Wait – a global fund established to provide money in humanitarian emergencies – supported up to 50% of the emergency education response after the floods.
In February, Nepal pledged to increase its education budget to 20% of the total national budget. The Ministry of Education made its commitment after widespread concern that the quality of public education had dwindled due to inadequate investment.
---
More news
Theirworld's mission to give children in crises a safe place to learn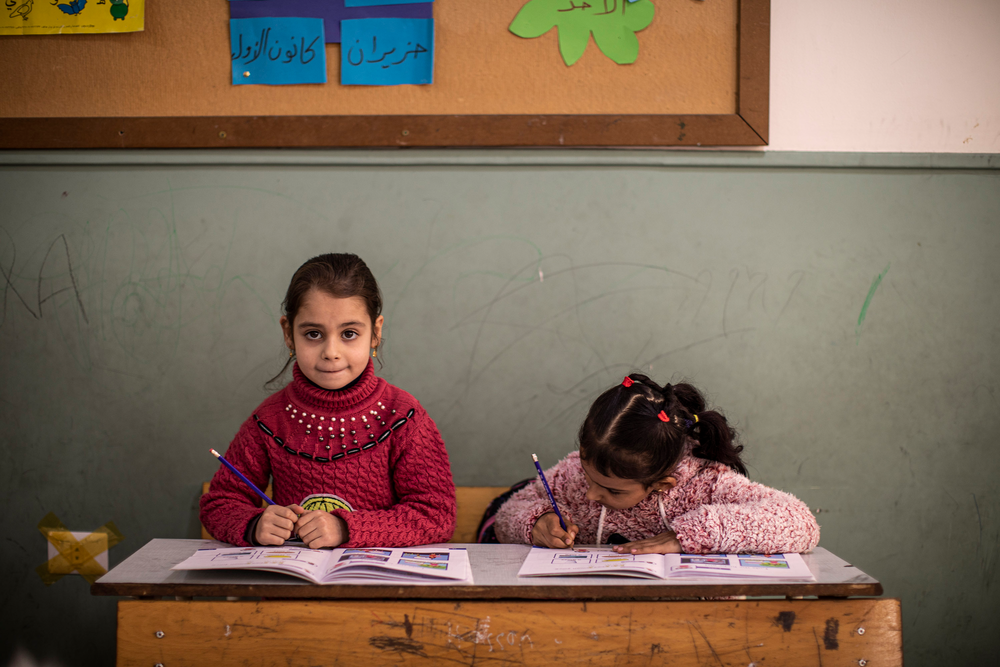 Theirworld's mission to give children in crises a safe place to learn
We thought loud noises were a storm – it was Russia bombing Ukraine
We thought loud noises were a storm – it was Russia bombing Ukraine