Nepal turns to bamboo to rebuild earthquake-hit schools
Children's welfare after natural disasters, Education in emergencies
---
Nepalese workers build a temporary school from bamboo in Kathmandu after the earthquake last year
Nepal is turning to bamboo, nicknamed "vegetable steel", as it rebuilds homes and schools after last year's devastating earthquakes which left hundreds of thousands homeless.
"Bamboo is a great material. The biggest enemy (in a quake) is weight so bamboo is perfect because it is light, flexible and very strong," said Nepalese architect Nripal Adhikary.
"It can be as strong as steel but it's much more ecological because it doesn't need energy to produce. People call it 'vegetable steel'."
Twin earthquakes in April and May 2015 killed almost 9000 people – a third of them children – and destroyed nearly a million buildings in the Himalayan nation. Donors have pledged $4.1 billion for reconstruction but rebuilding has been delayed by a political crisis.
More than 50,000 classrooms were destroyed or damaged and one million children were left out of school in the immediate aftermath. Hundreds of temporary learning centres were set up in the weeks after the disaster. In the worst-hit areas, 90% of schools were destroyed.
In October, the urgent retrofitting of the 75% of school structures that are unsafe in Nepal was recommended by the World Economic Forum's Global Agenda Council on Risk and Resilience recommended 
Adhikary, speaking by phone from Kathmandu, said the government had recently approved the use of bamboo to rebuild schools and was expected to approve its use for reconstructing homes.
Bamboo is ideal for rebuilding in Nepal's mountainous terrain because it grows widely and is easier to transport than heavier materials, said Adhikary, Nepal's national coordinator for the International Network for Bamboo and Rattan (INBAR).
Building with bamboo is also about 50% cheaper than with other materials.
Destroyed classroom at Janajyoti Higher Secondary School in Gairmudi village in Dolakha Picture: UNICEF/Karki
Technological advances have improved its durability, he added, while new systems for joining bamboo lengths mean it can be used to build larger span structures than in the past.
INBAR is working with Nepal's government and other organisations on a $800,000 pilot project using bamboo to build 150 homes and 10 schools which they hope other agencies will replicate.
Government ministers, aid agencies and building experts attended a workshop in Kathmandu recently to discuss bamboo use in reconstruction programmes.
Nepal is home to 54 bamboo species with coverage estimated at 63,000 hectares. Experts say its sustainable use will also help boost local employment and economies.
Earthquake engineering expert David Trujillo said interest in building with bamboo in quake-prone regions had grown since a 1999 quake in his native Colombia.
While many newer masonry buildings collapsed, the older bamboo buildings withstood the tremor. Afterwards there was a big effort to rebuild with bamboo.
Trujillo, who worked on the reconstruction effort in Colombia, said bamboo was a very sustainable material which grew extremely fast, reaching 25 to 30 metres in only six months.
A World at School and Gordon Brown, the United Nations Special Envoy for Global Education, have been leading the call for a platform to fund Education in Emergencies – which includes children out of school due to conflicts, natural disasters and health crises.
Global partners are now working together to develop solutions to be discussed and agreed ahead of the World Humanitarian Summit in May.
The Thomson Reuters Foundation, the charitable arm of Thomson Reuters, covers humanitarian news, women's rights, corruption and climate change.
---
More news
Theirworld's mission to give children in crises a safe place to learn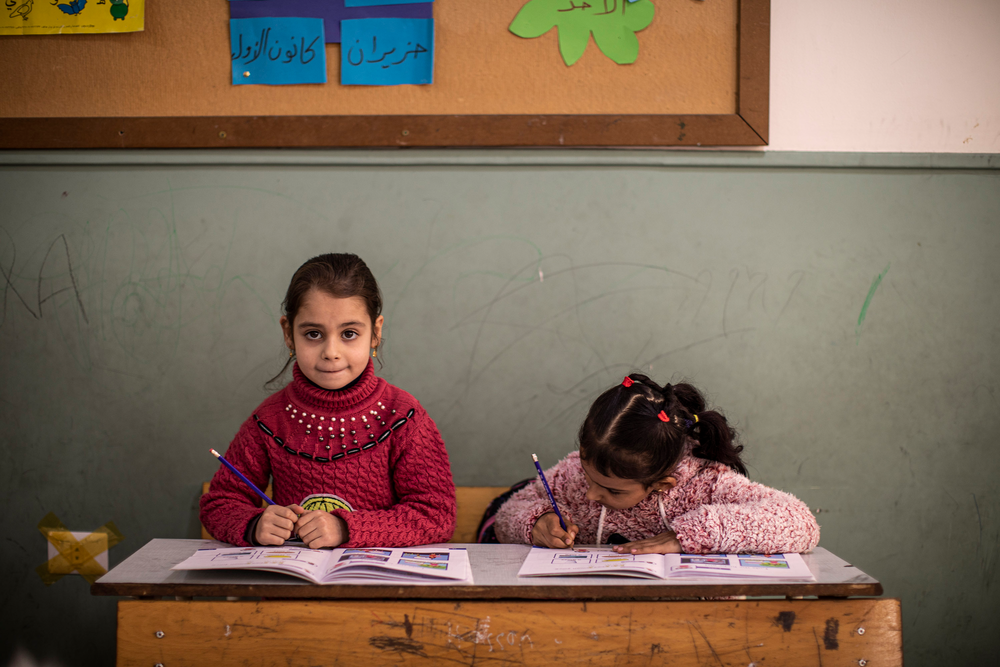 Theirworld's mission to give children in crises a safe place to learn
We thought loud noises were a storm – it was Russia bombing Ukraine
We thought loud noises were a storm – it was Russia bombing Ukraine