Illustrator Nick Sharratt asks children to show how they are #StillLearning during schools shutdown
Celebrities, Coronavirus and education, Theirworld
The Theirworld ambassador says drawing can help children to express their feelings during the coronavirus crisis.
---
About one billion children are stuck at home because the coronavirus pandemic has shut down their schools. So parents and teachers are working hard to make sure students are still learning in their virtual classrooms.
As well as serious studies, fun and practical activities are crucial for keeping children educated, entertained and able to deal with their feelings during this troubled time.
"Drawing is an excellent way for a child to express feelings that are too difficult to communicate by other means," said Nick Sharratt, the renowned British illustrator and author of children's books.
Nick is an ambassador for Theirworld and cares deeply about the cause of quality education for every child in the world. As part of Theirworld's #StillLearning campaign, he is inviting families to share their children's drawings on social media that show how they are #StillLearning at home.
​Watch the video to find out how to take part
Nick has provided the drawings for almost 250 books – including titles by Julia Donaldson and Jacqueline Wilson – as well as writing about 40 of his own. 
"The main reason I fell in love with drawing as a youngster was that it stimulated my imagination like nothing else," he said. "Drawing took me to a safe place where anything was possible – where I could live out dreams, have adventures, meet anyone I wanted, be anyone I wanted, all via my mark-making. 
"In these current times, drawing can provide a simple, effective form of escape from the real world for a while."
Nick has been a supporter of Theirworld for many years and is passionate about the value of learning. He said: "I was listening to one of Sarah Brown's Better Angels podcasts focusing on education and a refugee from Cameroon said 'Education is the key to life.' I don't think it can be summed up any better."
In 2016, Nick went with Theirworld to Lebanon to visit out-of-school Syrian refugee children and run an illustration workshop, helping them to draw and assemble images and show his support around the importance of education for all.
His new poster design asks children to show what they have learned during the coronavirus lockdown.
Even when you're as talented and successful as Nick, you're #StillLearning. He said: "In lockdown I've learned that it's possible to make changes for the better, to a lifestyle that I thought was set. I'm going to stick with those changes."
In the coming weeks Theirworld will be sharing more playful #StillLearning activities, so stay tuned. And if you aren't already a Theirworld follower, sign up here to stay in touch with all our campaigns about global education. 
Find out more about the #StillLearning campaign
---
More news
Take the test and discover how our Schools Hub helps students grasp the global education crisis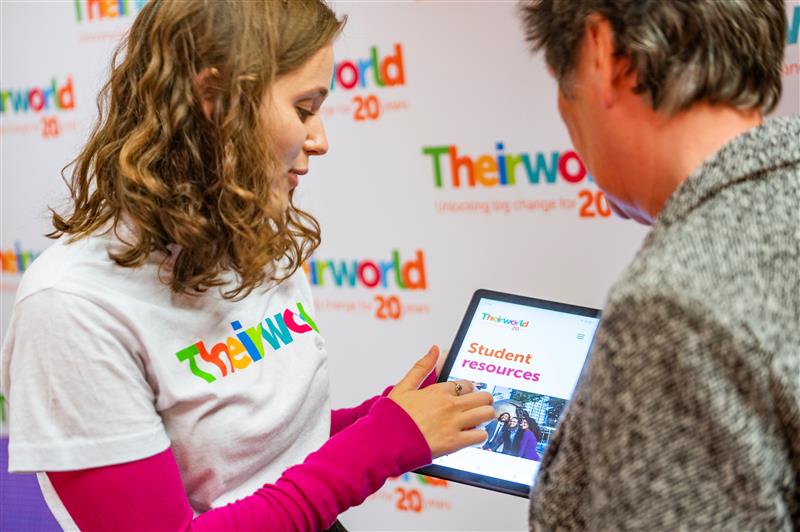 Take the test and discover how our Schools Hub helps students grasp the global education crisis
#LetMeLearn: the story of a global education campaign
#LetMeLearn: the story of a global education campaign