Now is the time for bold action to finance global education
Global Youth Ambassadors, International Finance Facility for Education, Theirworld
The new International Financing Facility for Education aims to ease the financing burden on lower and middle-income countries.
---
This week, as world leaders, activists, academics and policymakers came together in what will surely be remembered as one of the strangest but most urgent United Nations General Assemblies, one thing was on our mind at Theirworld, and that is who will be the next champions of global education.
We used this opportunity to bring together the voices and visions of the people we believe need to step up if we are to solve the global education crisis and unlock big change for the most marginalised children all over the world. Thousands of people from all over the world watched our digital event Unlock Big Change – Education, the key to a better future. 
One of the main ways we need the global community to do this is by recognising that the money available for education is under threat. We need bold actions from brave leaders to make sure we can finance Sustainable Development Goal 4 – quality, inclusive education for all – and help unlock the potential of millions of children. 
The sad fact is that the finance available for education was decreasing even before the pandemic, with global spending on education needing to increase from $1.2 trillion to nearly $3 trillion annually to reach the 2030 goals. 
In the five years since the Sustainable Development Goals were agreed at the UN, the education financing gap – the amount of investment on top of existing expenditure needed to ensure that every child is guaranteed a quality education – has grown by 18%, now standing at $148 billion. 
For many decision-makers, this does not seem like the right time to open the purse strings because of the pressure placed on budgets by Covid-19. However, we know that education is transformative and, in challenging times like these, we need the financial solutions to match.
That's why we were particularly excited to see the release of the new International Financing Facility for Education (IFFEd) Prospectus from the Education Commission, a mechanism which aims to ease the education financing burden on lower and middle income countries (LMICs), and the 60% of the world's learners who are being left behind and who live in these countries. 
We know that IFFEd can transform education in LMICs and give children the chance to succeed, despite all the extra difficulties they are facing in the wake of the pandemic. Kate Oliver, Education Financing Policy and Advocacy Manager, Theirworld
Theirworld and our Global Youth Ambassadors have campaigned vocally for IFFEd in the past and while we are pleased to see that change is in the right direction, it is disappointing that progress isn't happening quickly enough. We're not the only ones who think so. 
Speaking at Theirworld's event on Monday, Baroness Sugg, UK Parliamentary Under Secretary of State and the Prime Minister's Special Envoy for Girls' Education, pointed out that though IFFEd is "a really good example of innovation … to be frank, we have to get others supporting us on this. Some have been a bit slow to come forward. We need the World Bank and other donors to get behind this and get behind this now.'
Though IFFEd offers donor great value for money by essentially being able to maximise their investment by up to four times the original pledge, unfortunately we have yet to see other governments come forward and stand beside the UK and the Netherlands and support the 50 or so countries which would benefit from this unique type of financing.
Also speaking on Monday, one of Theirworld's Global Youth Ambassadors, Sarah Musau, highlighted the difference IFFEd could make in her country, Kenya. She said: "We still have a long way to go in Kenya, especially for marginalised communities, children in rural areas and girls. Even if Kenya doubles its investment in education we will be short of the funding needed to achieve SDG4. 
"This Facility will help us get more children to school, especially those from marginalised communities, children of mixed abilities, children from rural areas and girls, and it will also support Kenya's economy."
We know that IFFEd can transform education in LMICs and give children the chance to succeed, despite all the extra difficulties they are facing in the wake of the pandemic. 
Now we need national and global leaders to come forward and prioritise investing in our next generation, so they can build a future more prepared and resilient to shocks and crisis, and do so in a fair and equitable way. There are only 10 more years for us to meet the SDGs and give our children and grandchildren the future they deserve. Who will step up?
If you want to support us to ask leaders to step up, please join our campaign.
---
More news
Take the test and discover how our Schools Hub helps students grasp the global education crisis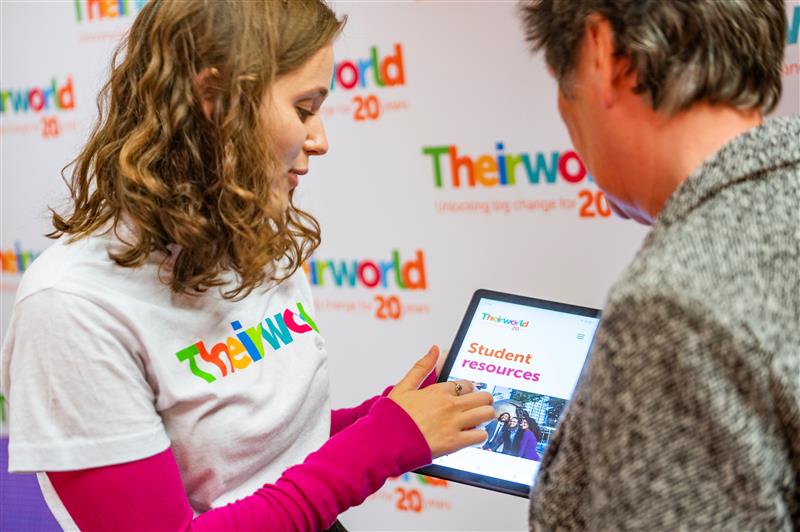 Take the test and discover how our Schools Hub helps students grasp the global education crisis
#LetMeLearn: the story of a global education campaign
#LetMeLearn: the story of a global education campaign