One-legged climber treks to Mount Everest to help save Palestinian school
Children with disabilities, Refugees and internally displaced people, Right to education
---
Jarah Alhawamdeh - who lost a limb through cancer - knew he had to do something when a funding crisis threatened the future of his former school.
---
What steps would you take to save the school that gave you a great start in life?
Jarah Alhawamdeh decided to act when he learned that a funding crisis meant schools for Palestinian refugees faced an uncertain future.
He planned a trip to Mount Everest to raise funds for the Al-Jofeh school in Jordan – one of more than 700 run by the United Nations agency UNRWA that are under threat after the United States withdrew funding.
But what makes this story more remarkable is that Jarah lost a leg when he was 15. Bone cancer meant his right leg had to be amputated and he now has an artificial limb.
"It gave me the opportunity to be anything I wanted. It made me special," he said. "Not everyone has one leg and I am using my story to show the world that even if you are facing problems you can overcome them."
Before he set off, Jarah – who is now 22 – said: "The Al-Jofeh UNRWA School, which I attended for 10 years, is facing closure due to an unprecedented financial crisis caused by the Trump administration's drastic 83% cut in funding to UNRWA.
"From April 2nd to the 20th, I will face a great challenge – I will climb to Mount Everest Base Camp (5364 metres). 
"I am preparing to start this ambitious journey and will walk my first step up Mount Everest with one thing in mind. 
"I want to ensure my school stays open despite the funding cuts, to safeguard the opportunity for  Palestine refugee students to take their future steps too."
Jarah loves his former school. After losing his leg, he continued to go to al-Jofeh Boys School as often as he could. At the time, he was in a wheelchair and couldn't get up the stairs to join his class on the second floor. 
But because he was so determined to continue his education, the school moved his whole class to the first floor so he could join in. 
He also became an accomplished climber, scaling Mount Kilimanjaro in Tanzania in 2015. On April 4, he took his first steps on the path to the Mount Everest Base Camp.
The temperatures dropped to minus 14C and – of the original group of 11 climbers who set off – only two made it to base camp. The others found it too difficult to breathe and had to be flown down the mountain by helicopter.
But Jarah said: "I want to prove to everyone that nothing is impossible."
Eventually, he managed to take the 17,500 steps needed to complete the journey – reaching his destination two days ago after a 10-day trek.
The money Jarah is raising will go towards helping to keep his former school open.
The UN Relief and Works Agency (UNRWA) faces a funding crisis after major donor the United States slashed its contribution for 2018.
UNRWA runs 711 schools – as well as providing Palestinians help with food, healthcare, social services and employment.
Thousands of Theirworld supporters sent messages of support to UNRWA and to urge donors to help ease the financial crisis.
Last month a financing summit secured $100 million of the $446 million needed to continue education, health and other services in the West Bank, Gaza, Jordan, Lebanon and Syria.
The United Nations agency that provides education for 525,000 Palestinian children now has enough funding to keep its schools open until the summer. But beyond that there are no guarantees.
---
More news
Technology has the power to expand education for children with disabilities
Technology has the power to expand education for children with disabilities
Theirworld's mission to give children in crises a safe place to learn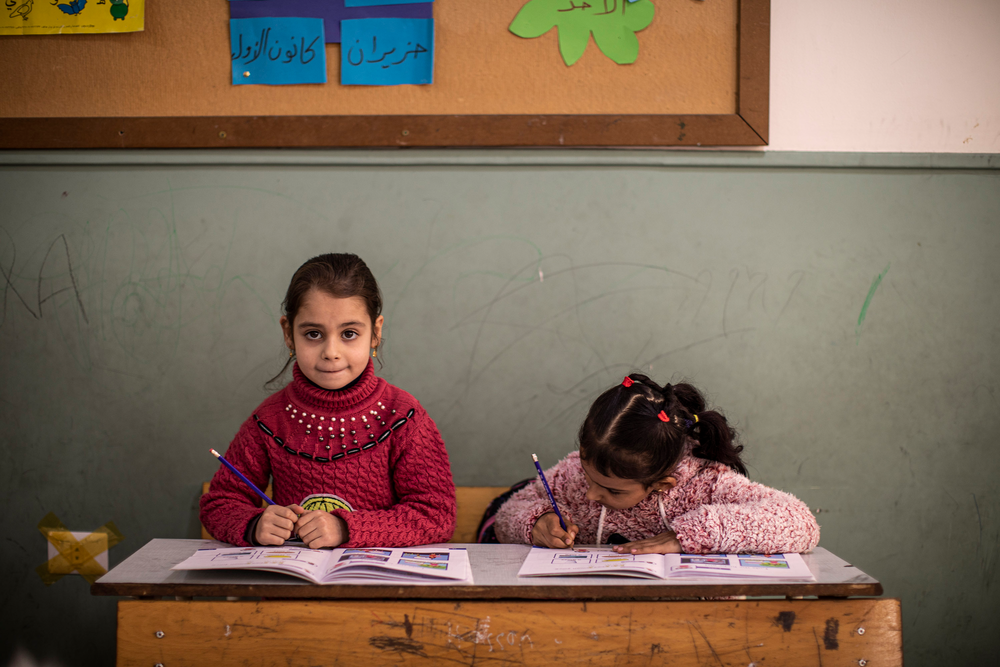 Theirworld's mission to give children in crises a safe place to learn