"We'd just started working on small projects in several areas of Pakistan when the floods hit most of the areas where we were working"
The first World Humanitarian Summit will be held in Turkey in May. World leaders are being urged to commit to launch a fund that ensures children return to school quickly after an emergency such as a conflict or natural disaster. Theirworld, the children's charity behind A World at School, is running the #SafeSchools petition and campaign and our Global Youth Ambassadors are addressing the issue in a series of blogs.
Maham gives a talk at a school in Pakistan
In July 2010 severe floods wreaked havoc in many parts of Pakistan, leaving about 2000 dead and affecting over 20 million people directly.
Many of the worst-hit areas in the north had already suffered from devastating earthquakes less than five years previously.
At the beginning of 2010 a small group of individuals in Islamabad decided to put together an organisation to empower women and bring education to children.
The non-profit called Shahina Aftab Foundation (SAF) had just started working on small projects when the floods hit most of the areas where they were working.
Of course, they focused their energy on emergency relief, fundraising and bringing aid to the people affected. After the situation started settling down and most of the initial disaster response was over, SAF turned its attention to the education emergency in northern Pakistan.
According to estimates from aid agencies, about 5000 schools had been destroyed in the floods, many of them in vulnerable areas. They knew they had to do something, even if it meant helping a small community or a few people. 
Students and staff at a school run by the Shahina Aftab Foundation
In the span of a few months, SAF managed to start two non-profit schools, one in Charsadda and the other in Nowshera. Initial investments started from personal funds and small-scale fundraising.
They managed to get help from local authorities in Nowshera and hired one of their school buildings in the afternoon (after their regular school day).
As for Charsadda, initial funding was secured and a small building was specially constructed. This was a highly economically disadvantaged community.
For both schools, a special curriculum was designed based on the Oxford University Press syllabus.
Initially, teaching was started at the primary school level, since a quality schooling system was being introduced, where fluency in English, strong vocabulary, numeric, analysis and logical skills were needed. This was later extended to middle schools.
Local teachers were hired and given extensive training in classroom management, teaching skills, comprehension, work plan preparation and student management.  Keeping in mind the economic situation in Charsadda, students were even provided with free books, school bags and uniforms.
A classroom at one of the school Shahina Aftab Foundation schools
The school in Charsadda was run successfully for five years but it is currently suspended due to the security situation in the region after the Peshawar school attacks in December 2014, followed by the Charsadda university attack about a month later.
However, the school has still been a success story by encouraging the local students and their families to strive for better education and giving the students a solid foundation in English and Urdu, math and general knowledge – which was severely lacking before.
The whole community has benefitted from these important skills as the students' families were also mostly uneducated.  
Most of the people involved with the schools have taken valuable insights and experience from these projects and continue to struggle for education all over the world, particularly in emergency situations and the worst affected areas.
In 2015, humanitarian emergencies effected the education of over 75 million children worldwide and 37 million children were forced out of school.
With less than 2% of all humanitarian aid going to education, many of these children are at a risk of being trafficked, forced into early marriage and child labour or lured into extremism. These children need our help and they need it NOW. No one is too weak or insignificant to help.
You can contribute by joining an organisation like A World at School, writing to politicians, community leaders and others to bring their attention to this pressing issue, fundraising, campaigning or simply by spreading the word.
---
More news
Theirworld's mission to give children in crises a safe place to learn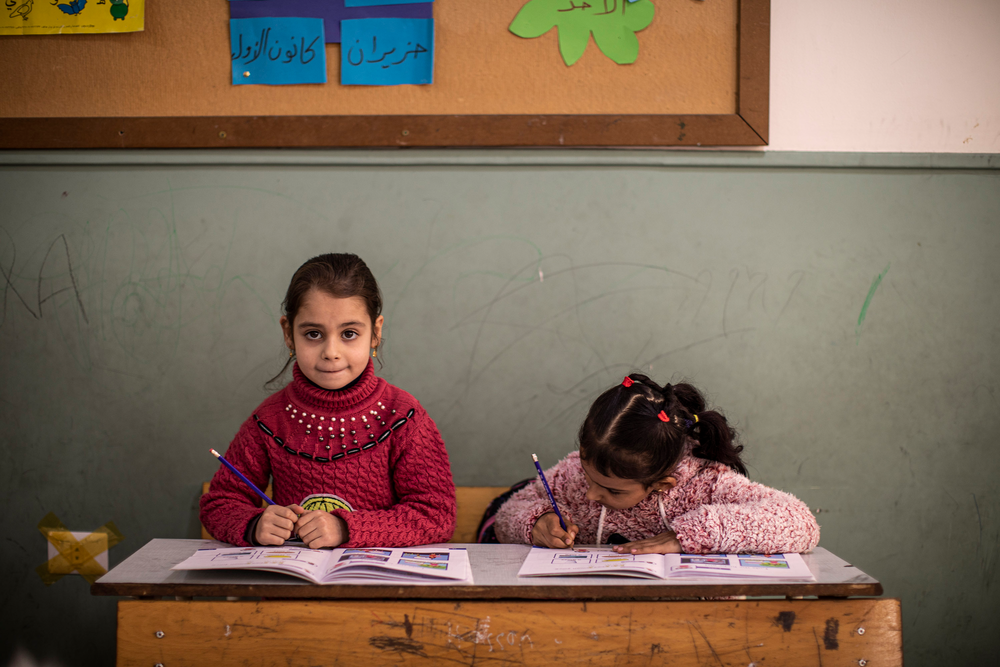 Theirworld's mission to give children in crises a safe place to learn
We thought loud noises were a storm – it was Russia bombing Ukraine
We thought loud noises were a storm – it was Russia bombing Ukraine