Palestinian students start their school year early to stop demolition
Education in emergencies, Right to education
---
There has been an international outcry over Israeli plans to bulldoze the Khan al-Ahmar school, which serves the local Bedouin community. 
---
Under the sun's harsh glare, dozens of students sing the Palestinian national anthem – beginning a new school year early as part of efforts to keep their village from being demolished.
The students of Khan al-Ahmar went back to their village school in the occupied West Bank yesterday, while Israeli authorities seek to evict them.
"We are starting the school year earlier because the Israelis want to destroy the school," said Amani Ali, 11.
"So when they come to demolish it, we will be here."
Israel says the Bedouin village, located in a strategic spot east of Jerusalem near Israeli settlements and on the road to the Dead Sea, was constructed illegally and is seeking to move its 191 residents elsewhere.
The residents of the village point out that it is nearly impossible for Palestinians to obtain building permits from Israeli authorities in around 60% of the West Bank where they maintain full control.
On May 24, Israel's supreme court allowed authorities to go ahead with demolition of the small hillside village that sits between a highway, the desert and two Israeli settlements.
Since then, two new court challenges have been filed on behalf of the village, temporarily suspending demolition plans, and the court plans to hold another hearing by August 15 at the latest, activists say.
European countries have rallied to support the villagers, calling for demolition plans to be cancelled.
"The fact that the students are at the school can prevent the decision from being carried out because they are going to see that there are classes, life, people," said Ghadir Darsya, who has taught in Khan al-Ahmar for three years.
"No one knows what's going to happen," she added, while sorting books with her colleagues amid the sound of children's voices from an adjacent playground.
The school was constructed in 2009 with the support of NGOs and the European Union. Largely built with tyres, sand and mud, it serves 170 students from various Bedouin villages, according to the principal.
"There are about 50 families with many children. Where are they going to go?" said Darsya.
The rest of the village is made up of homes of metal sheets, cardboard and wood, as is common in such Bedouin communities.
"We are always afraid. I cannot sleep at night," said Raya Jahalin, as her grandchildren played on a large carpet behind her that serves as a living room devoid of furniture.
"It is our land. I have lived here for 50 years. I was born here. My children were married here."
The villagers say Khan al-Ahmar has been located there since 1952.
It was established after Bedouins from the Jahalin tribe were, according to rights activists, expelled from the Negev desert in the south after the creation of Israel in 1948.
Israeli authorities now want to relocate them to an area near Abu Dis in the West Bank, but the villagers are refusing, saying that the site is near a dump and in an urban environment where their animals cannot graze.
For Eid Abu Khamis, a village spokesman, forced eviction of Bedouins throughout the area would put in peril the possibility of a future Palestinian state.
If they are replaced with Israeli settlers, Khamis and rights groups say the West Bank could be cut in two, dividing the half north of Jerusalem from the southern one.
Israeli rights group B'Tselem says around 180 communities are threatened with eviction in the West Bank.
B'Tselem spokesman Amit Gilutz says Israel has for decades pursued a policy of trying to evict Palestinians from the part of the West Bank where it exerts full control.
It has sought to avoid forced transfers, he said, but applies enough pressure on the villagers in hopes that they finally decide to leave on their own.
---
More news
Theirworld's mission to give children in crises a safe place to learn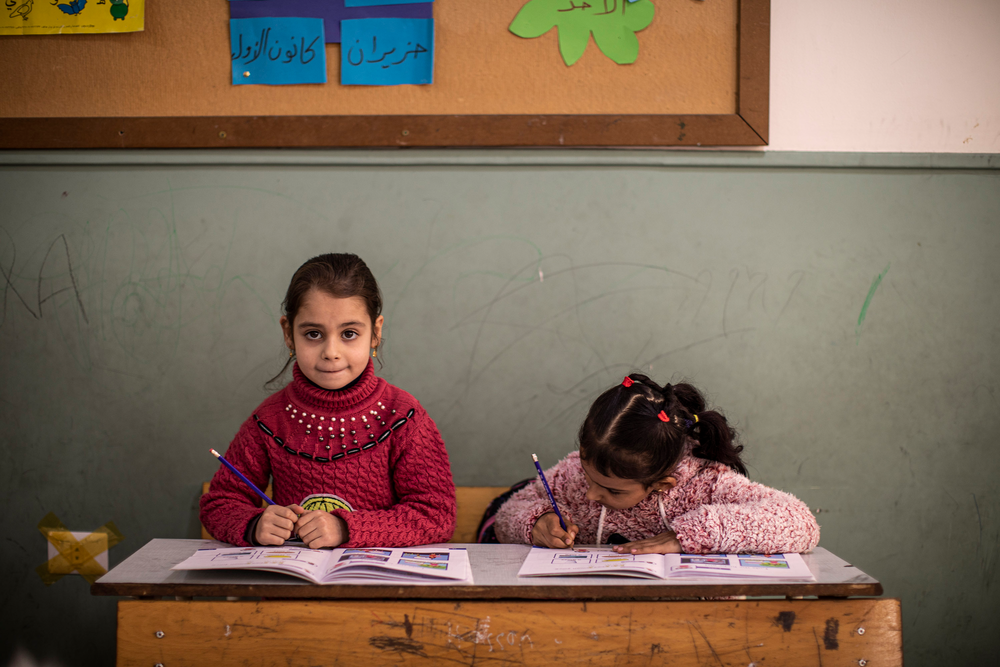 Theirworld's mission to give children in crises a safe place to learn
We thought loud noises were a storm – it was Russia bombing Ukraine
We thought loud noises were a storm – it was Russia bombing Ukraine