Schools closed after earthquake causes devastation in Papua New Guinea
Children's welfare after natural disasters, Education in emergencies
---
Over a week after the natural disaster, some regions are still inaccessible and tens of thousands of students have had their education disrupted.
---
An earthquake that devastated Papua New Guinea has damaged schools and disrupted the education of tens of thousands of children.
All schools in the Southern Highlands region and some in Hela region are closed indefinitely and some have been destroyed completely. Many of the roads used by students to get to school are unsafe.
"We do not want to deprive the rights of the students from their education but their safety is very important," said provincial administrator Thomas Eluh.
The 7.5-magnitude earthquake struck the Pacific island nation of seven million people at about 4am on February 26 and was followed by at least 70 aftershocks. Landslides have also caused major damage.
At least 75 people were killed – including four schoolchildren from South Highlands. Three of them were students at Kumin Primary School.
Mother Rhonda Mone said: "I was asleep with my children in the early hours when I heard people shouting, without realising that I was buried in the landslip with my children." She told The National newspaper that villagers dug frantically in the rubble and managed to rescue her family.
More than a week after the earthquake, many areas are still inaccessible and urgently-needed supplies including food, water and healthcare cannot be delivered. 
"We don't know of any relief organisation who has been able to reach a few of the hardest-hit areas," said Udaya Regmi, head of the International Federation of Red Cross and Red Crescent Societies in Papua New Guinea. More than 17,000 people have been displaced from their homes.
"The earthquake is tragic for the education of tens of thousands of children as classes for all schools in the affected province have been cancelled indefinitely," said a statement from the Global Partnership for Education.
"National and provincial education departments, along with UNICEF and non-governmental organisations are working through the Education in Emergencies Humanitarian Cluster to deliver tents, school-in-a-box, blankets and other emergency kits."
At Towan Primary School in Southern Highlands, head teacher George Tei said landslides had destroyed two classrooms and others were structurally unsafe and likely to collapse.
Prime Minister Peter O'Neill declared a state of emergency in Hela, Southern Highlands, Western and Enga Provinces.
"This is an unprecedented disaster in the Highlands Region and the appropriate response is underway by the national government," the Prime Minister said.
"A state of emergency has been declared to expedite the restoration of essential public services including healthcare services, schools, road access, airports, power and communications facilities."
He has launched a four-year plan to look after long-term reconstruction efforts to get all damaged infrastructure back to normal.
About half of primary school-aged children in Papua New Guinea were out of school before the earthquake struck, according to UNICEF. Distance from school, security and lack of parental support are among the reasons given. 
The United Nations children's agency said: "Only one in three children complete their basic education, meaning most do not stay in school long enough to learn the basic learning skills. Children in rural areas are also less likely to receive an education than their urban counterparts."
---
More news
Theirworld's mission to give children in crises a safe place to learn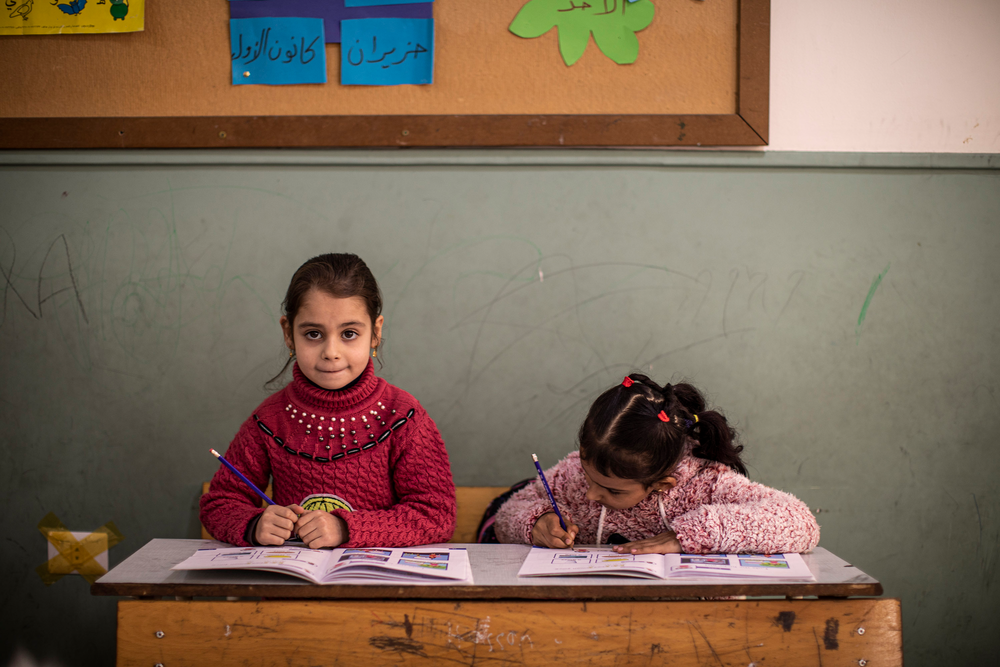 Theirworld's mission to give children in crises a safe place to learn
We thought loud noises were a storm – it was Russia bombing Ukraine
We thought loud noises were a storm – it was Russia bombing Ukraine