People's Postcode Lottery awards £505,000 to Theirworld to continue the fight for global education
Children in conflicts, Double-shift schools, Education in emergencies, Girls' education, Refugees and internally displaced people, Technology and education, Theirworld
---
The funding will help us to continue to protect the rights of vulnerable children who have had their education disrupted or face discrimination.
---
The People's Postcode Lottery has awarded Theirworld £505,000 to continue its campaigning, research and programmes that help the most vulnerable and disadvantaged children to fulfil their potential. 
Receiving the funding at the lottery's annual charity gala last night in Edinburgh, Theirworld President Sarah Brown said: "The support of the players of the People's Postcode Lottery means so much to Theirworld. 
"It enables us to continue protecting the rights of the most vulnerable children – those who are living in conflict settings and have had their education disrupted, girls who continue to face discrimination and unequal access to education and opportunity, and the youngest children who need more focused support to ensure they have the best start in life."
The players of the People's Postcode Lottery (PPL) have generously supported Theirworld for three years.
It has funded much of our pioneering work into the expansion of education for Syrian refugee children in Lebanon, which has enabled more than 150,000 Syrian students to return to school during this academic year. 
In 2017 the support of the players will enable Theirworld to continue these efforts to further expand education in Lebanon.
It means we can pilot innovative solutions that will support refugee children to catch up on missed years of schooling, as well as helping to improve concentration and learning in the classroom. 
PPL funding will also support the expansion of our work to bring education and technology skills to girls across Africa. 
Our Code Clubs provide girls aged between six and 25 the opportunity to learn computer programming, offer support with formal education and empower them with skills in critical thinking and leadership – all within a safe, secure environment. 
The Code Clubs currently run in Kenya, Uganda and Nigeria. With the continued support of the players of PPL, we will be able to further expand these opportunities in 2017.
The People's Postcode Lottery UK was founded in 2008 and is based in Edinburgh, Scotland. 30% of the lottery's income goes directly to charities and community projects. 
In the UK it has raised £168.4 million for charities and good causes across the country. During 2016 it gave away £66.3 million and Theirworld is just one of 69 charities that benefitted from this funding.
The PPL charity gala held at Prestonfield House was attended by Prince Charles, Sir David Attenborough, broadcaster Dermot Murnghan and TV presenter Fiona Philips. Entertainment on the night was provided by Mica Paris and Soul Nation.
Clara Govier, Head of Charities at PPL, said: "Our gala is such a special time in People's Postcode Lottery's calendar, where we come together and celebrate the incredible amount of money raised by our players and the fantastic work carried out by the supported charities as a result of the support. 
"We continue to be overwhelmed by the incredible support of our players and thank them for their funding."
---
More news
Skills for the future give young people the best chance of success
Skills for the future give young people the best chance of success
Take the test and discover how our Schools Hub helps students grasp the global education crisis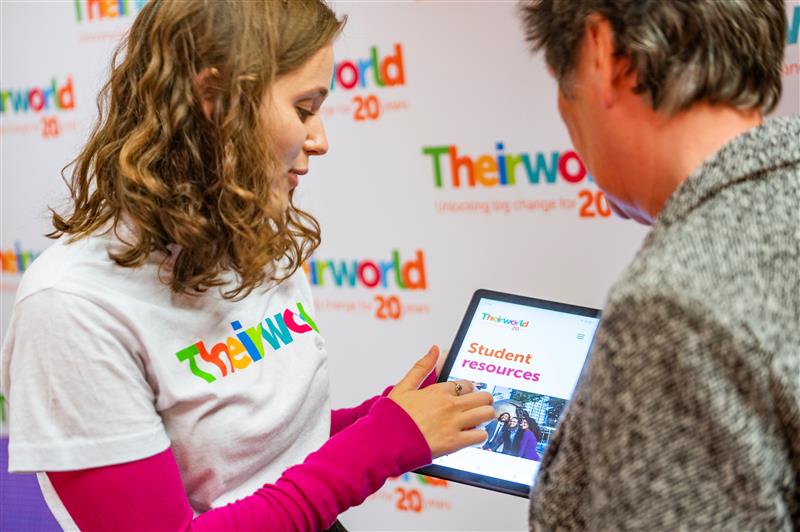 Take the test and discover how our Schools Hub helps students grasp the global education crisis