Theirworld receives £650,000 from People's Postcode Lottery UK
Sarah Brown, Theirworld
---
The award means Theirworld has been given over $10 million this month to help our work on delivering quality education for every child. 
---
Theirworld has received £650,000 ($860,000) from the People's Postcode Lottery UK to help fund our work on ensuring that every child has the best start in life and access to quality education.
The allocation comes on top of Theirworld receiving a series of grants worth 8.55 million euros ($9.61 million) from the Dutch Postcode Lottery last week.
The UK award for 2019 was made at the People's Postcode Lottery's Charity Gala in Edinburgh last night. Theirworld Chair Sarah Brown, who attended the event, said: "I would like to thank – and pay tribute to – the players of the People's Postcode Lottery. They are so good-hearted, knowing that their tickets support a range of great causes including Theirworld.
"The gala was a night of celebration and it was wonderful to hear about so many excellent projects from other charities." 
At the event, George and Amal Clooney were presented with prestigious Postcode Hero awards in recognition of their work to safeguard human rights by Scotland's First Minister Nicola Sturgeon.
The couple also received a cheque for £1 million, which will help to fund TrialWatch – a project run by the Clooney Foundation for Justice. The foundation plans to increase its monitoring of trials in countries where human rights are at risk.
In 2018, People's Postcode Lottery UK awarded more than £100 million to charities working in Britain and beyond. In total, players have now raised more than £400 million for charities and good causes.
---
More news
Sarah and Gordon Brown share global education vision in 100th episode of Better Angels podcast
Sarah and Gordon Brown share global education vision in 100th episode of Better Angels podcast
Take the test and discover how our Schools Hub helps students grasp the global education crisis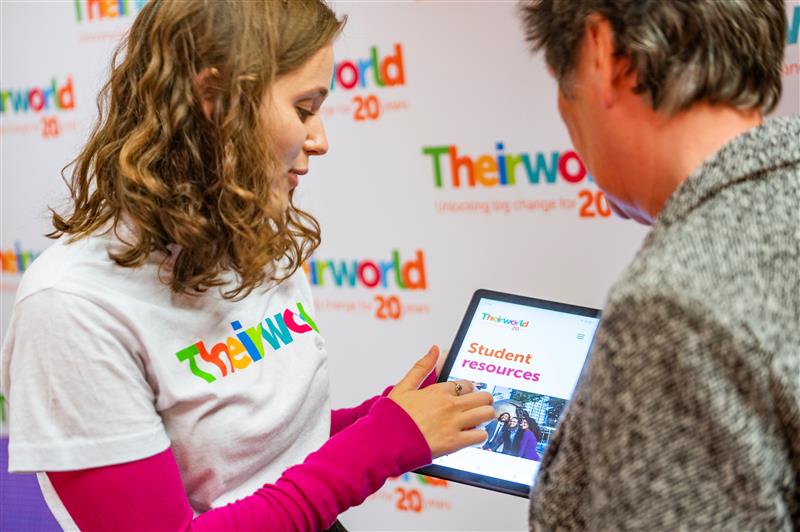 Take the test and discover how our Schools Hub helps students grasp the global education crisis