Plea to world leaders: back a fund for education in emergencies
Education funding, Education in emergencies
One million children in Nepal have no school to go to after the devastating earthquakes. Five million children were forced out of school by the Ebola crisis.
Millions of Syrian refugees, almost 800,000 young people in Nigeria and millions more in other countries around the world cannot attend classes because of wars and attacks on schools.
More than half of the world's out-of-school children – 28 million of them – are denied an education because they live in conflict or emergency-affected areas. But in 2014 only 1% of humanitarian funds deployed went to education and there is no long-term mechanism to fund the education of refugee children or those affected by disaster which bridges the gap between humanitarian and development funding.
So today A World at School and aid agency Plan International are making a joint call to the international community to back a humanitarian fund to ensure education in emergencies is prioritised and paid for.
Nigel Chapman, CEO of Plan International, said: "Out-of-school children, particularly during disasters, are more vulnerable to abuse and exploitation. Despite these urgent needs, just under $300,000 of the $21 million requested to support education for affected children in Nepal has been met so far."
Children in the grounds of Kshamwati Higher Secondary in Susma Chhemawati, Dolakha Picture: Plan International/Matt Crook
Sarah Brown, co-founder of A World at School, said:  "We know that education can provide hope and a better future especially in an emergency – but shamefully only 1% of humanitarian funding went to education last year. Out-of-school children are much more at risk of early marriage, being recruited as child soldiers or in other forms of child labour and being trapped in poverty."
Over the next month, A World at School, Plan International and others will be calling on world leaders to back a Global Humanitarian Fund for Education in Emergencies.
The fund, a topic of discussion at the Oslo Summit on Education for Development in July, looks to finance the delivery of education at the onset of disasters and emergencies to ensure that children can return to school as quickly as possible.
It aims to strengthen existing mechanisms so that partners are incentivised to develop a coordinated, strategic multi-year response for delivering and resourcing education in an emergency situation, with a defined process by which money can be rapidly disbursed.
Ruins of Kshamwati Higher Secondary School in Susma Chhemawati, Dolakha Picture: Plan International/Matt Crook
A global consultation coordinated by the Inter-Agency Network for Education in Emergencies will take place until May 22 to gather ideas and insights into solutions to be presented at the Oslo Summit in July.
Nepal has postponed the reopening of schools following a second major earthquake on May 12 – just three weeks after the catastrophic 7.8-magnitude quake that killed more than 8000 people and destroyed or badly damaged most of the schools in the country's worst-hit areas.
According to the United Nations, almost one million children will not be able to return to school unless urgent action is taken to assess affected schools and provide temporary learning spaces.
Families in Nepal are worried now about how and where their children are going to get an education.
Mother-of-two Swarasti Thami, 29, from a valley village in Bhimeshwor, said: "We're worried our daughter won't be able to go back to class and our son won't be able to start school. I want education for my children. I never studied or went to school in my district, but now I see that when children go to school, it means they can earn, get a job and a new life. They don't have to work hard in the field as farmers like we do."
Rubble in classroom at Sukrawati School for lower secondary in Dolakha Picture: Plan International/Matt Crook
Father-of-two Jagat Thami, 36, said: "The primary school in the village collapsed and we can't use it now. The children just play among themselves in the road. It would be helpful to have some spaces where they can go but the school and the grounds are badly damaged so it's not safe to play there or to go back to study."
Balkrishna Khadka, 34, teaches English at the Shree Kalika Higher Secondary School in Suspa Chhemawati, Dolakha. He said community members are ready and willing to put tents and tarps up while the buildings are out of use but they need support in getting the materials.
He added: "We live in the hill region and the monsoon season will start soon so we need temporary learning spaces so class can start again. We haven't seen all the students but they are worried about their class and asking when school will return."
Sarah Brown said the international community must ensure an entire generation of children in Nepal – and the 28 million children around the world – do not pay the price because their education is neglected.
She added: "We need to join together and make a call to ensure that world leaders are committed to addressing the needs of the most vulnerable children in the world."
---
More news
Young people's tireless campaign for an education game-changer
Young people's tireless campaign for an education game-changer
Theirworld's mission to give children in crises a safe place to learn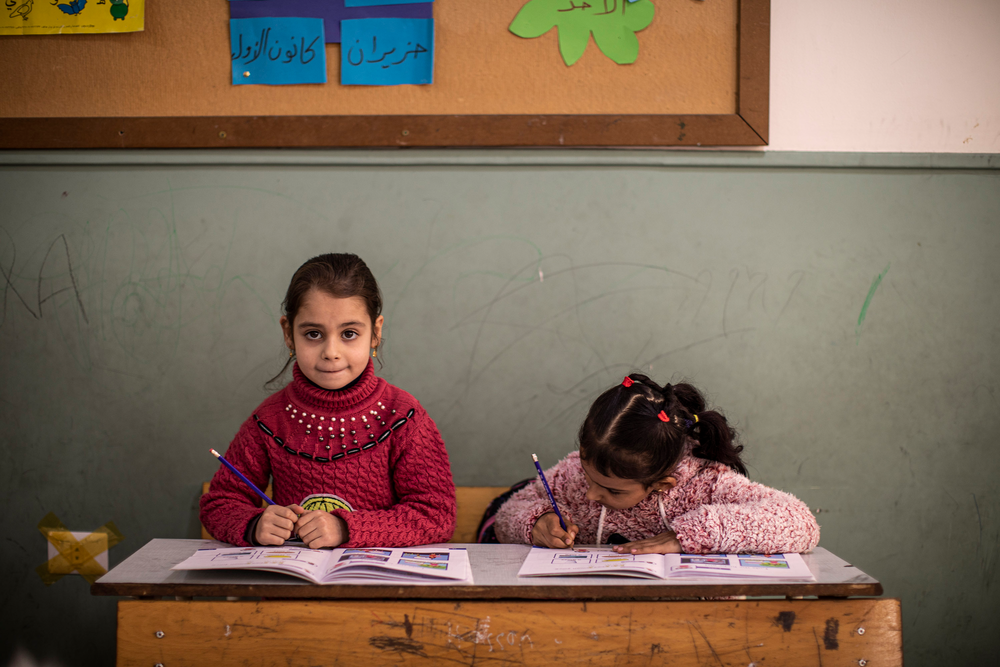 Theirworld's mission to give children in crises a safe place to learn