Plight of 250,000 Syrian refugees still not at school in Lebanon
Mariam Khatib, a 15-year-old Syrian refugee in Lebanon, says she has just one wish in life – to be able to go back to school.
"People are nothing without education," says the shy teenager, who has not been in a classroom since her family fled the southern Syrian province of Daraa three and a half years ago.
"I wish God would grant one wish to me and my siblings – that he opens the door for us to go to school," she told AFP.
Mariam and her siblings are among more than 250,000 Syrian refugee children in Lebanon who are not in school, according to a report released by Human Rights Watch (HRW).
Help to get 1m Syrians in school: sign our petition
"The high number of refugee children out of school is an immediate crisis," the New York-based watchdog warned. "Some have never stepped inside a classroom."
The problem is particularly acute among those aged 15 to 18, just 3% of whom were enrolled in Lebanon's public schools during the 2015-2016 school year, according to HRW.
Students at Mtien school in Lebanon use a tablet provided by Theirworld as part of the Technology in Classrooms project
And the crisis continues despite the efforts of the Lebanese government and international donors to increase enrolment among the more than one million Syrians who have taken refuge in the country since the war began in March 2011.
A World at School and our parent children's charity Theirworld have been highlighting the plight of Syrian refugee children for some time.
At least 2.8 million of them are out of school in Syria and in neighbouring countries Lebanon, Turkey, Jordan and Iraq.
Thanks in part to pressure from A World at School's supporters, more than 200,000 Syrian refugee children were registered for classes in Lebanon this school year through an innovative double-shift system.
Five years on, the children who dream of going to school
#MoreThanARefugee pictures show inspiring stories of Syrians in Lebanon
Theirworld is also working with the Lebanese education ministry to implement two pilot projects aimed at supporting Lebanese and Syrian children's school attendance and achievement through provision of milk and a daily healthy school snack, and through integrating technology into the classroom.
In February, world leaders at the Supporting Syria and the Region conference in London promised to get one million Syrian refugee children into school in the coming academic year. But time is running out and the international community needs to step up to keep that pledge.
In Qab Elias, in Lebanon's eastern Bekaa Valley, dozens of informal refugee camps are full of children who are getting no education.
"I can't describe how tough it feels. It's really hard," said Mariam's 18-year-old brother Ismael, who has not been to school since the eighth grade.
"I long to go back to school… I really miss my friends and the teachers."
Their father Imad al-Din said he simply could not afford to send his children to school. He added: "We've been in Lebanon for three and a half years and none of my children have been to school here.
"Our financial situation doesn't allow it and so far I haven't received help from anyone.
"My wife and I feel terrible that we haven't managed to send them to school. I'm so afraid for their future if they don't get an education."
Many refugees in Lebanon cite fees as a hurdle to enrolling their children, despite a Lebanese government policy waiving admission fees for primary school children. 
The issue illustrates what HRW calls a key problem – that Lebanese government policies intended to increase refugee school enrolment are being unevenly implemented and in some cases ignored.
The government has allowed refugees to enrol in schools without proof of residency, waived primary school fees, and opened up afternoon "second shifts" for Syrian children.
But refugees describe school administrators demanding documentation or fees that they cannot provide, or refusing to create second shifts.
HRW also documented a range of additional barriers, including the cost of transportation for students, bullying and harassment, and insufficient spaces and teachers to accommodate Syrian refugees.
Syrian refugee Nizar, 10, has never been to school since arriving in Lebanon in 2011 – he sells gum on the street to help support his family Picture: HRW
Many families are also constrained by their expired residency permits, which are costly to renew. Without papers, they are afraid to move around or send their children to school for fear of arrest.
The group also noted that the Lebanese government was continuing to prevent Syrian teachers from working, despite a shortage of Lebanese teachers.
Abdulkarim al-Salem, a local leader in one Qab Elias informal camp, said Lebanon should open up schools just for refugees inside the settlements.
"In this camp alone, there are 180 children who don't go to school, because there are no schools that can take in this number," Salem told AFP.
"Even if they could enrol in local schools, the route to the schools is along a main road and it isn't safe."
HRW urged the Lebanese government to ensure better application of its existing policies. But it also called for additional measures, including exploring the possibility of hiring Syrian teachers and allowing Syrians to renew expired residency documents for free.
It urged donors to provide additional funding for expanding and rehabilitating schools, hiring teachers, and subsidising student transportation.
"It is unlikely that Syrian children will be able to realise their right to an education unless Lebanon undertakes reforms that go beyond the framework of its current education policies and receives increased donor funding," HRW said.
© 1994-2016 Agence France-Presse
---
More news
Theirworld's mission to give children in crises a safe place to learn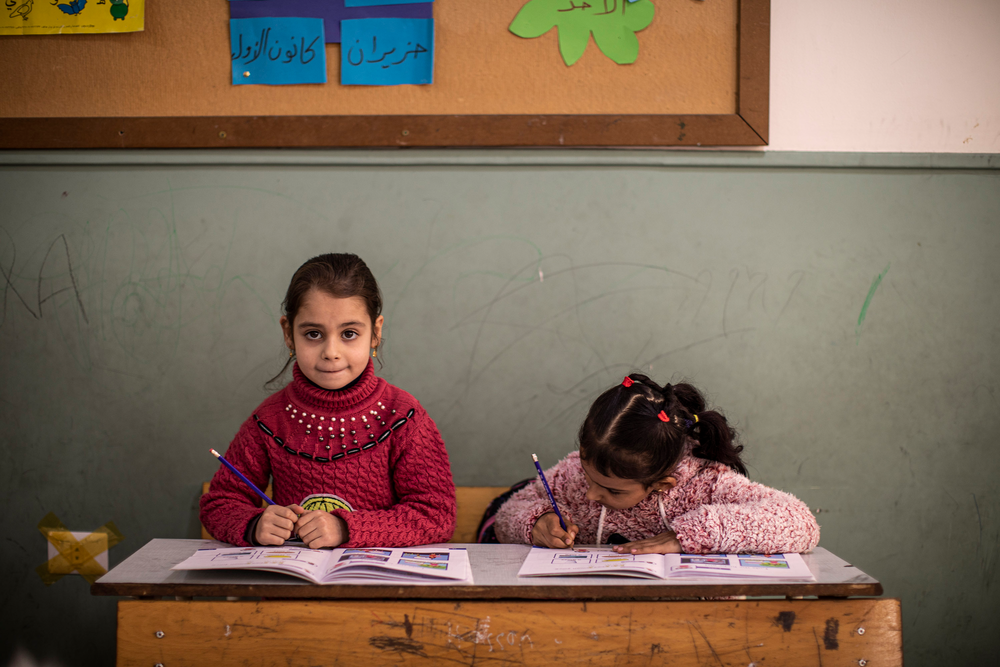 Theirworld's mission to give children in crises a safe place to learn
We thought loud noises were a storm – it was Russia bombing Ukraine
We thought loud noises were a storm – it was Russia bombing Ukraine