People's Postcode Lottery players raise £500m for good causes including Theirworld
Theirworld
---
Their support has allowed us to expand our work to end the global education crisis and help the next generation unleash their potential.
---
Support from the People's Postcode Lottery has helped Theirworld to make a real difference in the lives of thousands of vulnerable children. 
So we are celebrating the news that players of the People's Postcode Lottery in the United Kingdom have now raised more than half a billion pounds for good causes.
Their funding since 2015 has allowed Theirworld to engage in many innovative projects to deliver education and skills. They include:
Mobilising widespread support for the education of 300,000 Syrian refugee children in Lebanon
Providing coding and entrepreneurship skills to more than 1,200 marginalised girls
Supporting our cohort of more than 1,000 vocal and campaigning Global Youth Ambassadors
"Thanks to the support of the players of the People's Postcode Lottery, we have been able to expand our work to end the global education crisis and unleash the potential of the next generation," said Theirworld President Justin van Fleet.
With a minimum of 32% of every ticket going to charities and good causes, players have supported more than 7,500 good causes, big and small – making a difference at a global and local level.
Clara Govier, Managing Director of People's Postcode Lottery, said: "This is a vitally important milestone for charities across Britain and beyond. 
"By raising more than £500 million for good causes like Theirworld, our players are making a real difference. This simply couldn't have been achieved without them. 
"So my message to those millions of players is simple – a heartfelt thank you. People's Postcode Lottery was created to raise funds for charities and good causes and we'll continue to work tirelessly to do exactly that."
Visit People's Postcode Lottery to learn more about the impact that player funding has had on good causes across Britain and internationally. 
---
More news
Take the test and discover how our Schools Hub helps students grasp the global education crisis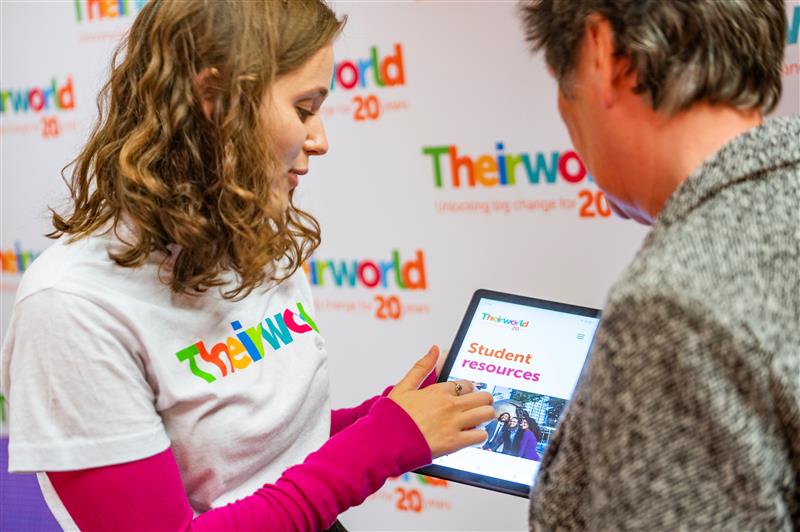 Take the test and discover how our Schools Hub helps students grasp the global education crisis
#LetMeLearn: the story of a global education campaign
#LetMeLearn: the story of a global education campaign