Race to get aid and schooling for children after Ecuador earthquake
A boy from El Carmen left traumatised by the earthquake
Government bodies and global charities are working flat-out to get help to hundreds of thousands of children caught up in the chaos of the deadly earthquake in Ecuador.
More than 500 people are confirmed dead, hundreds are still missing, thousands are injured and 150,000 children were affected by the 7.8-magnitude quake that struck on April 16.
It flattened schools, hospitals, workplaces and houses, leaving as many as 5000 people needing emergency shelter.
If there is any good news in the wake of this disaster, it's that the earthquake happened on a Saturday – and Ecuador's schools were also closed for the holidays. Otherwise, the number of children killed could have been significantly higher.
Children stand in the rubble of their home in Manta
Maria Villalobos, Country Director for Save the Children Ecuador and Peru, said: "Schools are currently on vacation and are scheduled to reopen on May 1, depending on the damage that is reported in the next few days.
"So we will distribute 1500 student kits to ensure that children have the materials to go back to school and restart their education as soon as possible."
The charity will also be providing psychosocial support to children traumatised by the disaster.
Preliminary government reports yesterday showed that 119 schools were damaged, affecting 88,000 children. The bodies of six people – four nuns and two girls – were found in the debris of a damaged school in the coastal town of Playa Prieta.
Young survivors cycle past devastation in Pedernales
The United Nations children's agency UNICEF, which has been in the South American country for 43 years, is operating in the badly affected areas of Pedernales and Esmeraldas to assess children's needs and co-ordinating the humanitarian response.
Grant Leaity, UNICEF Representative in Ecuador, said: "We are in a race against time to protect children from disease and other risks common in such emergencies."
Plan International is another charity which is monitoring the situation and is ready to mobilise partners to help children.
Rossana Viteri, country director of Plan International Ecuador, said: "Children are particularly vulnerable during disasters like earthquakes. They can suffer injuries, become separated or orphaned. Earthquakes can disrupt or destroy critical infrastructure, including schools."
 Families stay on Portoviejo streets because of unsafe buildings
Getting children back into school is vital after emergencies such as natural disasters and conflicts. Schools are safe places where children can play, learn and recover from the trauma.
Last year, more than 80 million children had their education disrupted by conflicts, disasters and health crises – and 37 million of them were forced out of school.
But only 2% of all humanitarian aid was spent on education in emergencies. A World at School's supporters and partner organisations have rallied in recent months to push for urgent aid aimed at getting children back into school quickly after a crisis.
An "education crisis platform" is now set to be launched at the first World Humanitarian Summit in Turkey next month. You can help to name the new platform.
Ecuador has declared a state of emergency and searches for survivors trapped in the rubble are ongoing. Rebuilding the destroyed areas will probably cost billions of dollars, President Rafael Correa said during a visit to Pedernales.
---
More news
Theirworld's mission to give children in crises a safe place to learn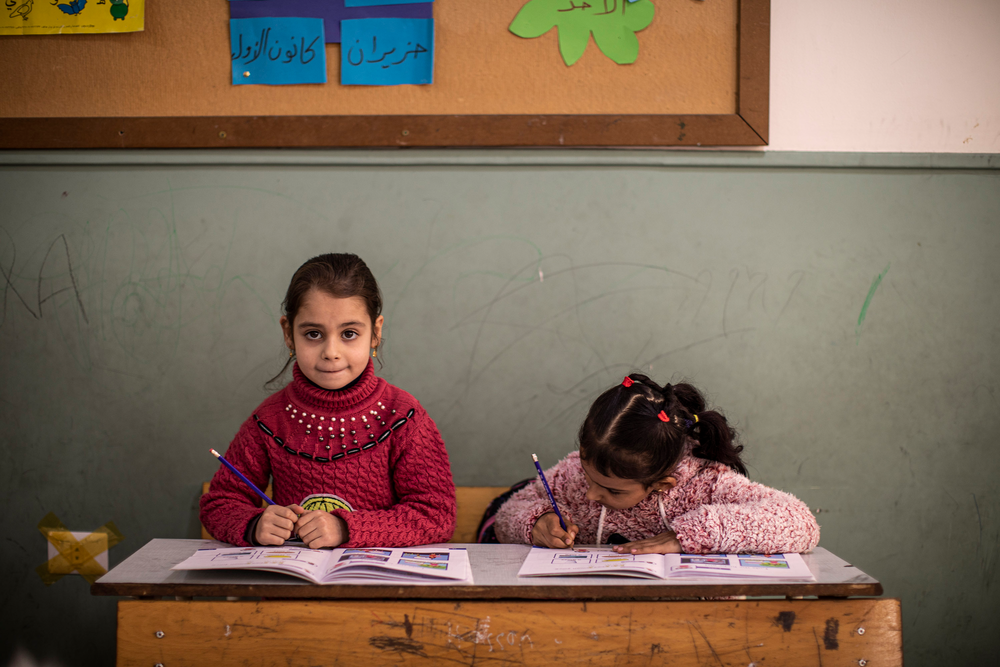 Theirworld's mission to give children in crises a safe place to learn
We thought loud noises were a storm – it was Russia bombing Ukraine
We thought loud noises were a storm – it was Russia bombing Ukraine