Refugees to benefit as Theirworld and Heriot-Watt University launch scholarships in Lebanon
Refugees and internally displaced people, Sarah Brown, Theirworld
---
The partnership with Edinburgh Business School means Lebanese nationals can also apply to study for a Master of Business Administration degree.  
---
Theirworld and Heriot-Watt University's Edinburgh Business School have teamed up to offer full scholarships for refugees and Lebanese nationals living in Lebanon. 
The programme will offer up to 20 people the opportunity to study for a Master of Business Administration degree online in Arabic.
Successful applicants will access tools helping them to complete their studies as well as receiving local academic support. The students will sit their exams in Lebanon and be awarded a master's degree from the Scottish university.
Sarah Brown, Chair and founder of Theirworld, said: "We are delighted to enter this partnership with Edinburgh Business School for this new MBA, which will give Syrian and other refugees displaced from their homes and from their ambitions and disadvantaged Lebanese nationals the chance to restore their education. 
"Only 3% of refugees have any form of higher education and it is so important to find ways to offer them a pathway to a brighter future.
"Conflict and deprivation will have forced applicants to abandon their studies after an undergraduate course and confront the simple battle to survive. 
"Theirworld is dedicated to equipping vulnerable young people with the skills they need for the future of work and the tools they need to rebuild their lives and move on from a day-to-day existence. Looking further ahead, we are hoping this partnership may provide a model that could be replicated in other contexts and locations."
The organisers are particularly keen to see applications from individuals who are hoping to use their skills to make a positive contribution to their communities and the economy, either in Lebanon or after they have moved elsewhere or returned home. 
Professor Heather McGregor, Executive Dean of Edinburgh Business School, said: "We are committed to making business education accessible to anyone who has the desire to learn and advance their skills to gain employment, enhance their career or start their own business.
"Our partnership with Theirworld is designed to remove barriers to education and to empower individuals as they seek to build a better future for themselves and their families."
Edinburgh Business School and Theirworld are accepting applications for the MBA programme until April 19. You can get more information and apply here.
The scholarships have been made possible due to the support of the players of the People's Postcode Lottery in the UK, which raises money for charities. 
---
More news
Sarah and Gordon Brown share global education vision in 100th episode of Better Angels podcast
Sarah and Gordon Brown share global education vision in 100th episode of Better Angels podcast
Take the test and discover how our Schools Hub helps students grasp the global education crisis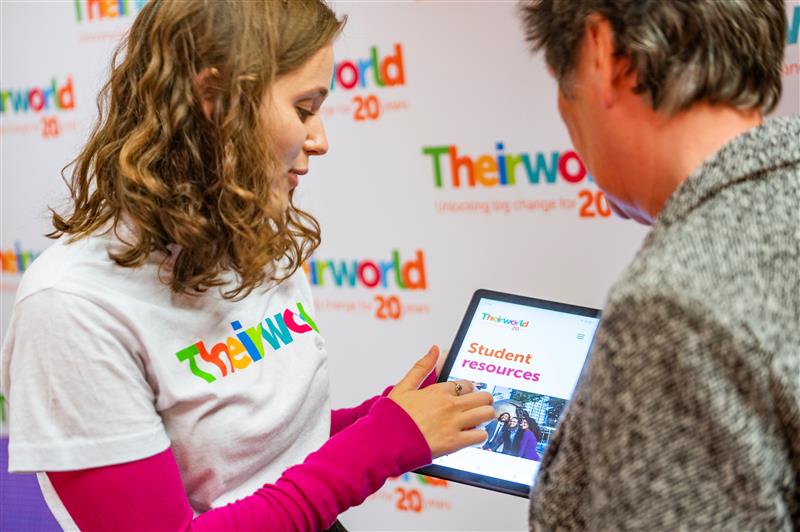 Take the test and discover how our Schools Hub helps students grasp the global education crisis