'We got our Ella home and I'll be forever grateful' … Jennifer Brown Research Laboratory marks 15 years of helping premature babies
Childcare, Early childhood development, Gordon Brown, Sarah Brown, Theirworld
Mother Catherine Smith and Theirworld President Sarah Brown talk about the groundbreaking work that is discovering more about premature births and helping to save babies' lives.
---
The lives of premature babies and their mothers are being changed by groundbreaking work at the Jennifer Brown Research Laboratory.
The Edinburgh lab is discovering more about why babies are born before 37 weeks of pregnancy and finding better ways to care for them.
It was set up by Theirworld President Sarah Brown and husband Gordon – the former British Prime Minister – in memory of their first child Jennifer. She was born at 33 weeks and died after just 10 days in 2002.
An event to mark 15 years of Theirworld's support for the lab is being held in Edinburgh today. Speakers include Sarah, JBRL Scientific Director Dr James Boardman and Catherine Smith, a mother who credits the lab's research for saving her baby daughter's life.
"I count myself very lucky that we got our baby home. And I will be forever grateful," said Catherine. By an amazing coincidence, her father was John Smith – the late Labour Party leader and a close friend and political ally of Gordon Brown.
You can support the Jennifer Brown Research Laboratory and Theirworld's work to give every child the best start in life.
Catherine, 42, had complications due to pre-eclampsia – a condition many women suffer in the latter stages of pregnancy.
She said: "Ella was born at 28 weeks, weighing one pound 10 ounces. I had gone in for a check and then hours later she was delivered by emergency C-section.
"At the time, I thought it was all over, she wouldn't survive. The doctors and nurses prepare you so well for what's about to happen.
"Things like they told me she wouldn't cry. And she didn't – because at that age, a baby's lungs are not fully developed.
"The babies are put in incubators where, as I understand it, the womb is 'recreated'. So it needs to be humid because the skin is not properly developed. Ella was the size of my hand."
A lot of the research by the JBRL has been around getting oxygen levels for the incubators exactly right as the baby develops. Too much can be as damaging as too little. There is constant monitoring as the baby develops and grows.
I wanted them to know how grateful I am. I just kept thinking of Gordon and Sarah and how hard it must have been. Out of their sadness has come research that is saving babies' lives. Catherine Smith
Catherine said the work being done at the lab is giving doctors and nurses the information they need to treat pre-term babies.
"The oxygen levels in the incubators are constantly monitored," she said. "There were little alarms going off all the time. They know so much more now about how to care for premature babies. The vital research is saving babies every day.
"I wrote to Sarah thanking her for all the amazing work the fund is doing. I wanted her to know how grateful I am. 
"I just kept thinking of Gordon and Sarah and how hard it must have been. Out of their sadness has come research that is saving babies' lives."
Sarah said hearing stories like Catherine's is exactly why the research lab was set up.
"Gordon came in with Catherine's letter, saying he had this moving letter from her," she said. "To know you can do one good thing for one person, it's enough. But to know it's going beyond that is even better."
Sarah and Gordon have two sons, John and Fraser, who were born after Jennifer. When their daughter was transferred to the Royal Infirmary of Edinburgh, the couple met some of the experts they work with today at the JBRL.
Speaking about the death of Jennifer, Sarah said: "It's not something you ever wish on anyone or yourself – but what I looked for was the good that could come from it. 
"Knowing you can do some good, help other people and build up knowledge that will transform outcomes for people is great. To have this connection with Catherine means a lot to both Gordon and me.
Knowing you can do some good, help other people and build up knowledge that will transform outcomes for people is great. To have this connection with Catherine means a lot to both Gordon and me. Sarah Brown, Theirworld President
"When we lost Jennifer, we wanted to give something back. We looked at the picture generally and I realised that (at the time) one in 100 pregnancies ends in the loss of the baby and that doesn't include early miscarriages in the UK. 
"That just seemed very high to me. I never felt that I understood that the risk was that high.
"There are obviously going to be risks in pregnancy. Your body is doing amazing things – it's making a baby – but what is clear is that the care of a preterm baby can change what happens. 
"For the pregnancies that do encounter difficulties, there are clearly lots of things we can do if we know what to do. That's why the Jennifer Brown Research Fund was created. We wanted to look at what those 'don't knows' were and start filling in some of the gaps."
The JBRL was set up at the University of Edinburgh by Theirworld (then known as PiggyBankKids) in 2002. It is hosted by the MRC Centre for Reproductive Health.
It has created a team of world-class scientists and clinicians whose work is having an impact on the lives of premature babies.
"We started the laboratory in Edinburgh with a lot of donations and financial support that had come in from people from all over the country – people just saying they wanted to contribute," said Sarah.
"We started with a great amount of support which allowed us to run four different projects at the beginning. 
"Each had a key researcher appointed – four extraordinary women, all qualified doctors who wanted to move to do some research. 
Preterm or premature births
Each year 15 million children globally are born less than 37 weeks into the pregnancy – and this number is rising. 
Preterm birth is the single biggest cause of death and disability among newborn babies and it is a leading cause of neuro-developmental impairment in childhood.
"It covered a range of different subjects like what causes premature births, the issues around infection, pre-eclampsia – all the triggers that might cause difficulties in pre-mature birth.
"What we have been searching for is different ways to provide a better outcome. What's been amazing in the 15 years' journey is the laboratory has had definite outcomes that have been really meaningful."
Part of JBRL's work is the Edinburgh Birth Cohort – in which babies are being tracked from birth to adulthood in a bid to find new ways of preventing and treating brain injuries in newborns.
It involves 400 children in a £1.5m study that will follow their lifelong health and development.
The Edinburgh Birth Cohort is now using a £1 million scanner to study brain images.
NHS Lothian's Simpson Centre for Reproductive Health, where 7000 babies are born every year, is a key partner of the JBRL. 
It is the regional centre for women with high-risk pregnancies and its Neonatal Intensive Care Unit is the regional centre for tertiary level care of preterm infants
---
More news
Sarah and Gordon Brown share global education vision in 100th episode of Better Angels podcast
Sarah and Gordon Brown share global education vision in 100th episode of Better Angels podcast
Take the test and discover how our Schools Hub helps students grasp the global education crisis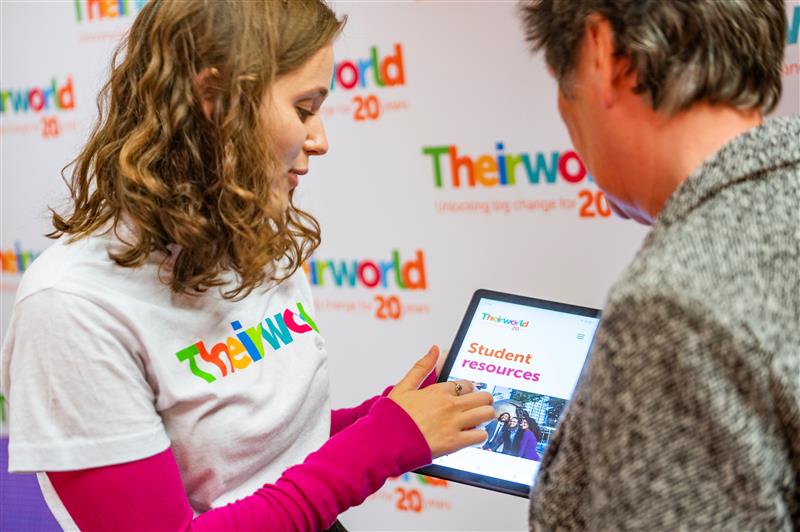 Take the test and discover how our Schools Hub helps students grasp the global education crisis