University of Edinburgh honours Theirworld Chair Sarah Brown for her work on education and health
Jennifer Brown Research Laboratory, Sarah Brown, Theirworld
---
The doctorate is awarded for Sarah's "extensive and profound" efforts and her passionate advocacy for children and women. 
---
The University of Edinburgh has awarded an honorary degree to Theirworld Chair Sarah Brown for her passionate advocacy on global education and health issues. 
The university said the doctorate was for "her extensive and profound charitable, business and political endeavours as well as her investment in children and early years research". 
At a ceremony yesterday, Sarah talked about Theirworld's links with the Scottish capital. She said she was particularly proud that two of our Global Youth Ambassadors – Shazia Ramzan and Kainat Riaz, who were attacked by the Taliban in 2012 for campaigning for education in Pakistan – are completing a nursing degree in Edinburgh. 
For more than 15 years, Theirworld has also supported the pioneering work of The Jennifer Brown Research Laboratory, based at the University of Edinburgh, into the causes and consequences of premature birth. 
Sarah received her doctorate from Professor James Boardman, Scientific Director of the laboratory. Sarah added: "With the right support and knowledge, I believe that every baby can get the best start in life and the scientific endeavours of the laboratory bring that ever closer for the most vulnerable babies. Professor James Boardman's ground-breaking longitudinal study – the Theirworld Edinburgh Birth Cohort – is now taking that work further. 
"Edinburgh is changing lives for the better with its science, as it imagines the future, as it balances both compassion for lives today with investment in improvements for tomorrow." 
Professor Boardman said: "To live in a world where every child has the best start in life, a safe place to learn, skills for the future, and where barriers to opportunity and education are broken down so that the potential of all young people is unleashed. These aspirations are noble, dignified, and deeply human – they are what we all want for our children and our children's children. 
"Sarah Brown has worked tirelessly to turn those aspirations into a living reality for thousands of families at home and abroad."
Sarah is also Executive Chair of the Global Business Coalition for Education. The University of Edinburgh said her work "brings together the worlds of business, philanthropy and charity campaigning" and added: "Through these roles, Sarah provides strategic leadership to worldwide efforts to save and change the lives of women and children." 
Sarah is also patron of Maggie's Cancer Caring Centres and the SHINE Education Trust and a Global Champion of the White Ribbon Alliance for Safe Motherhood. She serves on the global board of the UNICEF Executive Director's Young People's Agenda. 
---
More news
Sarah and Gordon Brown share global education vision in 100th episode of Better Angels podcast
Sarah and Gordon Brown share global education vision in 100th episode of Better Angels podcast
Take the test and discover how our Schools Hub helps students grasp the global education crisis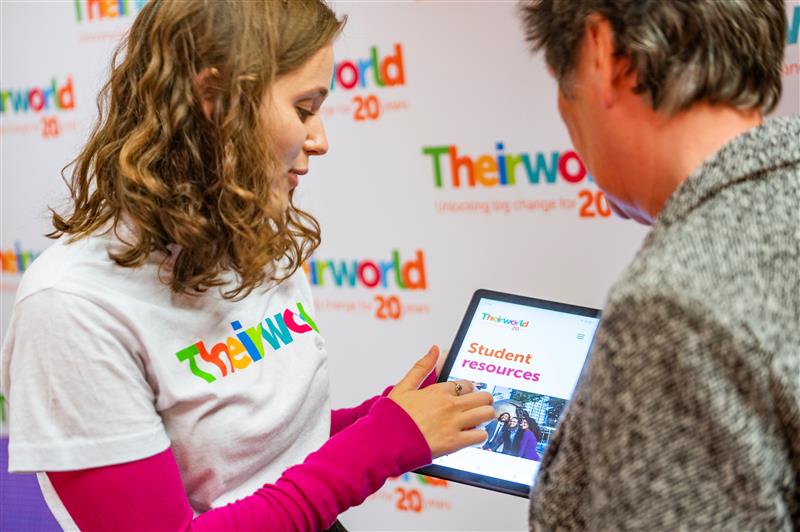 Take the test and discover how our Schools Hub helps students grasp the global education crisis