Shakira and campaigners give G20 leaders 145,000 reasons to back education
Barriers to education, Celebrities, Early childhood development, Education funding, Gordon Brown, Right to education, Sustainable Development Goals, The Education Commission, Theirworld
A call for action from the world's most powerful countries to get every child into school was handed over at the Global Citizen Festival in Hamburg on the eve of the G20 summit.
---
Singer Shakira, international leaders and more than 145,000 campaigners have called on the G20 summit to back education.
The demand for action to get every child in school was made at a star-studded concert last night on the eve of the world leaders' gathering in Germany.
"Over 145,000 of you signed a petition to urge all G20 countries to take action on education. That is powerful and inspiring," Shakira told the crowd at the Global Citizen Festival in Hamburg.
"You have shown that we are not going to ignore the 263 millions kids who can't access an education."
She talked about the need for a new funding plan to get every child in the world into school – the International Finance Facility for Education, which can unlock $10 billion per year.
Shakira added: "There are too many kids at risk of missing their only window of opportunity. We can't press pause and ask them to wait to grow up until we have it all figured out."
The action by campaigners has helped to push the right to education in front of the G20 leaders, whose summit starts today. It has also highlighted the need for the IFFEd. 
Theirworld and many other leading organisations have been campaigning for the IFFEd – including ONE, Global Citizen, Save the Children, Avaaz, Malala Fund, Islamic Relief, VSO and World Vision.
Theirworld was right at the heart of the handover of the 145,000 messages to the G20 summit. This picture shows us arriving in Hamburg with the calls to action for the G20 leaders.
Last night's Global Citizen Festival was attended by 12,000 people who were given free tickets for their campaigning work, such as signing petitions, sharing messages on social media and writing letters to politicians.
Headline acts included Coldplay – who performed with Shakira – Pharrell Williams, Ellie Goulding and German star Herbert Gronemeyer.
Shakira took to the stage alongside Norway's Prime Minister Erna Solberg. She has been a leading voice in the campaign to deliver education for every girl and boy and helped to set up the Education Commission of leaders and experts that investigated how to fund education for every child.
Solberg said: "Together, we can build a learning generation by 2030. We must invest in young people around the world.
"Education is the best investment available. Knowledge is key to the wellbeing of people and the planet."
The crowd also heard an impassioned speech from Gordon Brown, the UN Special Envoy for Global Education.
He said: "Let us say to the 260 million children who have no school to go to: we are on your side. Let us say to the 400 million children whose education stops forever at age 11: we are fighting for you.
"And let us say to the 800 million children whose education will end before its time: education is the civil rights struggle of our generation."
On the subject of funding education, Brown said:  "Let us send the message to the G20: education cannot wait. 
"Fund schools for refugee children so that they have hope; finance the Global Partnership for Education so they can help poor countries prosper; and create the new International Finance Facility for Education so that by investing $10 billion more a year we can be the first generation in history where every single child in the world is out of exploitation and in education."
He was followed by the man whose country will hold the G20 presidency in 2018 – Argentinian President Mauricio Macri.
He said: "Nothing is more important for our future than education. This involves the person and country and international community.
"Today we have to educate our children for jobs that don't even exist. And all of us need to keep on developing skills throughout our lives. Education assistance needs to expand – to be ready to change."
Earlier, the concert audience heard from 19-year-old Muzoon Almellehan, UNICEF's youngest ever Goodwill Ambassador and a Syrian refugee. She called for education, health and safety for all children affected by conflict.
"When I first left my home, education gave me hope to move forward," she said. 
She thanked the campaigners for their efforts and added: "Let's continue this work until every child everywhere can go to school."
---
More news
Sarah and Gordon Brown share global education vision in 100th episode of Better Angels podcast
Sarah and Gordon Brown share global education vision in 100th episode of Better Angels podcast
Take the test and discover how our Schools Hub helps students grasp the global education crisis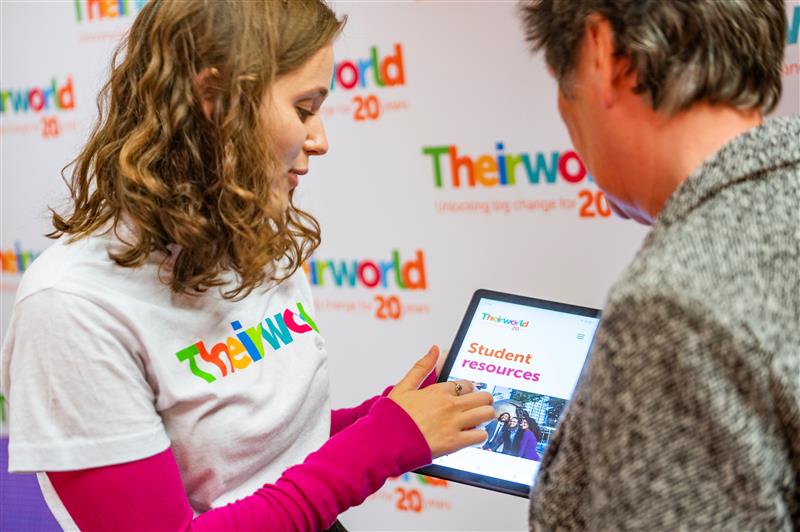 Take the test and discover how our Schools Hub helps students grasp the global education crisis