Shakira: help me persuade world leaders to send every child to school
Barriers to education, Celebrities, Education funding, Girls' education, Global Youth Ambassadors, Right to education, The Education Commission, What is advocacy?
---
The singer and education campaigner wants the G20 countries to back plans to ensure a bright future for all of the world's children.
---
Singing superstar and education campaigner Shakira has called on world leaders to help shape the future for millions of children around the world.
She said the G20 summit in July is a huge opportunity to push education to the top of the agenda.
"It's unacceptable that more than half of the world's 1.6 billion young people will never have been to school by the year 2030 if we continue as we are," said Shakira. 
"I'm telling the world about an opportunity to change that – and the future of the world's children."
Shakira is urging everyone to send a clear and urgent message to the G20 leaders by signing the petition below.
The petition urges the international community to back the proposed International Financing Facility for Education (IFFEd), which could unlock as much as $10 billion for education in developing countries each year.
Shakira is a member of the influential Education Commission, which proposed the bold funding mechanism.
It needs the world's 20 largest countries and the World Bank to get on board to make the IFFEd happen.
It has been backed by more than 20 major charities and campaigning organisations including Theirworld, Avaaz, ONE, Global Citizen, Save the Children, Malala Fund, Plan International, Islamic Relief, VSO and World Vision.
"I'm proud to stand with them," said Shakira, who is a long-time supporter of education. 
She set up the Fundacion Pies Descalzos (Barefoot Foundation) in her native Colombia when she was only 18 and the organisation has helped to educate thousands of children.
The singer added: "On May 18 there's a crucial meeting where the agenda for the G20 summit will be set.
"Before then, please join me and tell the G20 world that education is one idea that must be on their agenda this July." 
African countries are at the forefront of the IFFEd campaign. With 100 million children out of school in Africa, it is being hailed as the best solution.
The leaders of 14 African nations have already welcomed the chance to become "pioneer countries" for IFFEd. 
Former Tanzanian president Jakaya Kikwete, in his role as Special Envoy of the Education Commission, said: "The IFFEd would not be a handout. 
"It would support countries, many of which already invest a significant portion of their national budgets in education, in their efforts to achieve the SDG (Sustainable Development Goal) on education.
"It is the biggest, boldest, and most profound step we can take to ensure that the next generation is not lost, but learning."
---
More news
New school resources focus on disability and girls' education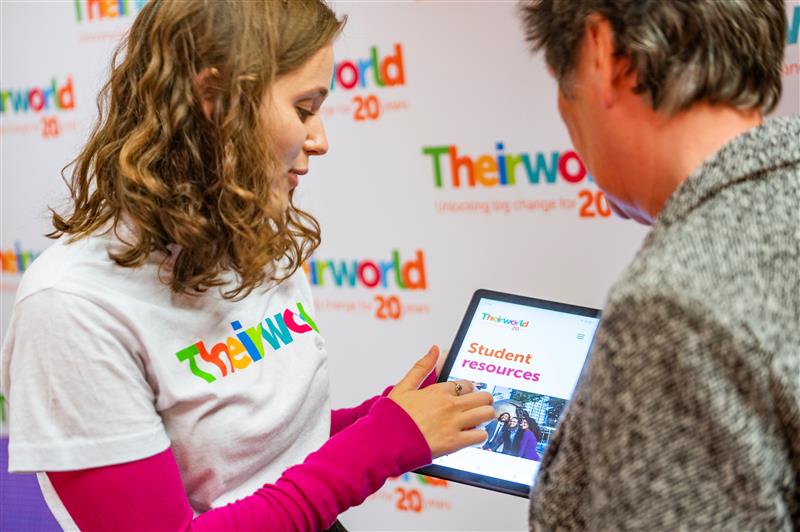 New school resources focus on disability and girls' education
Roger Federer supports the Act For Early Years campaign
Roger Federer supports the Act For Early Years campaign