Six months after Nepal earthquake: school children suffer from fears and anxieties
By Bhawana Shrestha, an A World at School Global Youth Ambassador from Nepal
Six months after the earthquake, children face other insecurities in Nepal. Of the 8897 people who were killed in the devastation six months ago, a third of them were children.
For some people, the earthquake may be just a memory now – but the children in the hardest-hit zones are still facing insecurities and problems.
Abhishek from Chapagaun, a grade nine student, had just turned 13 when the earthquake struck and damaged his shelter. Although he has returned to his school, which luckily was not badly damaged, he is still sad because he sees his future as bleak.
He used to be top of the class and was very confident about becoming a doctor. But, after the earthquake, it was noticeable that he was not able to concentrate on his studies. 
Abhishek said: "On the one hand our family is facing financial crisis and on the other hand, we four families with seven members each are now living under the same tent, which has created a lot of mess in my life.
"When I sit down to do my homework, either I become distracted with the fear about our finances or get disturbed by the people who are busy in their own work."
This is a great load of insecurities for a child who has recently become a teenager. Abhishek is just one example. There are thousands of children who are going through the same insecurities.
Since the earthquake, many organisations like UNICEF have helped over 100,000 children continue their education and helped to provide psychological support and health facilities. But there is a lot more to do.
A temporary learning centre in Nawalpur Picture: Manoj Pandey
Although the government, along with other organisations, worked on building temporary learning centres made up of zinc and bamboo, the dream of quality education seems just a dream if the process of rebuilding isn't completed soon.
Teachers are finding the temporary learning centres are not as effective as their schools. They do not have enough good teaching materials and they have to speak loudly so that hundreds of students can hear their voice.
Children have become disturbed. A report by UNICEF and partners three months on from the earthquakes revealed those children's fear and anxieties at losing their homes and living in tents.
Most of them are afraid, as they are in the vulnerable zone which is frequently hit by landslides and floods in the monsoon season. It's very sad that nearly 900,000 homes were destroyed in the earthquake, leaving thousands of children homeless.
In this context, monsoon not only brings heavy rains and triggers landslides but also increases the risk of water-borne diseases and worsens the sanitation conditions.
In these six months, although people are working to return to their normal lives, many survivors – mainly in mountainous and hard-to-reach areas – still need urgent help according to a UN report.
Mahakali Secondary School lies unused Picture: Prakash Shrestha
Recently I got an opportunity to talk to a secondary level science teacher – Bikash Deshar of Nawalpur, Sindhupalchowk – about the conditions in schools and for children after earthquake. Here is what he said.
Tell us about your school and how was it affected by the earthquake?
The school where I teach is Nawalpur Secondary School. There are 15 teachers and 458 students. We lost two students in the disaster. One student was a primary-level student and the other a girl in grade six.
All the students are now living in temporary shelters as all of them have lost their homes. 90% of our school was damaged and now we are teaching at temporary learning centres.
Are you facing any problems at the temporary learning centres?
After the earthquake, the number of students at our school increased. The nearby schools of the village were totally damaged so we started teaching in temporary learning centres. Although it was good that many children returned to school, the centres have no proper and permanent walls. The noise disturbs both the teachers and the students and they cannot focus on what they are doing.
Do you think this problem is going to end soon?
No, I don't think so as it will take a long time to complete the task of reconstruction. It seems that it will definitely take two or three years to make the school as it was before.
Living conditions for earthquake survivors in Chapaguan
What are the other problems children are facing?
At school, children get the care from teachers and support from their friends, so it seems that they are trying to go back to their normal life. While some of them are still fearful about the next disaster, most of them seem to have overcome the fear of disaster but are still insecure about their financial and household problems.
Are there organisations working with them on these issues?
Plan International and Oxfam are the main organisations working here. Plan International has mobilised the youths of the village in the reconstruction and cleaning after the disaster and created a source of employment for the villagers. They provide $150 as their monthly stipend.
As the big Nepalese festival of Dashain and Tihar is soon, when people need more money to celebrate, Oxfam has started a road construction programme where they provide $160 to the workers so that they can celebrate the festival. To increase the students' attendance in school, Teach For Nepal had started a mid-day meal programme and provided some stationery to students.
Is there any help from the government?
The government fulfilled its promise by providing $150 to people for their temporary housing. Apart from that there is no effort from the government. Permanent shelter is very important to protect people from other disasters and health issues.
What do you think should be done to improve conditions?
Although all these efforts are being made, I think these are not sufficient in the long term. I think some income-generating skills should be given – training should be provided so that people can at least start their own business or work.
Otherwise, financial insecurity will increase and the work of reconstruction will take much longer than we had imagined. And this will further increase other insecurities.
---
More news
Theirworld's mission to give children in crises a safe place to learn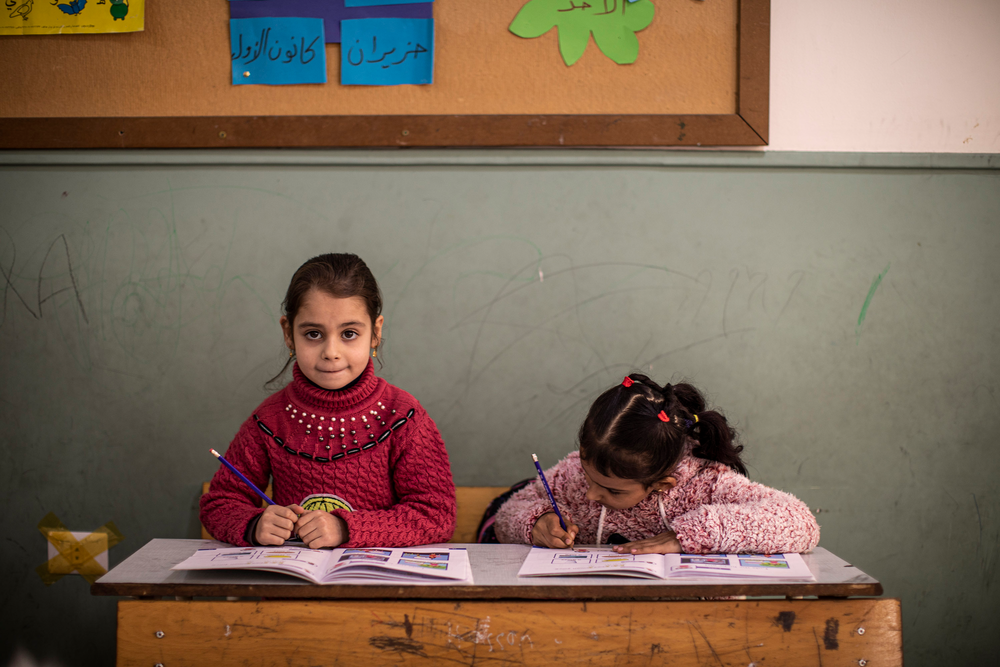 Theirworld's mission to give children in crises a safe place to learn
We thought loud noises were a storm – it was Russia bombing Ukraine
We thought loud noises were a storm – it was Russia bombing Ukraine