Six months after Nepal earthquake: What life is like for school students
Life was normal here. Students were busy playing outside and some parents were in the farmland because it was Saturday. Others were inside their houses.
All of a sudden an earthquake of 7.8 on the Richter Scale hit most of the lands around the valley. In a few seconds, the happiness of students and other people vanished.
Six months later, I volunteered to help in one of the worst affected areas, Boadgaun of Sindhupalchowk District. There is still rubble, broken wooden frames and zinc sheets – as it was on the earthquake day.
Some people have built temporary house and some are still in tents. When it comes to schools, it's a little bit different.
Schools remained closed for more than a month due to two bigger quakes. Later, when life was returning to some kind of normality, schools opened in temporary structures.
The brick-walled rooms are no longer there and in their place are bamboo fences. We saw students studying in tents provided by a donor organisation.
The students escaped from the earthquake. They are reading in a corner of a tent. It works only on sunny days – when winter begins it will be really hard to cope with the weather and continue studying.
We need peace of mind, excitation in heart and freshness in our eyes for proper study and a better future. Fingers crossed – hope alone doesn't work.
School student Angela Majhi told me: "When the severe earthquake struck, I was with four friends and my baby sister inside my house reading. Instinctively we went under doorframes but it didn't solve the situation.
"So, we rushed out. Alas my house collapsed in seconds and so did the other buildings near my house. Since our house was made of mud and bricks, it was prone to earthquake damage and now we felt it too.
"The surrounding area was covered in dirt and it was impossible to move around.
"After the shaking stopped, we rushed to rescue people in the village. Minor casualties had occurred. We evacuated aged people and those with disabilities.
"My school lies on the way and I stood there in agony as most of the structures were damaged and some walls had toppled down. I realised it would be hard to continue school life for a few months as people were suffering from hunger and had lost their homes.
"At such moments schools aren't always a priority. But it wasn't like that – people united, organisations helped and schools started after a few repairs."
Of course the story was sad but it was the truth. They faced it, we just listened to their stories.
Although schools had started, the learning process had been disturbed and the quality of education had deteriorated. There are not enough teachers, small kids are afraid and three to four families are living in the same tent.
The rebuilding process is going on as organisations are providing funds. But buildings are not everything – we need a regular learning process, quality education and teachers for a better future.
We have to provide quality and regular learning environment to these kids. One thing hindering the learning process here is early marriage and restrictive traditions.
Teachers are not given training on how to cope with the situation and to help children deal with the trauma. Organisations come here and are in direct contact with students. It can work but it's not long-term.
On a one-week stay in that village, we worked on a face-painting awareness programme to relieve people from post-traumatic effects. It was very successful.
Shy students can now express themselves and their problems freely. Also our programme "Share With Us" helped us to know much more about their internal life.
This is only one example among thousands of schools affected by the earthquake. There are also schools which were completely reduced to rubble.
The situation needs a long-term plan and it can't be neglected. There are more school dropouts due to the earthquake  – it's time to bring children to schools either by free admission or by psychological makeup.
Purely physical things don't work. Mental help is equally important. Having just rooms to read doesn't work, we need regular learning and quality education.
Short-term funding doesn't work. We need a long-term plan to help these people and their villages and to get these students learning.
---
More news
Theirworld's mission to give children in crises a safe place to learn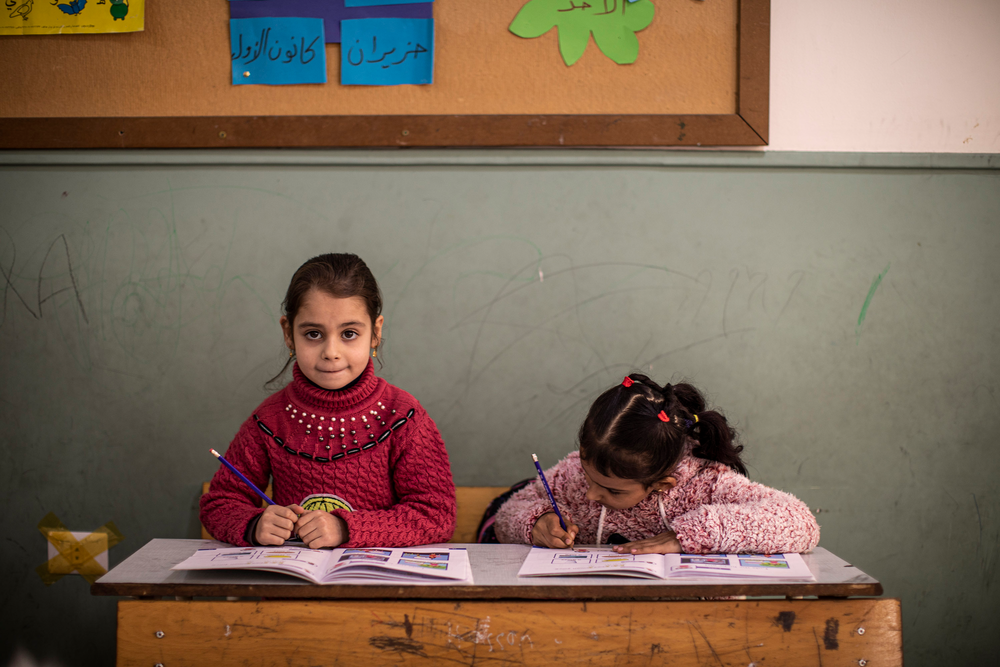 Theirworld's mission to give children in crises a safe place to learn
We thought loud noises were a storm – it was Russia bombing Ukraine
We thought loud noises were a storm – it was Russia bombing Ukraine