Theirworld's small grants help struggling British children to shine
Theirworld
---
As well as our work with children globally, Theirworld's funding makes an impact in the UK – here we spotlight some of those success stories.
---
Theirworld makes a difference in the lives of children around the world. Some of our projects help Syrian refugee children, others benefit marginalised girls in sub-Saharan Africa. 
But we also have an impact closer to home, through the UK-based recipients of our Small Grants Programme. Since 2004, Theirworld has made grants totalling just under £1 million – aimed at developing skills, improving health and education and empowering young people. 
We told you how the Small Grants Programme is changing lives in Ghana, Zambia, South Africa, Uganda and Greece. Today we look at some of the organisations working in the UK who have received grants. 
Girls Out Loud
A Theirworld grant helped this social enterprise launch a programme at a school in a deprived area of inner-city Manchester in 2019. Big Sister matches "smart, sassy and strong" female role models with a group of 20 so-called "middle girls" in Year 8 who are "cruising when they should be shining".  
These girls might be struggling with identity issues, low self-esteem, poor body confidence low aspirations or, often, parents who are unable to look after them because of their own problems 
Girls Out Loud Founder and CEO Jane Kenyon said the aim was for these role models to become the girls' "number one cheerleader" who inspired them to "step up, believe in themselves and shine". 
"Big Sister is a 12-month mentoring programme for middle girls who are lost, under-achieving and cruising when they should be shining," she said.  
"They are neither gifted and talented nor at risk, so they tend to cruise and are often invisible and/or looking for validation in all the wrong places."
Sibling Support
The charity has a simple goal – to help children who have lost a sibling. It does that through booklets, memory boxes and animated films. 
The subjects of its new videos include what is a funeral, exam help for grieving siblings and returning to school after a death. 
Sibling Support said: "Young people whose brother or sister has died are often seen as forgotten grievers, with many feeling like they don't get the support they need. Theirworld's help has really made the world of difference.  
"Thanks to their funding, we've created and distributed thousands of sibling-specific booklets across the UK – from hospices to schools – that help young people with their grief. We couldn't do our work without the help of Theirworld." 
Chance UK
Theirworld's grant went towards towards the redevelopment costs of Chance UK's programme for girls called RISE (Rebuild, Ignite, Succeed, Empower).   
It supports girls aged eight to 12 who are experiencing emotional difficulties or low resilience and promotes good mental health.   
Referrals are made primarily from schools. Girls referred on to the programme are matched with a female mentor who meets them on a weekly basis over a nine-month period.  
One mother of a girl helped by the programme said: "Chance UK's support is fantastic. It has helped a lot and I know so much more about my daughter and we get on so much better. We get on better as a family." 
---
More news
Take the test and discover how our Schools Hub helps students grasp the global education crisis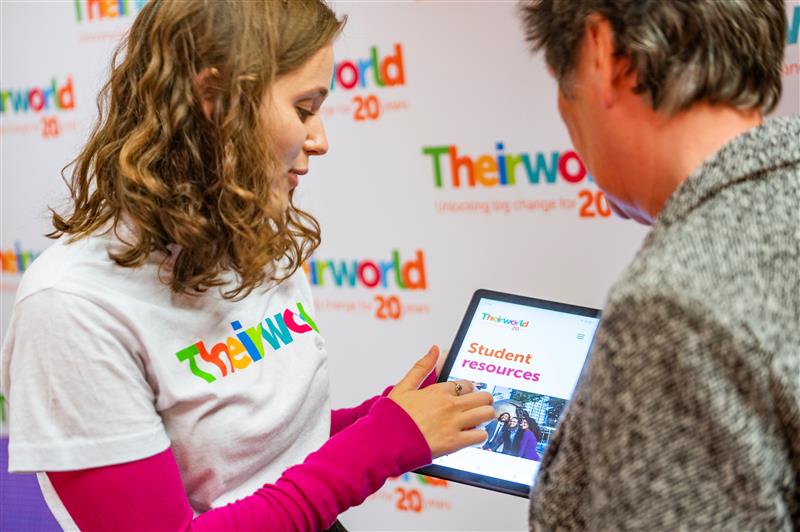 Take the test and discover how our Schools Hub helps students grasp the global education crisis
#LetMeLearn: the story of a global education campaign
#LetMeLearn: the story of a global education campaign