"Education helped to turn my life around … everything comes from education"
Celebrities, Spotlight On ..., Theirworld
---
Boxing champion and Theirworld Advisory Board member Audley Harrison, MBE, talks about his early years and why's so passionate about campaigning for change.
---
Audley Harrison is a big hitter in every way. As a boxer, he became the first British fighter to win an Olympic gold medal in the super-heavyweight category before going on to have a successful professional career.
As a passionate advocate, he has campaigned for many charities and initiatives that focus on education, mental health, physical wellbeing and racial equality. He serves on the Diversity and Equity Task Force for Oak Park Unified School District in California.
Audley – who is also a popular TV personality – is a member of Theirworld's Advisory Board. It serves to support the Theirworld Trustees and staff in the development of the charity to increase our profile, reach and financial support.
In the latest of our Spotlight On … series, which features inspiring people from the world of education, we ask Audley about his own experiences of education and why he feels so strongly about his campaigning work.
Describe yourself in no more than 10 words 
I'm inquisitive, confident and purposeful in seeking out truth. 
What was your experience of education? 
Coming from a broken home and a rough, tough environment growing up, I didn't take education too seriously until much later in life. I haven't spoken about it much but I was expelled from two schools.
I actually left public education with no qualifications, which was a shame because teachers told me how bright I was at the time. 
At age 19 I decided to turn my life around and education was a big part of that. While working three jobs and beginning my boxing career, I went back to formal education and ended up at Brunel University in London at 24. While it was tough balancing it all, I stuck with it and the year before I won the Olympics in 2000, I got my degree in sports science and leisure management. 
Having my educational underpinning allowed me, with my boxing talents, to really turn my life around and live out my dream and start my own successful company. 
What is your favourite memory of your time in education? 
Because I didn't have the correct qualifications, I had to do a foundation course at community college before I could attend university – it was called an access course and it was the equivalent of getting my A levels.  
At the time I was going up the rankings in boxing and Brunel (then called West London Institute) was known as a sporting university (meaning it accepted students based on their sporting talents). So I went there with my community college sports coach and had an interview with Brunel's Dean of Admissions, Tom Trantor.  
He told me that he could let me in based on my boxing but he wasn't sure if I had the educational discipline to handle the curriculum. He advised me to go back to community college. I was crushed and dejected but I went back to community college with my coach and finished out that year.  
When I came back to Brunel, I remember knocking on Tom's door and seeing the huge smile on his face when I walked in. He was so pleased that I'd gone away and come back – it was just such a special moment. 
From that time on, he became a silent angel for me – any time I had problems I could always reach out to him. Boxing wasn't one of the favourite sports at the time, so I had to fight the system to get credibility. But he was always there for me. Without him, I don't think I would have been able to get my degree.  
Tell us about your favourite teacher 
When I won the Olympics and the BBC were doing a celebration of teachers week, they asked me if I had a teacher who I wanted to acknowledge for really touching my life. 
Straight away I thought of Miss Byrd at Harlesden Primary School. If you came from a broken home you had to see these teacher counsellors if you were getting in trouble. She was so warm and caring. Even though I was only there for ages seven to 11 and we lost touch through the years, I never forgot about her. 
It was wonderful that the BBC surprised her on national TV and we were able to reconnect – she and her husband even flew to Jamaica to be at my wedding in 2005. 
She passed in 2010 but it was so good to have her in my life again. It was powerful. Like I said. I have had these guardian angels who have helped me through pivotal points and Miss Byrd was definitely one of those people.   
What is the greatest lesson you've learned outside the classroom? 
The lesson of life – it's not a rehearsal. Life is a one-time deal. This awareness allows you to push forward and focus and leave your mark on the world. 
You don't have to be famous. It's about going out there and inspiring as many people as you can. I believe that I was born to educate and entertain, and I've tried to do that through many different facets in my life. 
Why did you become a Theirworld Advisory Board member? 
I had been following Theirworld and watching the progress – the mission always resonated with me, especially because of my past. But I'd been watching and participating from afar here in America, dipping my toes. 
The opportunity to come on the board came up and it really matched with my priorities because kids are the future. I coach soccer and basketball and try to have a positive effect on the kids, like the mentors in my life have had on me. 
So by joining the board, I feel like I can have a positive effect on the movement of what Theirworld is doing. I'm purposeful in terms of how I try to make a change, so I'm really looking forward to diving in deeper as I get more and more acquainted with all the practices and procedures.  
How do you stay hopeful when the world's problems seem too big to solve? 
That's a good question. The biggest thing for me is I'm an optimist. I was a dreamer – I used to dream about winning the gold before I'd done it. Visualisation and being hopeful are part of it. You can't give up.  
The problems are big – but we've got to be bigger than those problems and we have to match them because they aren't going away. 
One of the best things to focus on are the solutions – the solutions move us away from the problems and get our brains thinking proactively. Even to my kids I'll say: "Don't tell me about the problem, give me two or three solutions to the problem." 
It's a good way to think about overcoming any challenge. There are huge issues on the table but with pragmatism, with people coming together and with optimism we can stay hopeful.  
What makes campaigning rewarding? 
Campaigning for me is such a beautiful thing because at the heart of campaigning is change. As the great civil rights activist John Lewis said, see something, say something – that creates change.  
And what's so rewarding is seeing the impact on the ground. You go through the step, you go through the fight and the challenge of overcoming all of these obstacles and then you find the solution. Then you implement the steps. There's nothing better than seeing the end result. 
It's like you plant the seeds and you see the tree grow – the fruits of your labour.  
Also by doing it from the heart there's nothing more enriching to your soul. 
If you could make the case for education to a room full of world leaders, what would you say? 
I would say that I am an example of how powerful education can be – using my own life experience, coming from a broken home, leaving home with no qualifications, going to a young offender's institution.
I could have been locked up for life or dead right now. But because of education, I turned my life around and won a gold medal. Because of education, I was able to start my own company, write my own checks, pay people's wages and build a business for myself. 
Education allows people to live out their dreams, their hopes, their desires and provide for themselves, their families and their communities. There is no bigger calling in life than to have purpose and your career and your job and your money – that all comes from education.  
And the younger you start planting seeds with the kids, the better it is. It's been proven that from years zero to five, kids are the most adaptable. 
So right now leaders really should be spending time and their focus on putting more money into early childhood education. It's needed and I would implore them to designate some of the money they're using for other projects towards these youngsters.  
They have champions out there in their corner fighting for them. They need leaders who can support them financially.  
What are your hopes for the next year? 
2020 was a year like no other in our lifetime. I don't think we'll experience another pandemic like what we've just lived through (and are still living through). It's been really tough personally, professionally and emotionally for so many.  
My hope is that things return to some sort of normalcy over the next year. People are starting to live again. 
People are being cautious and wearing their mask and doing the right thing – but businesses are reopening and kids are going back to school. So we're coming out of the other end of it.  B
We've been through the dark and we're coming into the light, and it feels like that. 
There are still many problems in the world. But it's important each day to find something to be grateful and positive for. I do feel optimistic about the future. 
---
More news
Take the test and discover how our Schools Hub helps students grasp the global education crisis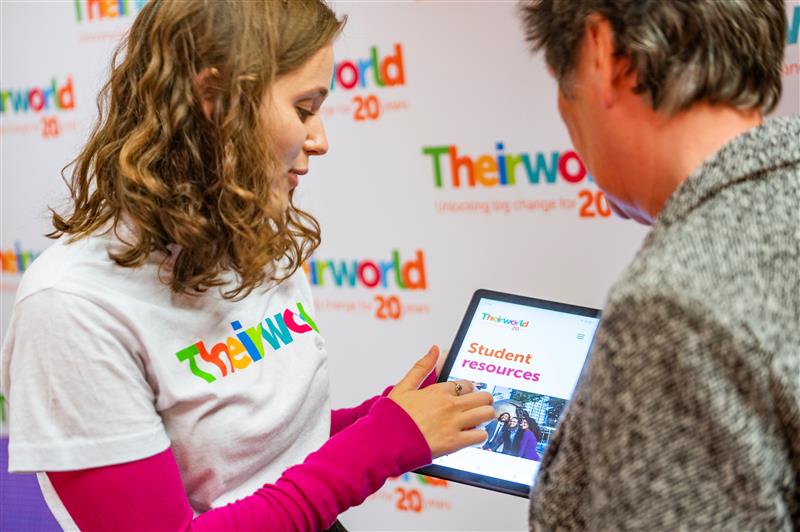 Take the test and discover how our Schools Hub helps students grasp the global education crisis
#LetMeLearn: the story of a global education campaign
#LetMeLearn: the story of a global education campaign