"Investing in education is a choice – we can end the global learning crisis"
Spotlight On ..., Theirworld
---
Theirworld's Director of Policy, Advocacy and Programmes talks about the challenges and the motivations of working to bring about lasting change.
---
Ending the global education crisis will take a huge combined effort from organisations, governments and individuals in every part of the world. 
Theirworld is in the thick of the action, calling for "bold commitments from brave leaders" to ensure that every child is on track to be in school by 2030. Last week we released the Education Finance Playbook – a new report warning that world leaders are letting down the most vulnerable children by failing to prioritise education in their post-Covid recovery plans and address the $59 billion per year gap in global education funding.
But meaningful and lasting change will also need major shifts in policy, effective campaigning and practical programmes on the ground – and it must include the vital voice of young people themselves.
So who better to talk about the challenge than Rob Doble – our Director of Policy, Advocacy and Programmes? In the latest of our Spotlight On … series – which features inspiring people from the world of education – we ask Rob about his and Theirworld's work to end the education crisis.
What is your role at Theirworld? 
I joined the organisation in November 2019, having previously worked on global education at organisations such as LEGO and Save the Children. 
In practice, my role involves overseeing the work of three key teams: Policy/Advocacy, Global Youth Ambassadors and Projects.
What are Theirworld's main advocacy goals for 2021? 
We are trying to secure two major advocacy objectives:
Mobilising donors to increase their funding for education – including for the International Financing Facility for Education (IFFEd), which would help to deliver billions of additional funding to lower-income countries to support education.
Commitments from governments and donors to invest at least 10% of their education budgets in early childhood education. 
In addition to this, we are continuing to ensure that decision-makers provide more funding for education responses to two key refugee crises – the Greek Islands and Syria. 
What has been your biggest achievement at Theirworld? 
The thing I am most proud of is the work I have done over the past 18 months to support and build a fantastic organisation of people across those three teams – it is such a joy to see your colleagues shine. 
Externally, I am most proud of the work I did to produce our refugee education policy briefing on the Syria crisis in June 2020 and mobilise a coalition of 20-plus organisations to put pressure on decision-makers. 
Why is it so important for Theirworld to work on advocacy as well as on-the-ground projects? 
Theirworld is focused on unlocking big change. This means securing the political will and funding to reform education systems. 
While very few decision-makers say that education is not important, what we see is that they too regularly fail to follow through and actually prioritise it and fund it sufficiently. So our job is to support them and hold them accountable for doing this. 
The connection with our projects is critical though, as this is how we can support innovations in how to deliver education and build strong connections with local partners to help them engage in education reform in their own countries. 
The education crisis is a huge problem to solve. What keeps you motivated?  
It may sound a bit cheesy but I still remember a boy called Moses who I met in Ghana when I was doing some volunteer teaching when I was 18. He was so committed to his studies and so hopeful of building a better life for him and his family. 
Whenever I think this is just too overwhelming or it isn't possible, I remember Moses and realise that investing in education is a choice so it can, and must, be done. 
What advice would you give to someone wanting to start a career in international development? 
Three main pieces of advice. 
Really think about what you are passionate about changing in the world and why – you need to be incredibly committed to the cause you want to work on.
Focus on the core skills that will make you stand out. Some of this can be about knowledge – but more commonly I think it is the people who have the right "can-do" attitude that really stand out for me. 
Reach out and talk to people already working in the sector to build your network. We are always happy to talk about our work and be asked questions. 
What is the greatest lesson you've learned outside the classroom? 
Kindness doesn't cost you anything and you get so much more done by being nice than being angry. This doesn't mean being a pushover and not standing up for what you believe – but the more you can empathise and relate to others and bring others along with you, the further you'll go. 
What can Theirworld supporters do to support the advocacy goals? 
We value our supporters so much. It is one thing for us to tell a decision-maker they need to do something because of the evidence and making a good argument but the reality is that these decision-makers do listen to you. So please continue to raise your voice and sign petitions and write letters and emails to decision-makers. 
---
More news
Take the test and discover how our Schools Hub helps students grasp the global education crisis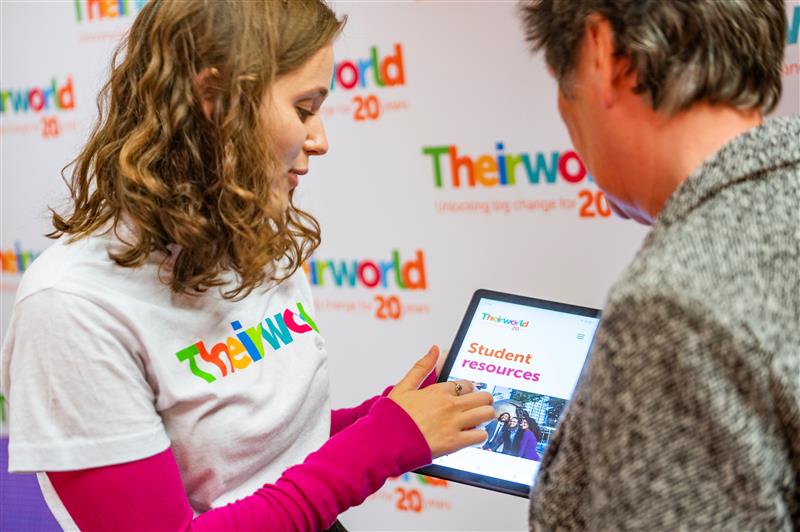 Take the test and discover how our Schools Hub helps students grasp the global education crisis
#LetMeLearn: the story of a global education campaign
#LetMeLearn: the story of a global education campaign