"Any positive outcomes that give our kids a brighter future are the ultimate reward"
Celebrities, Global Youth Ambassadors, Spotlight On ..., Theirworld
---
In a new series featuring inspiring people from the world of global education, we talk to filmmaker, storyteller and Theirworld Ambassador Steve Nguyen.
---
Today we launch a new series called Spotlight On… which will feature interesting and inspirational people from the world of global education.
First up to answer our questions is Steve Nguyen, the Vietnamese-American film director, writer, producer and storyteller whose Studio APA specialises in the production of animated films and music videos. 
In his role as an Ambassador for Theirworld since 2015, Steve has produced films and a comic series which told the stories of some of our Global Youth Ambassadors, our network of young education activists. He is also an active Theirworld advocate among his large social media following.
Steve is about to work with our Global Youth Ambassadors again – featuring their  stories to inspire others to take action for education. We're inviting our network of almost 1,000 GYAs across the world to tell us about their personal experiences, their motivations and their activist actions. Three will be chosen to have their story brought to life in art for a series called Steve Nguyen Presents: Theirworld, Our Stories.
Here Steve tells us about his own education journey and what inspired him to become a Theirworld Ambassador.
Describe yourself in no more than 10 words.
A motivated student in pursuit of knowledge and enlightenment.
What three words describe your education experience? 
Trial by fire. To be quite honest, I value education more today than I did when I was in school. It's difficult to enjoy those moments while you're still in the system learning how it works. Now that I have a daughter of my own and I'm slowly seeing the world for what it really is, I am appreciative for all the lessons, mistakes and struggles that I had to endure throughout my formative years. 
What is your favourite memory of your time in education?
I'm extremely grateful for the teachers, tutors and professors that were patient with me and helped me along the way. My time at university will always be cherished with regards to the friendships that were made and the conversations that were had.
Tell us about your favourite teacher.
Without a doubt, the late, great Carl Pawl helped me realise that my dreams could eventually be a reality if I maintained an honest passion and dedication to my skillset. He was my favourite teacher and my mentor. 
What is the greatest lesson you've learned outside the classroom?
Experiences (both good and bad) are the best teachers … and you don't necessarily gain those valuable experiences within the walls of a classroom.
Why did you become a Theirworld Ambassador?
I realised there was a huge disconnect between our world leaders and our kids from an educational standpoint. The academic structures in place have suffered tremendously primarily due to government neglect and mediocre standards. 
I wanted to contribute to the conversation from a creative perspective and build meaningful connections with the kids around the world who are just like me. They deserve a platform which will give them a fighting chance at a meaningful education. Theirworld has always been about this since its inception and I am proud to be an Ambassador.
How do you stay hopeful when the world's problems seem too big to solve?
It takes a considerable amount of self-awareness and empathy to realise that our collective purpose is to plant a tree for the next generation to eat from. I don't think many people can wrap their heads around that concept – but if and when they do, they will see the importance in our youth and continue to build for the future.
What makes campaigning rewarding?
Through all the obstacles and diligent work that campaigning comes with, any positive outcomes that give our kids a brighter future are the ultimate reward.
If you could make the case for education to a room full of world leaders right now, what would you say to them?
Our future is at stake. It may be too late to change the current state of affairs, but it's never too late to focus on our kids. They will be here long after us and it's up to all of you in this room to provide the institutions, resources and ample funding for them to thrive and build a better society moving forward.
What are your hopes for 2021? 
Wishing you all good health and happiness going into 2021. These are blessings we sometimes take for granted but this past year was a harsh reminder that nothing is more important than your own well-being. 
I wanted to use this time to show love to all the ones that are here with us today and honour the ones who unfortunately aren't. I appreciate all of you and thank you for the wonderful opportunity to build purpose and positive change together.
---
More news
Take the test and discover how our Schools Hub helps students grasp the global education crisis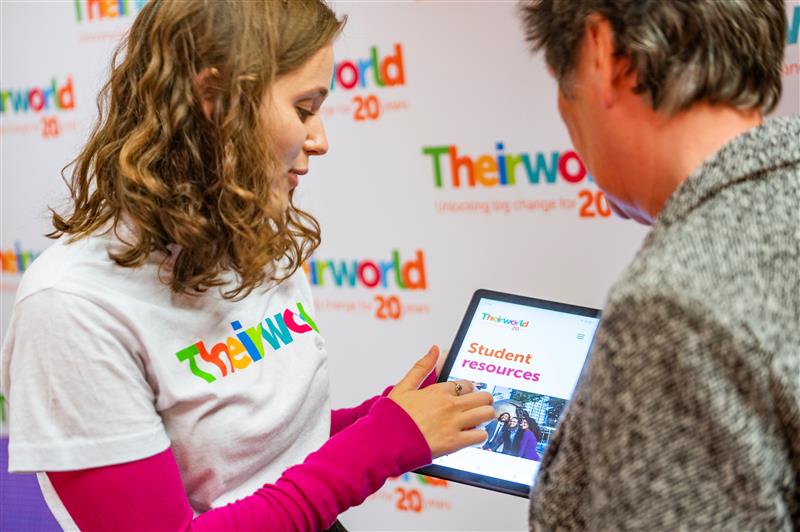 Take the test and discover how our Schools Hub helps students grasp the global education crisis
#LetMeLearn: the story of a global education campaign
#LetMeLearn: the story of a global education campaign