Steve Nguyen and Theirworld GYAs join forces with graphic stories for #WorldStorytellingDay 2021
Global Youth Ambassadors
---
Theirworld ambassador Steve Nguyen has collaborated with four of our Global Youth Ambassadors (GYAs) to create a series of colourful graphic stories portraying their journey into a life of advocacy for education.  
---
The renowned Vietnamese-American film director, writer and producer worked with the GYAs to evoke key moments in their childhood which shaped them into the powerful advocates they have become today.  
Each story in the series – Steve Nguyen Presents: Theirworld, Our Stories – is based on one of the three pillars of Theirworld's work: best start in life, safe place to learn and skills for the future.  
The stories have been released to coincide with World Storytelling Day on March 20, an annual celebration of the art of oral storytelling with events staged and stories published across the world.  
We wanted to hear the personal stories behind the numbers that show how much needs to be done for global education: the 260 million without a place in school – even before Covid-19, the 75 million children are without a safe place to learn and the 50% of young people globally who won't gain the skills necessary for employment by 2030. 
So many of our GYAs answered our invitation to work with Steve and Angel Halo Chang, an artist at Studio APA, his LA-based firm, and tell their stories in artistic form. Unfortunately, we could only choose four – Bushra Farooq from India, Nina Mbah from Nigeria, Francis Kathae from Kenya and Beatrace Ndisha Mwanjala, also from Kenya.  
The first two moving stories, from Bushra and Nina, are published today, with the others to follow in the coming week.  
Bushra's story is about the best start in life. Now aged 24, it describes how her father travelled to Oman when she was young in search of work, and how the sacrifices her parents made for her and her sisters inspired her to help others. 
Nina, 30, focussed on skills for the future, telling how an impromptu ice-selling business started by her mother encouraged her to set up a similar operation at school, and later to start a Youth Development Centre to help others learn employment skills.  
Steve said: "It was such a pleasure to collaborate with these four wonderful young advocates for education, to hear their powerful tales and bring them to life in this way. We all hope that their stories inspire other young people to take action for education and help others have the best chance they can of gaining a quality education." 
Steve has been a Theirworld Ambassador since 2015, producing films and an earlier comic series Presenting in 2016.  
Bushra said: "Working with Steve has been great, not just because of the story but because of the individual Steve is. He is an active listener and creates such a space where the dialogue just flows. 
"My story was not just mine as there was a heavy element of my parents in it. Hence, it was our story that Steve has helped portrayed to the world. One thing I absolutely loved and which has stuck with me is [when Steve said], 'As I see it Bushra, your story is just getting started, you have so much more ahead of you.' I enjoyed the process of working with him thoroughly."
---
More news
New school resources focus on disability and girls' education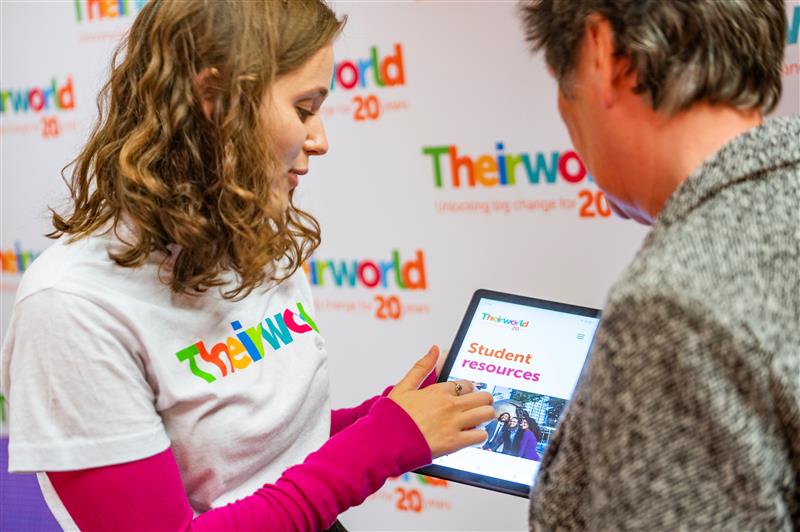 New school resources focus on disability and girls' education
Roger Federer supports the Act For Early Years campaign
Roger Federer supports the Act For Early Years campaign