Syrian refugee children made to feel welcome at Turkish school
Education funding, Education in emergencies
Getting ready for a lesson to start at Istoc Primary School Pictures: A World at School/Tyler Zang
They are sprinkled throughout the school – no more than two in each classroom.
Syrian refugee children whose families fled the conflict sit alongside Turkish children at Istoc Primary School at Bagcilar, a suburb of Istanbul.
The school is crowded and operates a double-shift system to allow more children to be educated. But the Syrian students have been welcomed by the teachers, parents and other children.
The charity Theirworld visited Istoc Primary just after the World Humanitarian Summit in Istanbul in late May.
Students on the morning shift sit two to a desk 
"What struck me was the goodwill of the Turkish people in welcoming Syrian refugee children," said Theirworld President Sarah Brown.
"Right now they have included just a couple of refugee children in each class. But everyone knows that if significant funding that has been promised by the EU and others comes through, then many more Syrian children will need to be fitted into an already busy school.
"Funding will be needed for teachers, classrooms, learning materials, even school uniforms – and not forgetting something nutritious to eat to aid all that learning." 
Istoc Primary is the type of school the Turkish government wants Syrian refugee children to attend. They have promised that by 2017 one million Syrian children will be in their schools – more than twice the current number.
The Theirworld visitors see a classroom in action
That costs money and Turkey has already spent more than $8 billion on the refugee crisis – more than any other country.
At the World Humanitarian Summit, the Education Cannot Wait fund was launched. It aims to help millions of children whose education has been disrupted by humanitarian emergencies including wars and natural disasters.
Theirworld has been at the forefront of pushing for the fund – and now world leaders need to show their commitment by reaching the fund's target of £$3.85 billion over the next five years.
Follow the pledges on our A World at School donations tracker
Additional funding would mean countries bordering Syria – including Turkey, Lebanon and Jordan – could do more to help schools like Istoc Primary.
Syrians have been welcomed by Turkish children and teachers
With 1785 children and 72 teachers in 29 classrooms, it runs a morning shift from 7.30am to 12.20 pm and an afternoon shift from 12.40 to 5.30pm.
Sarah added: "As we are in the holy month of Ramadan, Muslim families treat this as a special time for giving and sharing – and education is the greatest gift.
"While a bit nervous about the impact of lots of change, there is a willingness from adults and children alike to accommodate their neighbours who have seen such atrocities and fled their homes with so little.
"School is now out for the summer holidays and many refugee children will be working to bring in small amounts of income for their families or sit idle in the cities and camps.
A Syrian boy who is attending lessons at Istoc Primary
"Let's hope that school funding for Syrian refugees is sorted across Turkey, Jordan, Lebanon and wherever it is needed so that the planning can start to accommodate every child.
"The communities stand ready to go but let's see the powers-that-be unlock the funding and make it all happen."
Also on the visit to Istoc Primary with Theirworld were the People's Postcode Lottery (PPL) and Hilton Foundation.
Annemiek Hoogenboom, the PPL's Country Director for the United Kingdom, said: "Seeing a Turkish primary school in Istanbul showed how heads and teachers in Turkey are working to help Syrian children have a future.
"Education requires long-term commitment. We are happy and proud to support the work of NGOs like Theirworld, who work with governments to provide additional services, such as a healthy breakfast or lunch, which are key to the success of education."
---
More news
Young people's tireless campaign for an education game-changer
Young people's tireless campaign for an education game-changer
Theirworld's mission to give children in crises a safe place to learn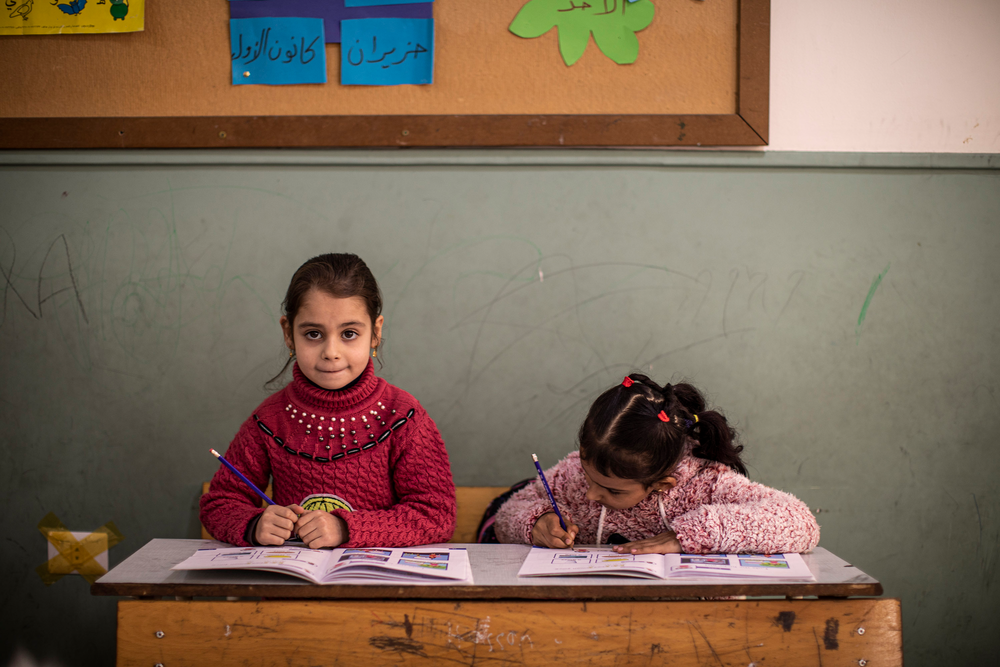 Theirworld's mission to give children in crises a safe place to learn