"Sacrifice that girls made to support their sister's education touched my heart"
Barriers to education, Girls' education, Global Youth Ambassadors, Right to education, Teachers and learning
---
One of our Global Youth Ambassadors tells how a community group is inspiring local people to help children get access to better education.
---
Most of the vulnerable families around Kigamboni, Tanzania, are struggling to support their children getting access to better education. 
This is largely because children in these families are often responsible for supporting their families financially, even whilst they are still students themselves.
As a Global Youth Ambassador with Theirworld's A World At School movement, I am passionate about advocating for children's rights and campaigning for every child to have access to better education. 
I have been working with Kigamboni Community Centre (KCC), a non-governmental organisation that aims to inspire locals to support the development of our community. 
KCC offers a huge variety of services. These include vocational training to empower students with skills for a brighter future, free nursery and primary education and a route into mainstream education for children who do not have that access. 
They also offer computer and English classes for all, support homeless children and have a rehabilitation programme for children. 
Plus they have opportunities for youth to develop their talents through a wide range of creative activities including art, acrobatics, drama, traditional and modern dance, and music.
During my time working with KCC, I met Cecilia. She is the eldest of three sister and had to drop out of school in order to support their family. 
Cecilia told me: "I dropped out of school when I was Form Two (secondary school) to help my grandmother and support my young sisters Tina and Melina on their education … because we had no support from our relatives". 
Cecilia currently works as a maid to support her family. Melina did not proceed with secondary schooling in order to also help support the family. 
However, their other sister Tina joined a secondary school after passing primary education. She has now been selected as one of the students to join the public school. 
Tina would like to become a teacher and she uses her time to revise all her subjects after school. 
Cecilia and Melina's story is not uncommon in my community. The sacrifice that Cecilia and Melina made to support their family and Tina's education touched my heart. 
As a Global Youth Ambassador, I will continue to advocate so that all children can have access to quality education.
---
More news
New school resources focus on disability and girls' education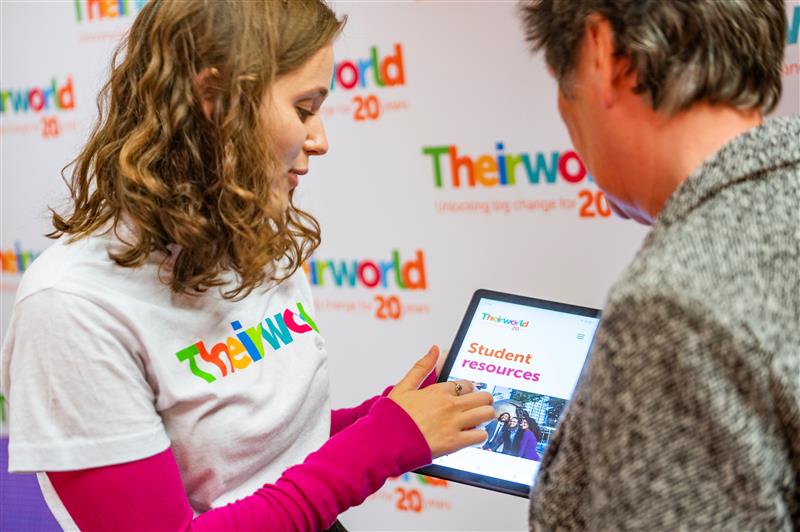 New school resources focus on disability and girls' education
Roger Federer supports the Act For Early Years campaign
Roger Federer supports the Act For Early Years campaign