'We're trying to dream very big dreams': Theirworld holds event for supporters
Sarah Brown, Theirworld
The gathering in Edinburgh heard about the charity's work on global education, disability and premature births. 
---
Theirworld's efforts to help every child in the world fulfil their potential were boosted by a fundraising event in Edinburgh yesterday.
"We are trying to dream very big dreams," Theirworld Chair Sarah Brown told supporters and friends of the children's charity. 
She outlined the organisation's work on tackling the global education crisis and the role of the Jennifer Brown Research Laboratory in Edinburgh on the issues around premature births.
Special guests included Ken Macintosh, Presiding Officer of the Scottish Parliament. He talked about child poverty being "a stain on our world" and added: "There is something we can do about it. We can make a difference – and that is what Theirworld is all about."
The charity's President Justin van Fleet hosted a session with campaigner Vibhu Sharma, who is working as a disability and inclusion consultant with Theirworld.
Vibhu, who is from India, said: "Inclusive education means not just getting children to sit in a classroom but looking after their individual learning needs." 
She added: "What I really love about Theirworld is that we plan ahead, which is so very important. When dealing with multiple barriers, you need to plan 10 steps ahead."
The event featured a special song about the work of Theirworld that was written and performed by Nicola Haxby. She started busking to help good causes and has raised more than £9,000 for the charity. 
Nicola said: "I'm very passionate about Theirworld. We are very fortunate here – we can expect a free education but so many millions of children don't have that privilege."
The event was hosted by the famous delicatessen Valvona & Crolla. Attendees also included Gordon Brown, the United Nations Special Envoy for Global Education; Theirworld Trustees Arabella Weir and Dr Ian Laing; and Annemiek Hoogenboom, Country Director of the People's Postcode Lottery.
---
More news
Sarah and Gordon Brown share global education vision in 100th episode of Better Angels podcast
Sarah and Gordon Brown share global education vision in 100th episode of Better Angels podcast
Take the test and discover how our Schools Hub helps students grasp the global education crisis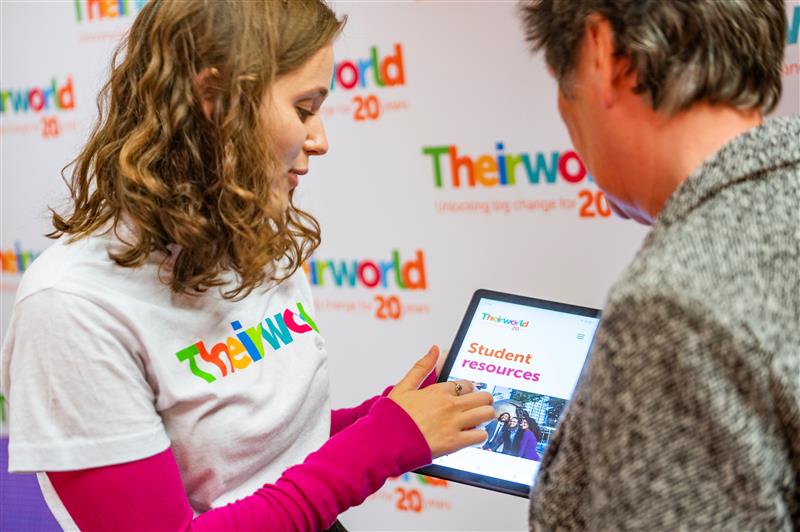 Take the test and discover how our Schools Hub helps students grasp the global education crisis