Theirworld launches new Education Innovation Awards to tackle global education crisis
Theirworld
Five winners will each receive £50,000 and bespoke mentoring to help them scale up their projects.
---
Theirworld, the global children's charity, today launches the Education Innovation Awards 2021 to recognise and support non-profit organisations that are developing innovative new ways to tackle the global education crisis.
Grants of £50,000, as well as masterclasses and a bespoke package of mentoring, will be awarded to five organisations to help them develop their ideas and scale up their projects.
The awards are free to enter and open to non-profits, NGOs and charities that are actively working towards supporting the education of marginalised children, including refugees and children with disabilities.
Projects must also be running in – or planning to scale up to – one or more of the seven countries where Theirworld is already supporting children – Greece, Turkey, Nigeria, Uganda, Lebanon, Tanzania and Kenya.
The entries should focus on an innovation that fits under one of Theirworld's three main pillars:
Best start in life – including quality and inclusive early childhood development, with a particular focus on pre-primary education.
A safe place to learn – bringing quality education to vulnerable children and youth, especially in emergencies and conflict.
Skills for the future – equipping all young people with the skills needed to participate in society and work.
Ten finalists will be chosen by a panel of experts and invited to participate in a two-week introductory class, with workshops and support to develop their scaleup strategy.
Five winners will then be picked to receive four months of tailored scale-up masterclasses as well as six months of personalised mentoring.
Innovations are important in the education sector because the current system is not delivering progress quickly enough to reach the Sustainable Development Goal of inclusive and quality education for every child by 2030.
Even before Covid-19, 260 million children were out of school. The pandemic has worsened the education crisis, pushing the most vulnerable children further to the margins.
At the height of the crisis, more than 1.6 billion children, including 767 million girls, were forced out of school, putting them at greater risk of sexual exploitation, child marriage and domestic abuse. It is estimated that without proper investment in education more than 20 million children are at risk of never returning to the classroom. 
Rob Doble, Director of Policy, Advocacy and Programmes at Theirworld, said:
"For nearly 20 years Theirworld has been partnering with organisations who are bringing us closer to a world where every child has the best start in life, a safe place to learn and skills for the future.
"We've come a long way but there is still a lot more work to do before we reach our goal of getting every child into school. That's why innovation is so important. We need to foster, nurture and grow innovative new ways to tackle the education crisis because the current system just isn't working. Too many children remain out of school and locked out of learning.
"Innovation is the catalyst for change, and we look forward to partnering with organisations whose innovative and pioneering initiatives will unlock big change for marginalised children around the world."
How to enter
You can enter the awards here.
The deadline for entries is 23:59 BST 11 June 2021. The eligibility checker will close 24 hours before at 23:59 BST on 10 June 2021.
Notes to Editors
For further enquiries, please contact:
Nicole Martin
Head of Partnerships and Media
Mob: 07768 695 087 
Email: [email protected]
About Theirworld
Theirworld is a global children's charity committed to ending the global education crisis.
It anticipates, targets and solves the complex barriers keeping children and young people from education and opportunity. The organisation mobilises the power of campaigning, policy change and innovation to provide every child, especially the most marginalised, with the best start in life, a safe place to learn and skills for the future.
Informed by breakthrough research and activated by an influential network of partners, Theirworld works with governments, businesses, NGOs, young people and campaigners to develop and deploy solutions to unleash the potential of the next generation.
For more information, visit www.theirworld.org. Twitter @theirworld
---
More news
Take the test and discover how our Schools Hub helps students grasp the global education crisis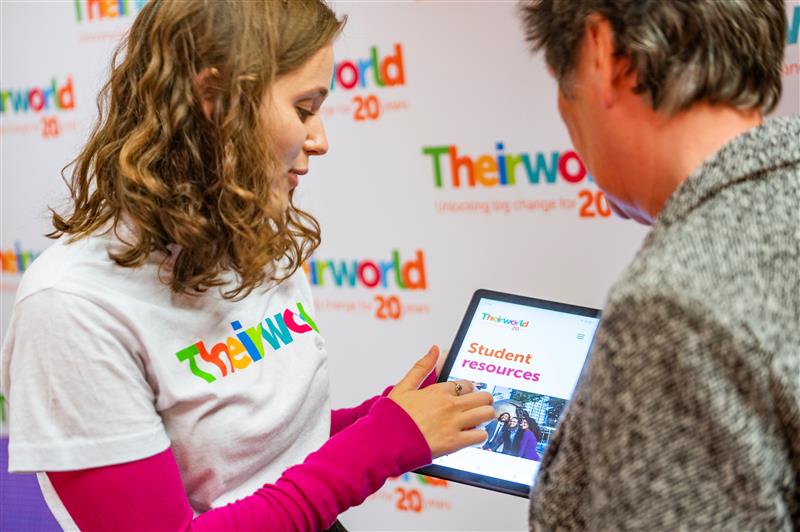 Take the test and discover how our Schools Hub helps students grasp the global education crisis
#LetMeLearn: the story of a global education campaign
#LetMeLearn: the story of a global education campaign