2017 on film: how Theirworld is working to change the world
Celebrities, Child nutrition (Early years), Childcare, Children in conflicts, Early childhood development, Education in emergencies, Girls' education, ​Learning through play (Early years), Refugees and internally displaced people, Right to education, Technology and education, Theirworld
---
This year we've used the power of video storytelling to look at out-of-school refugees, girls' education and early childhood development.
---
Theirworld works to unlock what every child needs to unleash their potential. We discover what they need – and how change happens – through continuous action. This ensures our work is sustainable and can make a real difference in the lives of a generation of children and young people.
To support our work on education and early childhood development, we tell the stories of the people who are affected by the challenges – and those we are helping to overcome them.
One way we do that is through videos. In 2017, Theirworld's films featured comedians dressed as babies, young Syrian refugees telling their own stories and Code Clubs that are helping girls learn technology skills.
Here's a look at some of our videos this year.
Syrian refugees and education
We reminded world leaders that they made a promise to get every Syrian child a quality education.
We gave equipment to four young Syrian refugees living in Turkey to document their lives. These are their stories – the first is Asmah's.
Meet Bassam, a 14-year-old Syrian refugee from Idlib. Watch his life through his eyes as he journeyed from Turkey to Vienna to be reunited with his father and return to education.
Mustafa is 12 and works by collecting scrap to sell instead of being in school.
15-year-old Rojin filmed her life on an informal settlement in Turkey.
#5for5 campaign
Did you know 90% of your brain is developed before the age of five?
Watch comedians Matt Lucas, Rainn Wilson, Carolyne "Teacher" Wanjiku, Nish Kumar, Jackie Tohn, Wendy Liebman and Shappi Khorsandi dress up as babies for our early childhood development campaign.
Broadcaster and mother Penny Lancaster visited a children's centre to find out why early years care is so crucial to give them the best start in life.
#RewritingTheCode campaign
Why don't women have equal pay and equal opportunity in the workplace? Embedded values start before a girl is even born and shape the world around her.
A look at our International Women's Day event in London, where we honoured some inspiring people.
Code Clubs
Theirworld Code Clubs now run in Kenya, Nigeria, Uganda, Lebanon and Tanzania. We want girls to be empowered with coding and technology skills.
During Africa Code Week we launched a new Code Club in Tanzania with support from Voith. Code Clubs teach vital coding and technology skills to vulnerable girls and young women in a safe space.
World Refugee Day
We marked World Refugee Day 2017 by looking at a typical Syrian family in a camp in Turkey.
Support for our work
Theirworld partnered with Omnicom to support global and local education – and get every child in school and learning.
---
More news
Skills for the future give young people the best chance of success
Skills for the future give young people the best chance of success
Take the test and discover how our Schools Hub helps students grasp the global education crisis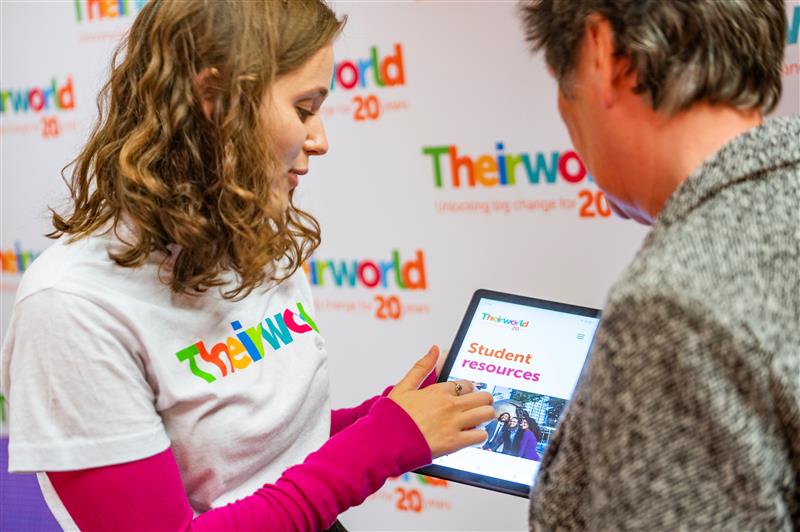 Take the test and discover how our Schools Hub helps students grasp the global education crisis