UN General Assembly 2016: world leaders need to deliver education for children in emergencies
Education funding, Education in emergencies
Syrian refugee Rima now sells tissues on the street instead of being in school in Turkey and fulfilling her potential 
Leaders from around the world will gather in New York to attend high-level meetings at the United Nations General Assembly.
In their hands is the future of millions of children who are denied an education because of humanitarian emergencies including conflicts and natural disasters.
Children like Rima, a Syrian girl who was top of her class back in Aleppo and planned to become a doctor.
Her family fled from the civil war to Turkey and Rima is forced to work selling tissues in the street to support her family rather than being in school.
Another 75 million children and youth aged three to 18 living in crisis-affected countries are in desperate need of educational support.
Theirworld – the children's charity behind A World at School – calls on leaders attending the UN General Assembly to make real commitments that will deliver education for children living in emergencies.
Among the big events happening are the launch of the Education Commission's report on September 18, summits on the global refugee crisis on September 19 and 20, a meeting of the co-hosts of the Supporting Syria conference on September 20 and a breakfast event hosted by the Global Business Coalition for Education on September 21.
How you can help
We need to keep up the pressure on them. Can you post a message on the Facebook profiles of the co-hosts – using the #SafeSchools and #SupportSyrians hashtags – reminding them to keep their promise to get all Syrian refugee children into school?
Here are their Facebook pages:
United  Kingdom Department for International Development
Angela Merkel, Chancellor of Germany
Erna Solberg, Prime Minister of Norway
John Kerry, United States Secretary of State
Kuwait Ministry of Foreign Affairs
Please be polite – abusive messages will just get ignored or deleted. A simple reminder that promises to children should never be broken is firm enough.
In our tweets below you can find links to our latest updates leading up to and during the New York meetings.
Global Youth Ambassador #UNGA journal: Day 4. https://t.co/b5oiwq47Bl

— A World at School (@aworldatschool) September 24, 2016
"Education is their birthright, not a luxury." – @shakira https://t.co/9l5mo8wchm #LearningGeneration

— A World at School (@aworldatschool) September 23, 2016
This week, we were at the meeting where world leaders took stock of their promise to #SupportSyrians with education. What did we learn? pic.twitter.com/J3rpYxTuLp

— A World at School (@aworldatschool) September 23, 2016
.@TypicallyTaha and @ousmane30627599's #UNGA Youth Ambassador diary: Day 3 https://t.co/prKsepl4Cq

— A World at School (@aworldatschool) September 22, 2016
Business leaders gathered to discuss their crucial role in helping provide education https://t.co/SH0WnPUAYJ

— A World at School (@aworldatschool) September 22, 2016
Business aid for education in emergencies: GBC-Education event blog https://t.co/4mGMQW6c0V

— A World at School (@aworldatschool) September 21, 2016
.@gbceducation announces REACT (Rapid Education Action) Database to help provide fast action to crisis hit children. https://t.co/mqyGfDVeWx

— Theirworld (@theirworld) September 21, 2016
Supporting breastfeeding is an important part of any childcare response in emergencies – @kategoertzen https://t.co/I4LCUjjPHq #BestStart

— A World at School (@aworldatschool) September 22, 2016
.@molly_curtiss talks ramifications of toxic stress in young people in crisis situations. #SafeSpaces https://t.co/t5wCCMjSRG

— A World at School (@aworldatschool) September 20, 2016
.@TypicallyTaha and @ousmane30627599 recap day 2 of UNGA: https://t.co/0zxA6Qq7R0

— A World at School (@aworldatschool) September 20, 2016
Imsa'il is 1 of thousands who has told world leaders "You Promised" over the past week: https://t.co/1JXvKao700 #SupportSyrians @SafeSchools pic.twitter.com/sWDXoW33Q3

— A World at School (@aworldatschool) September 20, 2016
.@TypicallyTaha and @ousmane30627599's #UNGA journal: Day 1. https://t.co/6VeNl7KyUY

— A World at School (@aworldatschool) September 20, 2016
Wondering what the @educommission says about Education in Emergencies? Read on: https://t.co/V1Krv4gwdy #LearningGeneration #SafeSchools

— A World at School (@aworldatschool) September 19, 2016
#EducationCannotWait : ~1.5 mil children in Chad, Syria, Yemen have access to education unlocked in next 2 years https://t.co/1RuUS17WQt

— A World at School (@aworldatschool) September 19, 2016
Millions of children dealing with effects of conflict, disaster, are being neglected by int'l community. https://t.co/Uk9gxWCKew #BestStart

— A World at School (@aworldatschool) September 19, 2016
306,000 Syrian babies born as refugees. Toddlers cannot afford to wait to learn, play & receive care https://t.co/sErzHejWzt #SupportSyrians

— A World at School (@aworldatschool) September 19, 2016
.@educommission launches bold plan to get every child in school by 2030:https://t.co/uC9vAmhcbz#LearningGeneration #BestStart #SafeSchools

— A World at School (@aworldatschool) September 19, 2016
.@educommission report focus: Prioritise Early Childhood Dev in order to deliver education to every child. https://t.co/j3JNbOLYZU

— A World at School (@aworldatschool) September 19, 2016
Our Global Youth Ambassadors are sending a message to world leaders: join them and say: You Promised. #SafeSchools pic.twitter.com/ivAgejTRUC

— A World at School (@aworldatschool) September 18, 2016
Over 1/2 of the world's children will have little or no education by the year 2030 unless urgent action is taken. https://t.co/3T7CQwZZW9

— A World at School (@aworldatschool) September 17, 2016
An army of people who care passionately can make a massive difference. Meet some of those working on education. https://t.co/Aff3KSTltV

— A World at School (@aworldatschool) September 16, 2016
These champions could persuade world leaders to deliver their promises. https://t.co/sie1ChR7P4 #SafeSchools

— A World at School (@aworldatschool) September 15, 2016
Broken promises by world leaders could lead to half of all Syrian refugee children still being shut out of school. https://t.co/5qLzaUTjO0

— A World at School (@aworldatschool) September 15, 2016
What is the @educommission? Read our primer. https://t.co/qWJaczdCx0

— A World at School (@aworldatschool) September 14, 2016
A few years of education campaigning has really focused the world's attention on the issue. Here's what we learned. https://t.co/K7mrBnPAs0

— A World at School (@aworldatschool) September 13, 2016
Congratulations to the winners and all who took part in the @educommission Youth Video Challenge! https://t.co/E2AiRTcQ7S

— A World at School (@aworldatschool) September 13, 2016
---
More news
Young people's tireless campaign for an education game-changer
Young people's tireless campaign for an education game-changer
Theirworld's mission to give children in crises a safe place to learn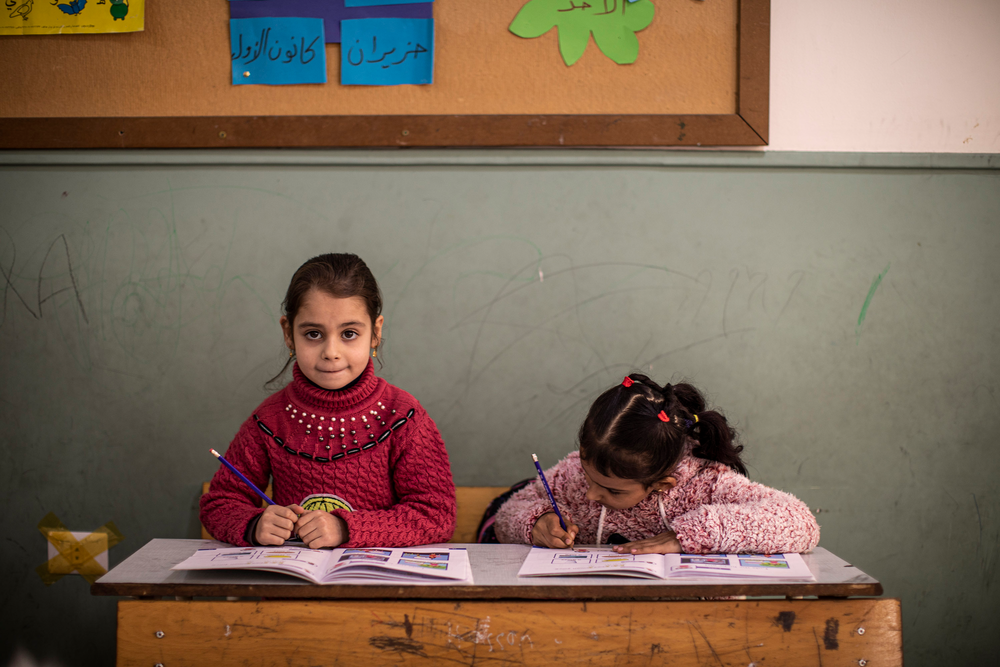 Theirworld's mission to give children in crises a safe place to learn