#UpForSchool message delivered to World Economic Forum on Africa
A World at School, Education funding, Education in emergencies, Safe schools, Up for School or #upforschool campaign
---
A World at School's Campaigns Director Ben Hewitt files his first report from the World Economic Forum on Africa in Cape Town.
The #UpForSchool Petition has just arrived at the World Economic Forum on Africa in Cape Town, South Africa, where business leaders, politicians and civil society groups from across the world are gathering to discuss the continent's future.
A range of important issues are being discussed, Phumzile Mlambo-Ngcuka, Executive Director of UN Women, has already started to highlight the need to tackle the gender gap.
Why closing #Africa's gender gaps will benefit everyone @phumzileunwomen @UN_Women http://t.co/ITybxkTZYf #af15 pic.twitter.com/Kqph7p2hwB
— World Economic Forum (@wef) June 2, 2015
Winnie Byanyima, executive director at Oxfam International, is talking about the need to tackle inequality by improving tax. She said that there are impressive growth rates across the continent but also the need for "focusing on those areas that deliver social mobility: on health and on education". You can read more here.
One of the key areas of discussion is education. Looking back at the past 15 years the number of children enrolled in primary schools in the region increased by 75%. And sub-Saharan Africa is the region where countries have allocated the largest share of government expenditure to education (18.4%).
Change the global tax system and deliver basic education for all http://t.co/b4La86kPTT
— Winnie Byanyima (@Winnie_Byanyima) June 2, 2015
But progress to get all children into school and learning has stalled. Thirty million children are still out of school and a third of these are in countries affected by conflict.
Financing for education is declining fastest in these fragile settings – where it was already inadequate. Efforts like the Safe Schools Initiative in Nigeria – launched in the wake of the #BringBackOurGirls outcry around the world – are part of the solution. Together the business community and government launched this initiative.
But far more resources and commitment are necessary to get all children everywhere in safe schools and learning.
This is why our Global Youth Ambassadors around the world have been supporting the #UpForSchool Petition calling on world leaders to take urgent action get every child into school. The petition is now signed by almost six million people.
Young people are making their voice heard, from Sunday School children from the Light World Mission Church in Cameroon (pictured above) to more than 1000 students at 10 high schools in Monrovia. People are saying that every child has the right to an education, no matter who they are or where they are born. We will be sharing the #UpForSchool Petition with leaders tomorrow.
There are more important discussions tomorrow, as well as the early morning press launch of ONE's new Poverty is Sexist campaign at 8am. The campaign says: "It's time to act – ror the girl denied an education or forced into marriage." You can check out the new video here.
Are you on Twitter? Try following these for live updates from WEF Africa 2015:
@wef, #WEFAfrica2015, #UpForSchool, @phumzileunwomen, @KennedyOdede, @Winnie_Byanyima, #povertyissexist.
And if you haven't signed the #UpForSchool Petition yet, make your voice heard – do it now!
Read another blog by Ben Hewitt from the World Economic Forum on Africa.
---
More news
Young people's tireless campaign for an education game-changer
Young people's tireless campaign for an education game-changer
Theirworld's mission to give children in crises a safe place to learn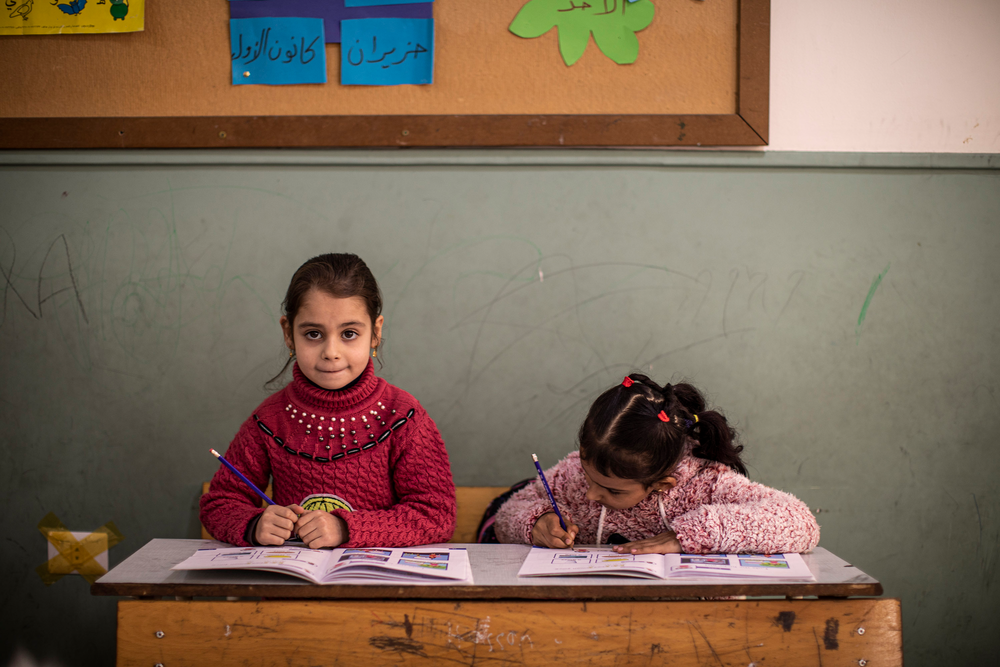 Theirworld's mission to give children in crises a safe place to learn