US cuts to aid 'would be catastrophic' for education of Palestinian children
Education funding, Refugees and internally displaced people, Right to education
---
The UN agency that looks after more than 500,000 school students has warned that a major drop in funding would seriously hit its programmes.
---
Cuts in humanitarian funding for Palestinians by the United States could be "catastrophic" for the education of children scattered across the Middle East.
The warning came from the United Nations Relief Works Agency for Palestinian Refugees (UNRWA), which educates more than 500,000 Palestinian children in 711 schools. 
Around one-third of UNRWA's budget comes from the United States and 20,000 people are employed in its education department.
In a recent tweet President Donald Trump vowed to block millions of dollars of funding for Palestinians, claiming they were "no longer willing to talk peace". Media reports yesterday said the US is expected to slash the first instalment of this year's funding by half – from $125 million to $60 million. (SEE UPDATE AT END OF THIS ARTICLE)
UNRWA told Theirworld that the impact of millions of dollars in aid being stopped would be "profound and widespread" for both the Palestinians and the humanitarian organisation.
The biggest tranche of UNRWA education programmes is primary schooling for 500,000 children in Gaza, the West Bank, Jordan, Lebanon and Syria. 
UNRWA was set up in 1949 to provide humanitarian aid in the wake of the 1948 Arab-Israeli War, which left hundreds of thousands of Palestinians displaced in the Middle East. 
It was initially intended to be a temporary agency but has continued to provide support for Palestinian refugees including education for children.
Chris Gunness, an UNRWA spokesman, said: "I think it's important to realise that UNRWA – unlike the World Food programme, say – can't just deliver a third less education to children, if we get a third less of our budget.
"You are either educating children or you're not. So it would pose some serious question marks over the viability of our programmes."
When you're living under blockade in Gaza, in the war zones of Syria, or indeed in refugee camps in Lebanon and in Jordan, the threat of having education withheld is enormously problematic Chris Gunness, UNRWA spokesman
UNRWA education
500,698 students
50.2% of them female
21,571 educational staff
$853 annual cost per elementary student
Gunness said that a financial crisis in 2015 almost resulted in the complete suspension of education. 
He added: "We nearly had to postpone the start of our school year. That sent terrible shockwaves through refugee communities, because for them an education is a vehicle towards a life of dignity and prosperity. 
"So when you're living under blockade in Gaza, in the war zones of Syria, or indeed in refugee camps in Lebanon and in Jordan, the threat of having education withheld is enormously problematic."
Gunness said that UNRWA had been in touch with all of its major donors to see if any funding gap could be bridged if the US cuts its aid.
He added that a "solid primary education" is mainly what the agency's education department provides. 
Gunness said: "The World Bank has praised our education and said that when kids leave our schools they are a year ahead of students from comparable government schools around the region."
UNRWA also helps about 10,000 children and youths in vocational training centres. 
"We prepare youth for the job market which, of course, is problematic in Gaza where there is soaring unemployment," said Gunness. "So it's difficult to educate these children when they find themselves frustrated, and on dole queues. 
"But where there is the possibility of an escape from the poverty trap and a dignified life, then vocational training can be very useful."
Before the Syrian conflict, UNRWA had about 60,000 Palestinian children enrolled in its schools there. The figure today is about 45,000.
Gunness said: "While we wonder what has happened to these 15,000 children who are no longer enrolled, it's still a tribute to the resilience of our education department and the prime importance the Palestinians put on education, that we are able in Syria, to educate so many."
UNRWA uses various innovative methods to deliver education in Syria – including distance learning and special TV programmes.
In the Gaza Strip, almost the entire population receives aid from UNRWA. The agency acts almost as a de facto government and is responsible for the majority of schools, health care facilities and some public services.
Jordan, which has more than two million registered Palestinian refugees, hosts the largest number of people who get UNRWA aid.
More than half of the agency's budget goes toward education. In 2016, 17% of the budget was set aside for health care. 
It has never been involved in peace negotiations and focuses on humanitarian efforts throughout the Middle East, in areas where the largest numbers of displaced Palestinians are concentrated. 
Earlier this month, Israeli Prime Minister Benjamin Netanyahu called for the closure of UNRWA, saying it is "an organisation that perpetuates the Palestinian refugee problem".
Palestinians are the only refugee group whose support is not handled by the UN High Commissioner for Refugees. Netanyahu said UNRWA treats "great-grandchildren of refugees – who aren't refugees".
Despite Israel's reservations, the organisation is internationally recognised for its humanitarian efforts.
The comments by Trump and Netenyahu came with tensions already high over the arrest of a 16-year-old Palestinian girl who slapped and kicked Israeli soldiers.
Ahed Tamimi was arrested and charged with assault after the incident was filmed in December. 
She has been held in custody since then and yesterday a military court in Israel extended her detention for another two days.
UPDATE: US officials confirmed later on January 16 that $60 million will be provided to UNRWA but the other $65 million of a planned $125 million instalment of funding will be held back.
---
More news
Young people's tireless campaign for an education game-changer
Young people's tireless campaign for an education game-changer
Theirworld's mission to give children in crises a safe place to learn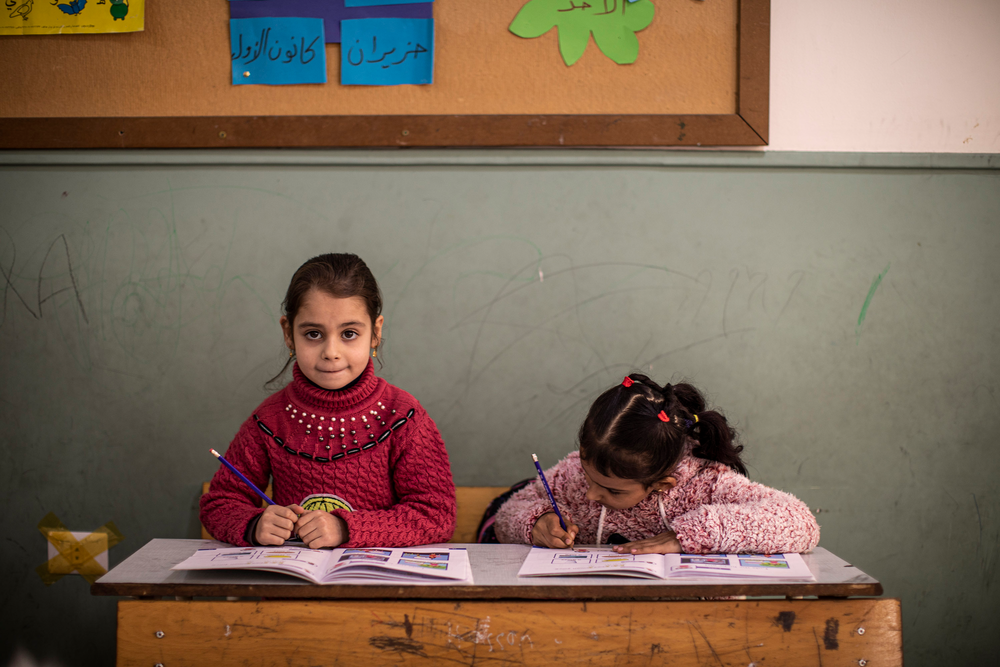 Theirworld's mission to give children in crises a safe place to learn