These girls can! Watch how Theirworld is empowering girls with digital skills for their future
Girls' education, Technology and education, Theirworld
---
Our Skills for Their Future programme aims to empower young girls in Kenya by equipping them with valuable skills that will help them to prosper after school.
---
It's International Day of the Girl today and the theme for this year is Digital generation. Our generation.  
To mark the day, Theirworld visited Gachororo Secondary School in Kiambu County, Kenya, where girls are learning valuable digital skills thanks to our Skills for Their Future programme. 
At Theirworld, we believe that every child should be able to participate meaningfully in society. Our Skills for Their Future programme aims to empower young girls by equipping them with skills that will help them get a job or start a business in the future.  
Without proper investment in education, it is predicted that by 2030 more than half of the world's children will not have the most basic skills they need to prosper in the workplace. Girls and young women are most at risk of being left behind. Today, women represent only 3% of technology graduates globally. 
Watch our new video for International Day of the Girl
Theirworld has partnered with Youth for Technology Foundation (YTF) in Kenya to deliver a comprehensive digital curriculum that teaches girls about how computers work, how to use popular programs such as PowerPoint and Excel, internet safety and social media.  
The hope is that these lessons will spark the girls' curiosity and open their eyes to the possibility of pursuing a career involving digital technology.   
Stacy Irara, YTF's Programme Coordinator, said: "Skills for Their Future is a digital literacy programme that is working to ensure the young generation, particularly the girls, [have] the skills to properly navigate technology and empower them to opt for STEM careers and ICT courses when they finish school. 
"It's especially important to focus on girls. We say that 39% of girls in Africa and also women are not able to access something as simple as mobile Internet." 
Edward Mulupi, one of the Teacher Ambassadors at the school, said: "I think it's very important to empower girls because an empowered girl is a very productive member of the society. She contributes smart to the growth of the society and can break the gap of poverty." 
At Gachororo Secondary School, girls talked with excitement as they described what they had learned on the course.  
"The first time I heard about this programme, I was excited. I said, "Wow, we are lucky," said Jacinta, one of the students. "It feels privileged because as young teenagers, we have been able to gain knowledge and also have those skills on computers. 
Irene, another student, said: It's the best thing that has ever happened to because I'm able to use the skills to know what I'm supposed to do for my business to grow." 
The Skills for Their Future programme builds on the previous success of Theirworld's Code Clubs for girls in several sub-Saharan African countries. 
Theirworld is working hard to ensure young people – particularly girls – are not left behind. We have been running projects in several countries, including Kenya, Tanzania and Lebanon, to help girls and young women gain the digital skills they need for their future. 
The programme has been made possible thanks to funding from the players of People's Postcode Lottery. 
---
More news
Skills for the future give young people the best chance of success
Skills for the future give young people the best chance of success
Take the test and discover how our Schools Hub helps students grasp the global education crisis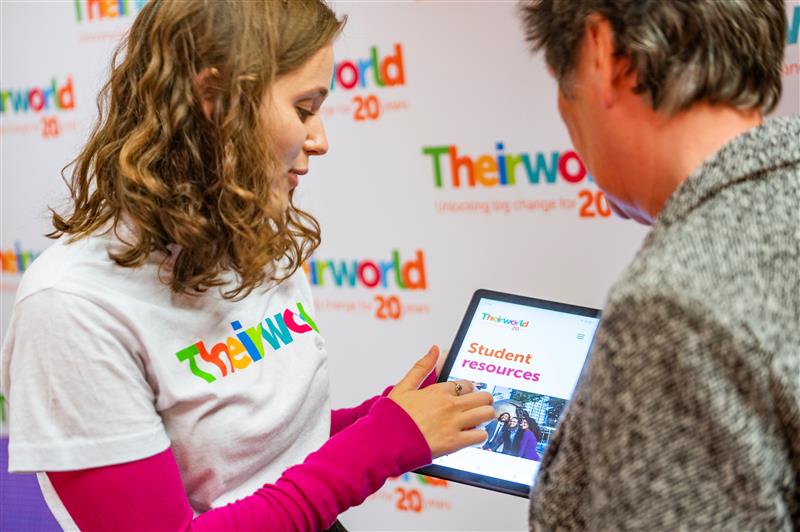 Take the test and discover how our Schools Hub helps students grasp the global education crisis