Theirworld welcomes 500 new Global Youth Ambassadors from 60 countries
Global Youth Ambassadors, Theirworld, What is advocacy?
---
The inspiring young activists will join our network and play a crucial role in the campaign to end the global education crisis.
---
Oladoyin Idowu struggled at school in Nigeria before dropping out due to undiagnosed dyslexia. But that tough experience has inspired her to help others.
Now aged 21, Oladoyin is the founder of One Word Africa, which raises awareness for invisible disabilities and dyslexia. This week we can proudly announce that she is also one of more than 500 new Global Youth Ambassadors (GYAs) for Theirworld.
This cohort of young people from 60 countries has been added to our network of youth activists who are campaigning to end the global education crisis. Over the next few days we will feature some of our amazing new GYAs in a series of special videos and social media posts. See them on our Twitter and Facebook pages.
"I wanted to become a Global Youth Ambassador because I was inspired by Theirworld's commitment to #WriteTheWrong in education, the thoughtfulness behind every campaign and all the amazing things other Global Youth Ambassadors were doing," said Oladoyin. 
"I just knew I had to be a part of this community that's committed to doing what I already love doing."
Theirworld's GYAs are an inspirational group. From almost every corner of the world, these young people aged from 18 to 29 include renowned campaigners and social entrepreneurs who are united in their passion for social justice and the right to education.
Each of them commits to use their skills and talents to campaign responsibly for Sustainable Development Goal 4 – inclusive and equitable quality education for all.
"To deliver the change we want to see in the world, we need to help unlock the power of the next generation of leaders and changemakers," said Rob Doble, Theirworld's Director of Policy, Advocacy and Campaigns.
"There is nothing more powerful than youth speaking truth to power. That's why our Global Youth Ambassadors are so vital to ending the global education crisis. They are our advocates, our activists, our ambassadors representing other young people around the world to call on leaders to prioritise education."
Our GYAs were a driving force in the historic #UpForSchool campaign, which delivered 10 million signatures to the United Nations in 2015 – demanding that world leaders keep their promise to get every child into school. The GYAs alone collected more than one million signatures.
Their relentless activism was instrumental in our campaigns for the establishment of Education Cannot Wait – the first global fund for education in emergencies – and the International Finance Facility for Education, an innovative mechanism that aims to unlock at least $10 billion of new funding by 2030. 
Last year GYAs campaigned for governments, UN agencies and donors to invest 10% of their education and aid budgets in early childhood education. 
Theirworld supports the Global Youth Ambassadors through access to the tools, resources and best evidence available to take transformative actions and engage with local and global leaders.
They are central to our #WriteTheWrong campaign, which aims to secure the political will, funding, inclusion and innovation necessary to unleash the potential of the next generation through education. 
They connect with peers from around the world – using an online platform which allows them to liaise with each other and identify opportunities to support fellow GYAs' projects, personal and professional goals. Other opportunities include meeting and interacting with experts and campaigners, as well as attending global events.
Aniket Gupta, 18, another of our new Global Youth Ambassadors from India, said: "My belief that the voices of young people is important inspired me to become a GYA for Theirworld. With this role, I can amplify my voice up to the global level."
Every month, we talk to one of our Global Youth Ambassadors about the work they do to improve children's lives. See our GYAs of the Month.
---
More news
Take the test and discover how our Schools Hub helps students grasp the global education crisis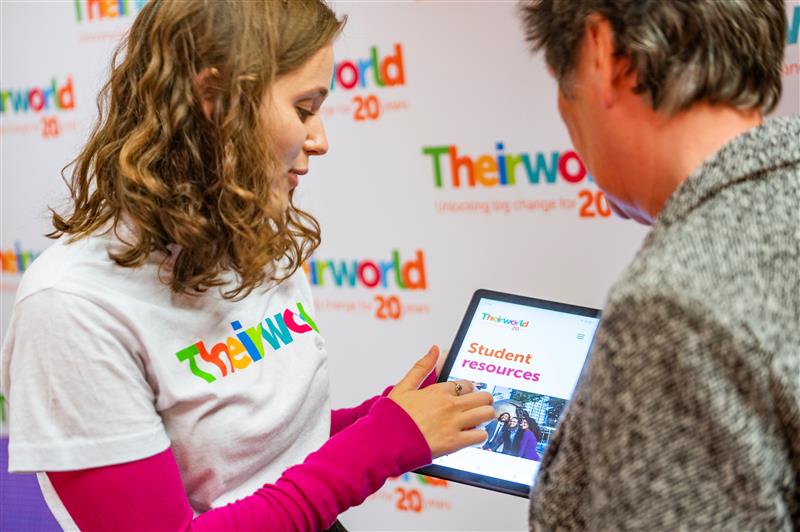 Take the test and discover how our Schools Hub helps students grasp the global education crisis
#LetMeLearn: the story of a global education campaign
#LetMeLearn: the story of a global education campaign